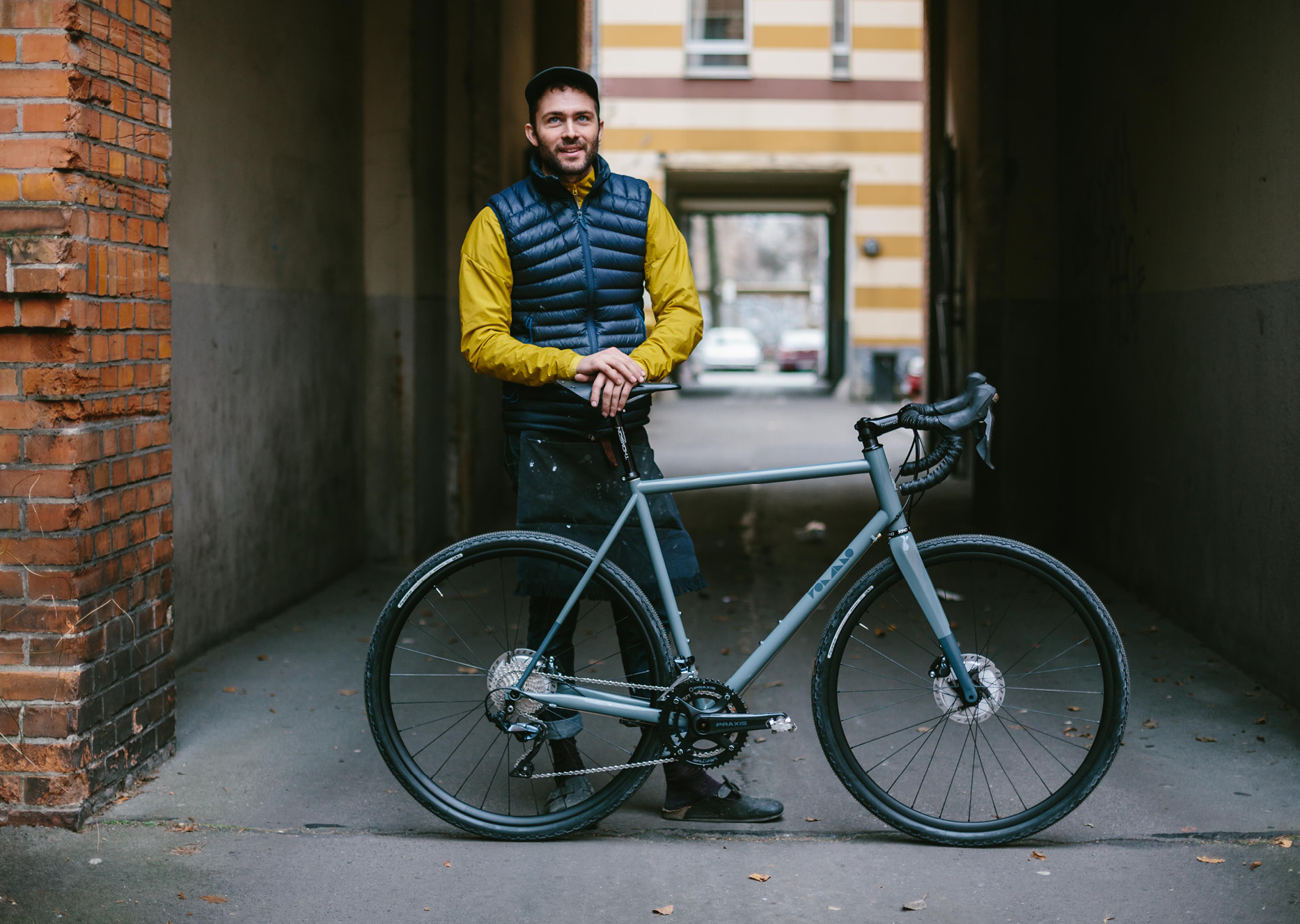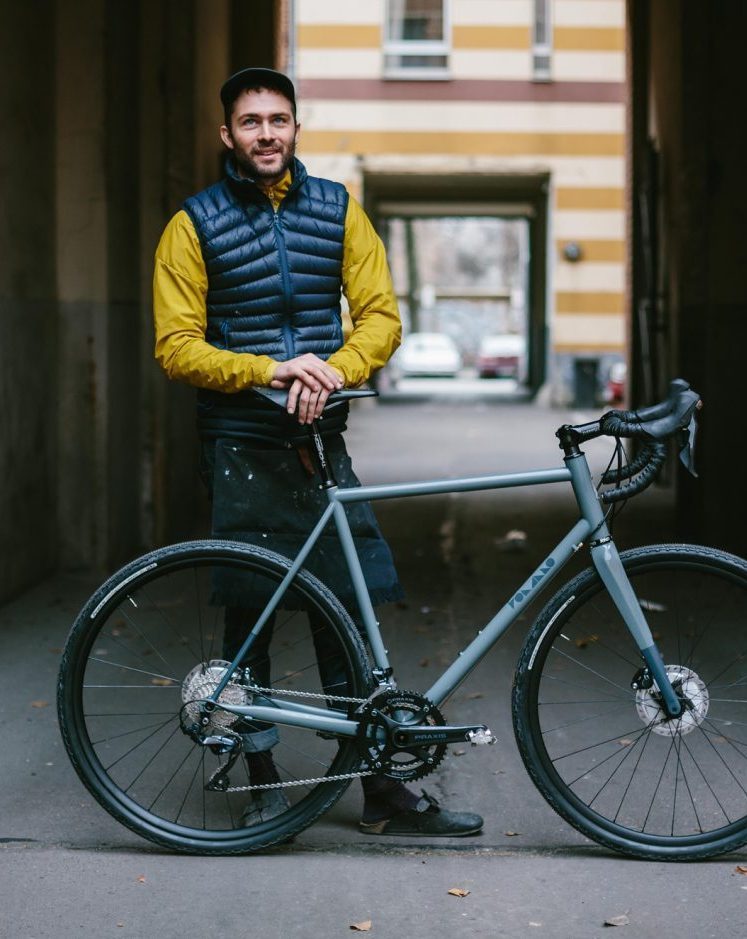 People
Patience is a Virtue, Cicli Bonanno
Italian Frames with Berlin techno inspirations.
By Bregan Koenigseker
Photography by Bengt Stiller
Two or three pedal strokes from the frisbees, pushers and slack lines of trendy Görlitzer Park in Berlin-Kreuzberg, in the clean, well-lit basement of a Victorian-era industrial estate, a different kind of smoke wafts through the air. Here, amid the TIG-welders, hanging sketches of bicycles and assorted workstations covered in well-used tools, Niccolò Bonanno puts the finishing touches on a new frame, carefully screwing a futuristic, laser-cut Bonanno logo onto its colourful head tube.
It's a ritual he typically performs three or four times a month for customers, but this time, freshly arrived by bike with this frame lashed courier-style to his back, he's doing it for himself. As Bonanno unpacks the matching carbon fork and stem, we talk about his upcoming participation in the Atlas Mountain Race and how it will be on this frame that he will tackle the 1,200km course, climbing 20,000 meters on some of the world's most sought-after gravel terrain in the mountains of Morocco. When asked if screwing on the head badge is the most important moment in the build process, he replies with a laugh, "The most important moment is when I ride this bike, and everything is working!"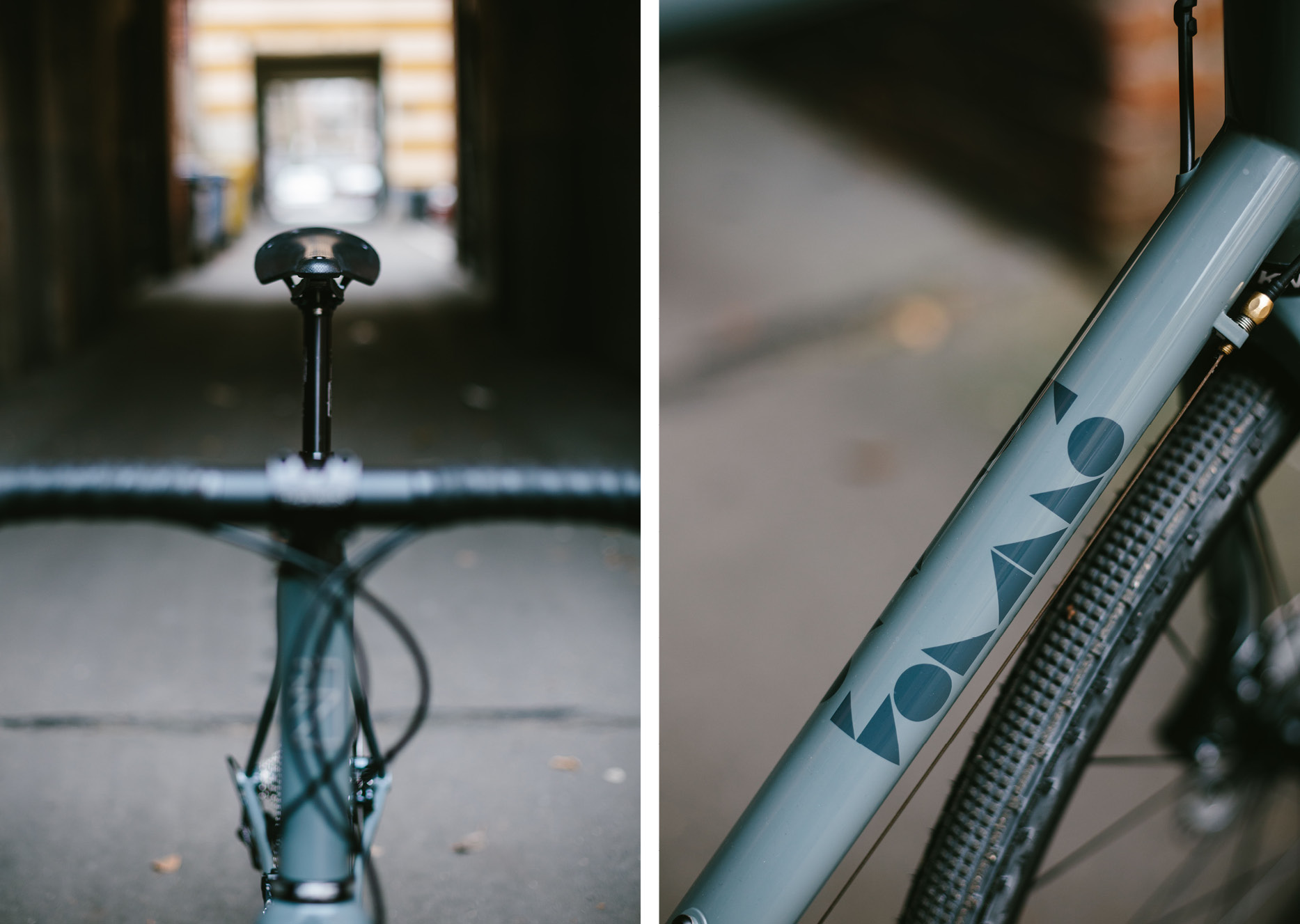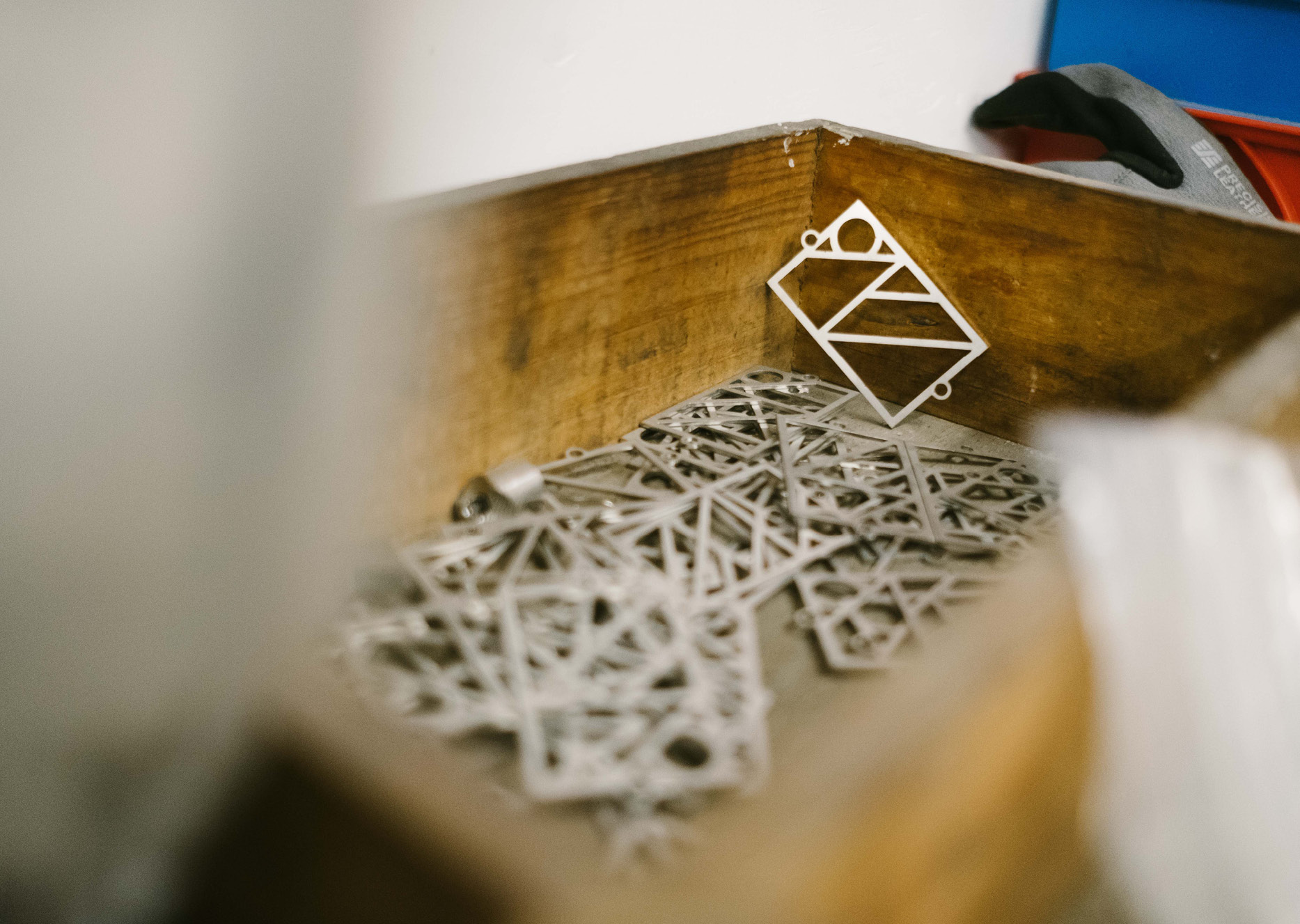 Laughter is a sound you'll hear often in the company of this young frame builder. Born into a cycling family in Milan, Bonanno rode Stelvio for the first time as a kid but claims he hated it. That's because Bonanno originally had little interest in bicycles outside of his family's demands. The son of a mother who designed motorcycles for BMW, he found motorised, two-wheeled vehicles much more attractive. At 19, however, a serious motorcycle accident led to Bonanno's father gifting him an old Battaglin, a classic Italian frame he'd once received as a wedding gift. With a new bike and a healthy cross-town cycle commute to work at a radio station, he was finally bitten by the cycling bug. When he wasn't riding, he was applying his creative talents to his and his mates' bikes, customising and upgrading parts and components and picking up skills along the way.
Several years passed and – bitten this time by the travel bug – Bonanno left his home in Milan and moved to Berlin, taking a job as a junior mechanic at Radspannerei, a bike shop that's operated in the heart of Kreuzberg since the mid 1990's. Before long, he came into contact with another Kreuzberg bike legend, Thomas Becker, frame builder at Meerglas cycles and early pioneer of the modern cargo bike with his firm Pedal Power. Here Bonanno learned soldering before moving on to more complicated aspects of the production of their in-house frames.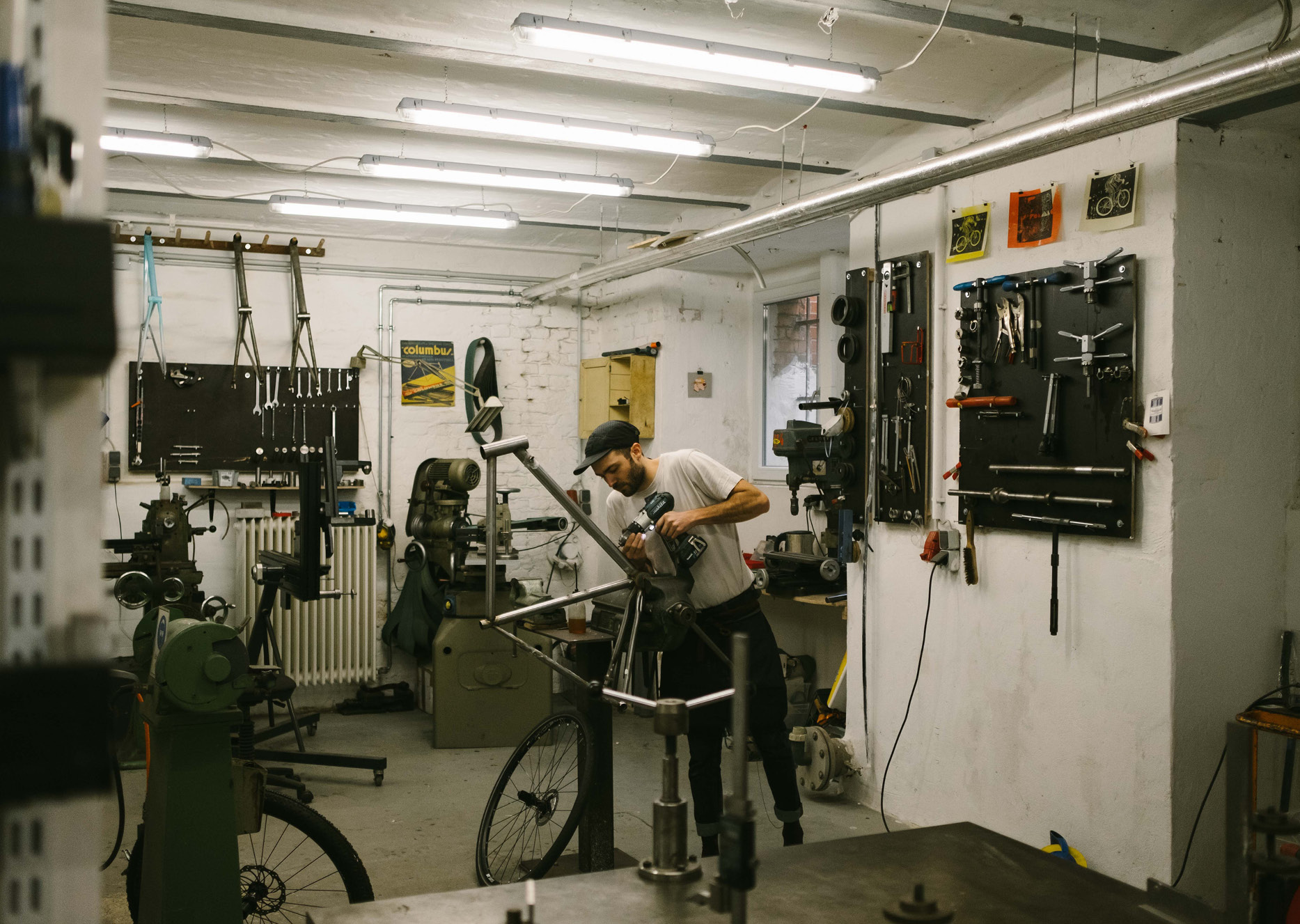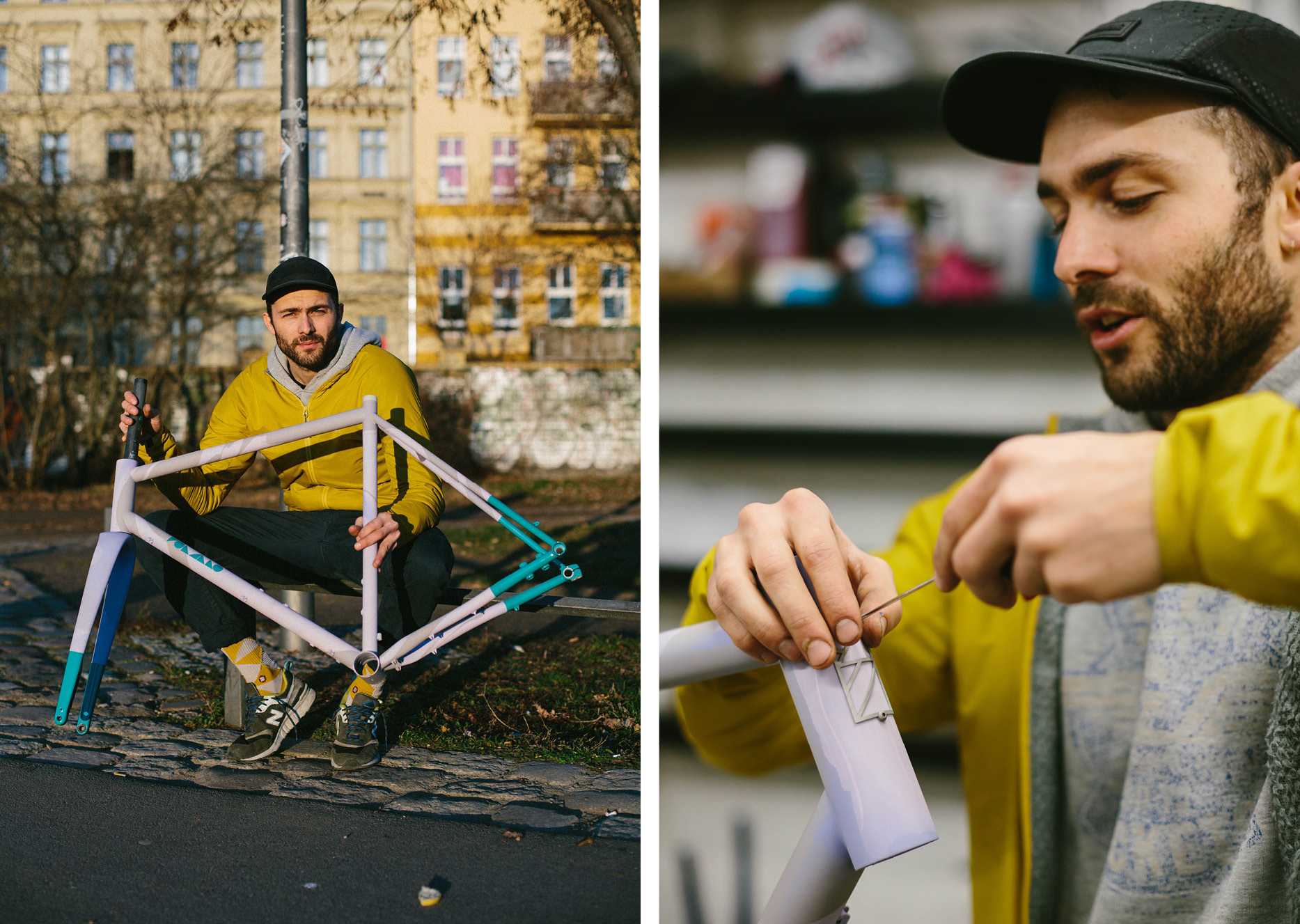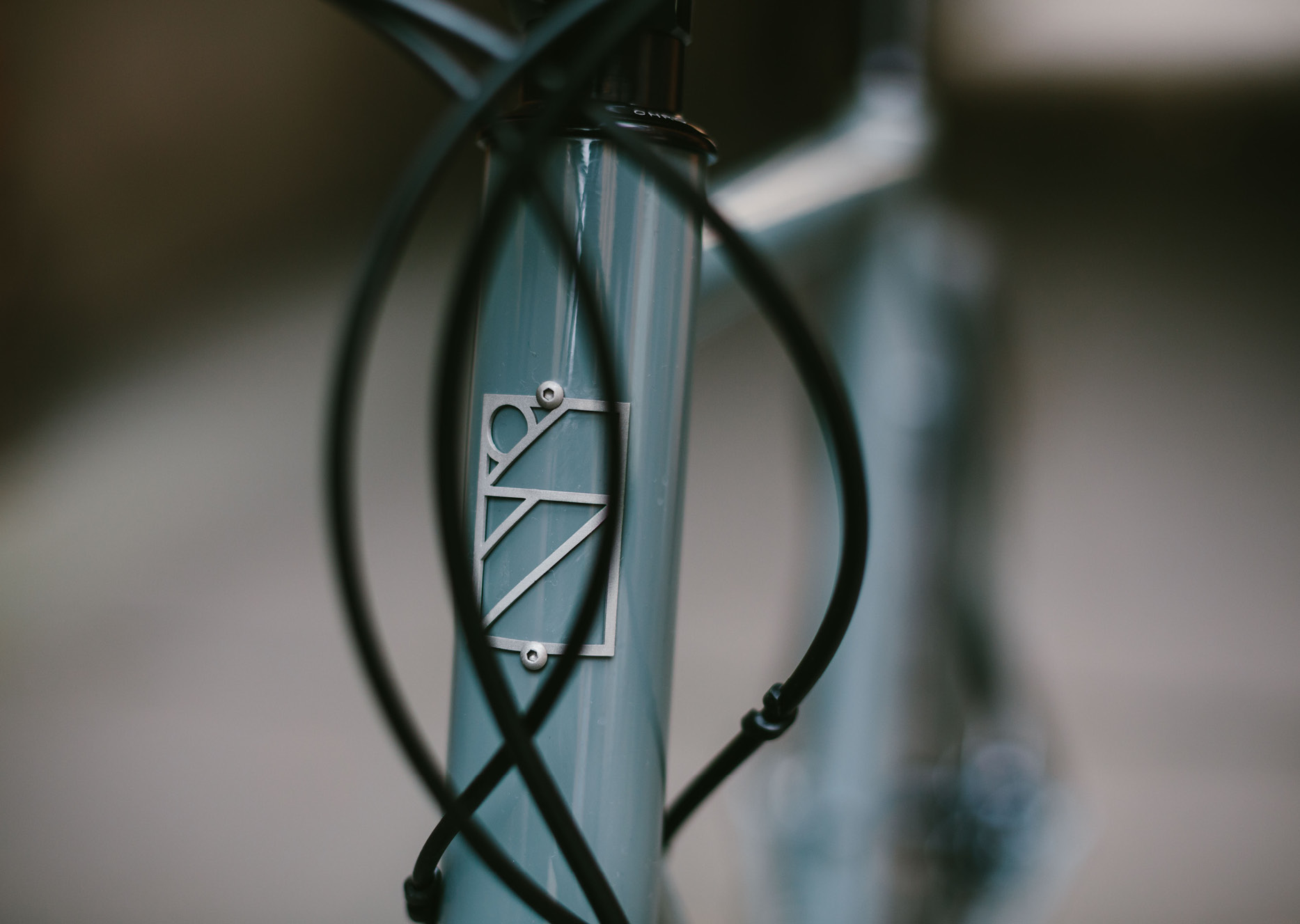 To strengthen his welding skills, he took classes at a local trade school. Instead of learning to weld on thick pipes like the other students, Bonanno would gather scrap tubes from a frame builder in nearby Schöneweide, bringing the thin-walled tubes to his class where he received personal instruction from the master welder who had taken a keen interest in this new, unusual student, helping him weld frame tubes as well as bike racks and other assorted details he would need to build the bikes he had begun to envision.
At the same time, Bonanno was getting active in the local cycling scene, racing in criteriums and messenger events. This led him to start building frames for some of the local messengers, and a few years later, after one of his frames was ridden to victory by Johannes Killisberger at the World Messenger Championships, he decided it was finally time to turn his hobby into a career. In cooperation with Becker he set up his first frame building studio.
While all of this was happening in the German capital, Bonanno made regular visits home to Italy. Here he came to know and receive priceless insight from some of what he considers among the best frame builders in the business; legends and inspirational sources like Tiziano Zullo and Dario Pegoretti, as well as new-generation builders Mattia Paganotti from Legor Cicli and Dario Colombo from Bice Bicycles, as well as Gianmaria Citron. Bonanno built a network from which to grow, learn and share. And while this network continues to be an invaluable part of Bonanno's frame building journey, he draws energy and inspiration from the ride itself.
"I noticed that the times when I wasn't riding because of work, I would lose inspiration, and when I ride a lot, I somehow have more energy for working. When I sit on my own bike, one that I made, everything makes sense. I can continue to develop my craft and see that it is working; I see firsthand the things I would like to do differently, or even better. Especially important for me right now are long, hard multi-day events like Turin-Nizza or the Atlas Mountain Race in Morocco. I go into the event with the idea that I want to ride this bike hard, ride it into the ground; I want to see how much it can take!"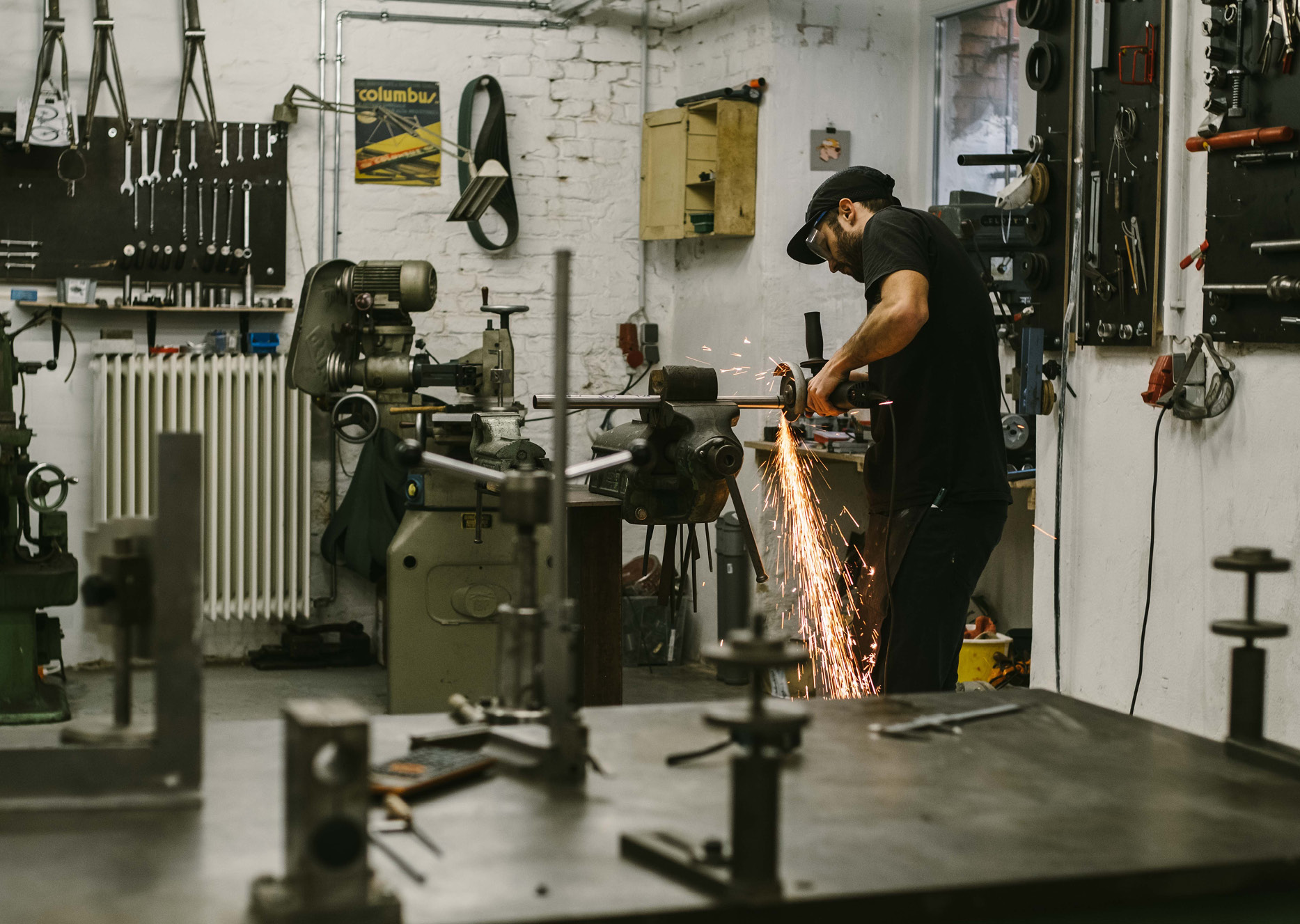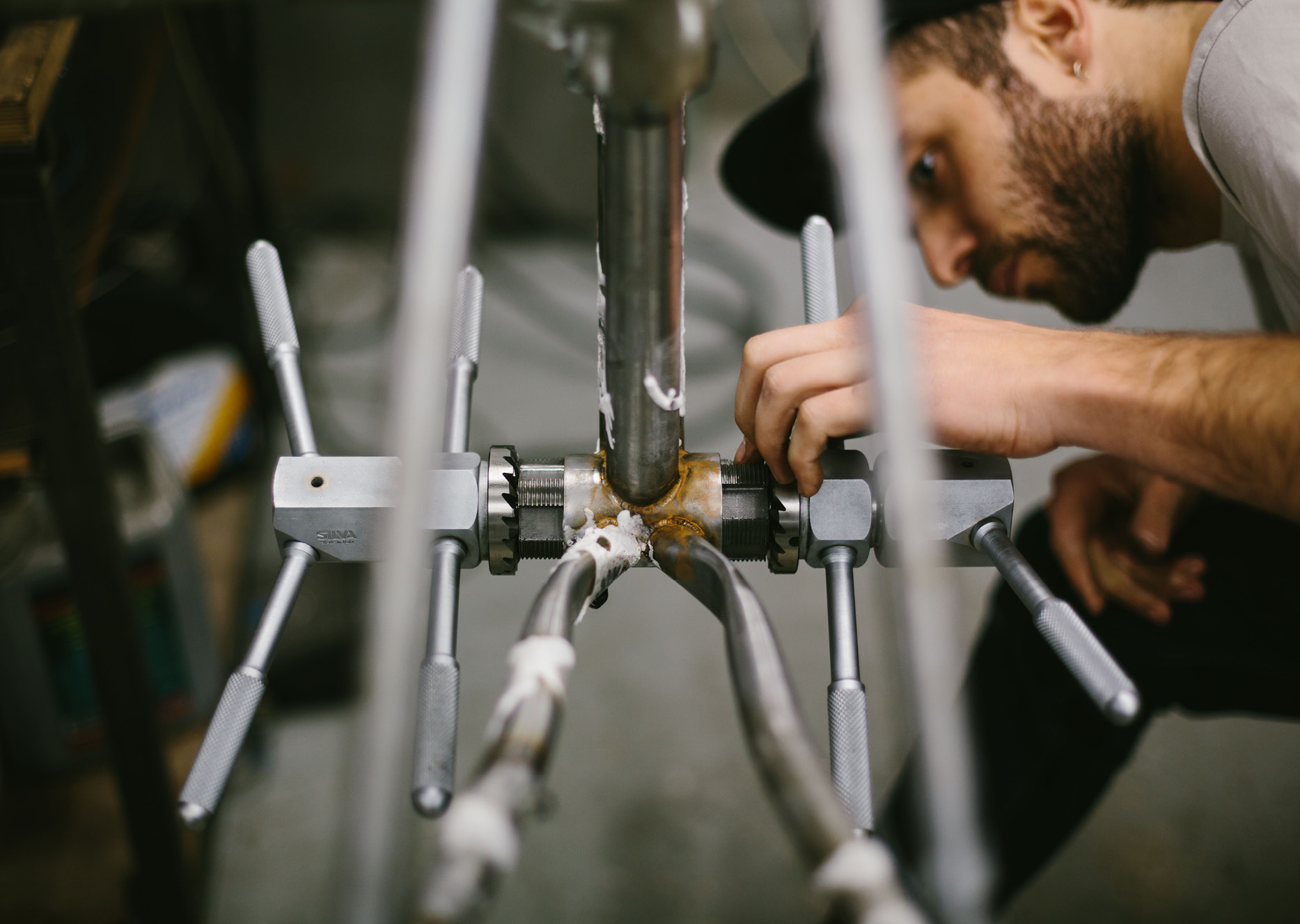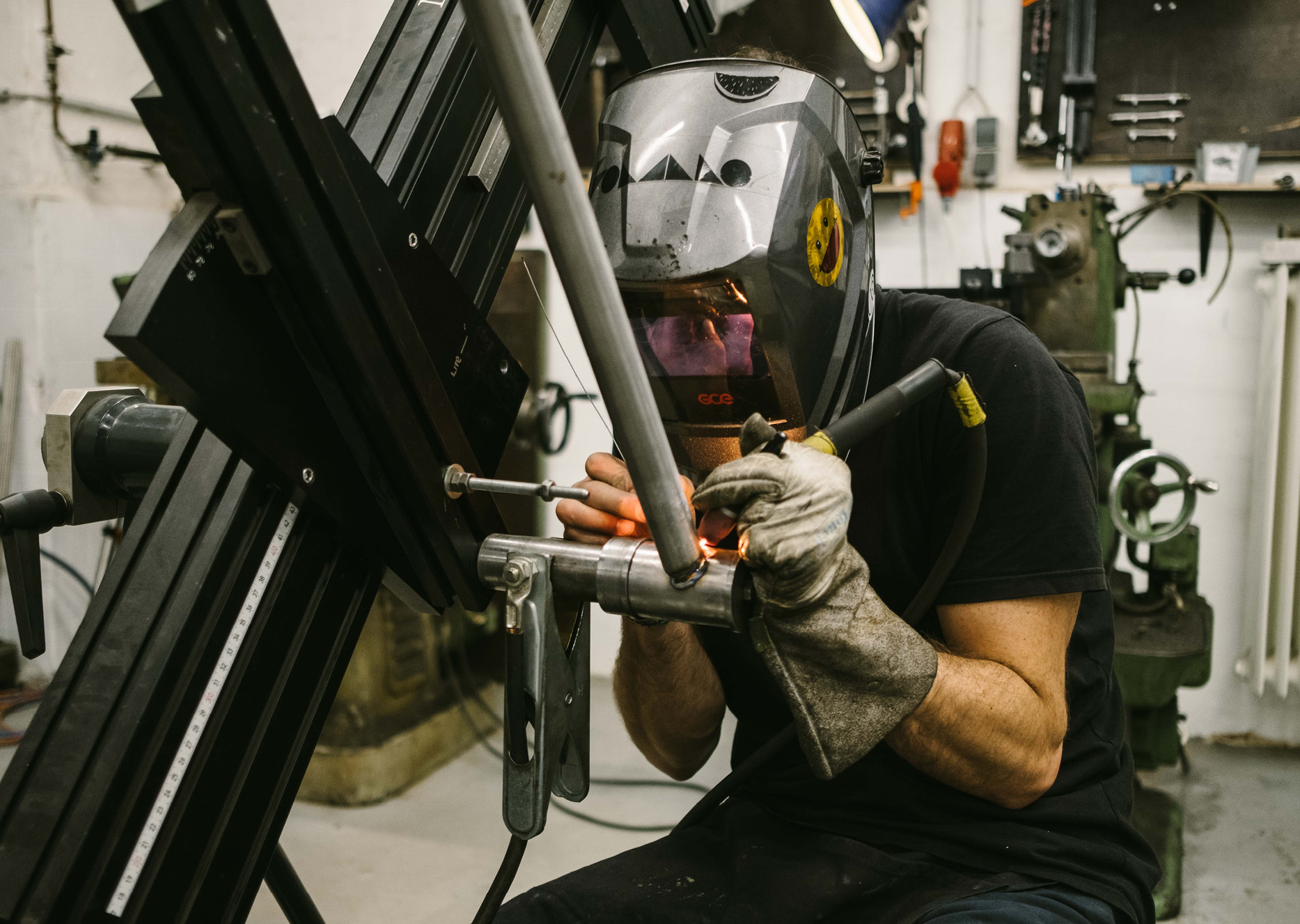 As for his bikes, like many traditional Italian builders, Bonanno offers only a small number of standard frame options: two road (one with classic tubes, one oversized), a road disc frame, one road plus (all road) and one for gravel. "You can't always offer a prototype," says Bonanno. "Well, maybe if you're some kind of god. It's repetition that makes a master. By knowing the materials, I can offer a consistently reliable bike. Of course, I follow the market, and I am also a cyclist whose tastes change, so every so often I bring something new to the range." Whatever options a new customer may choose, however, there's one requirement that's non-negotiable: patience. Customers starting the buying process today will have to wait four months to see the finished product.
Bonanno bikes are perhaps most easily recognised by their stylised logo and unique paint palette, details highly influenced by designer friends and Berlin's culture of creativity. It's the city's creative influence coupled with his Italian roots that set Bonanno apart from other builders. "Berlin really helped me to forge an aesthetic identity," Bonanno explains, "and though I am up-to-date with the models (gravel, all road, etc.), the frames are still classic Italian without too many details—as functional and minimal as possible." He adds, grinning, "A bit techno-style!"
Today, Bonanno continues to grow Bonanno, and the team along with it, despite the many challenges facing any builder, especially one located in the heart of a trendy bar district. But though not always a frame builder's utopia, and certainly not cheap, Bonanno is proud to call Kreuzberg home. As for what's next for Bonanno? More bikes, more cycling and certainly more challenges. In years past, together with friends, he has organised "Mogast", an epic, one-day event in the Italian Alps that covers three legendary climbs, Mortirolo, Gavia and Stelvio, with more than 4,000 meters of climbing over the 100km distance. And just like Bonanno himself, the event, while centred around cycling, transcends the action, combining challenge, new experiences and a healthy dose of tradition to become something else entirely.
Visit cicli-bonanno.com to see more.
Cicli Bonanno Essentials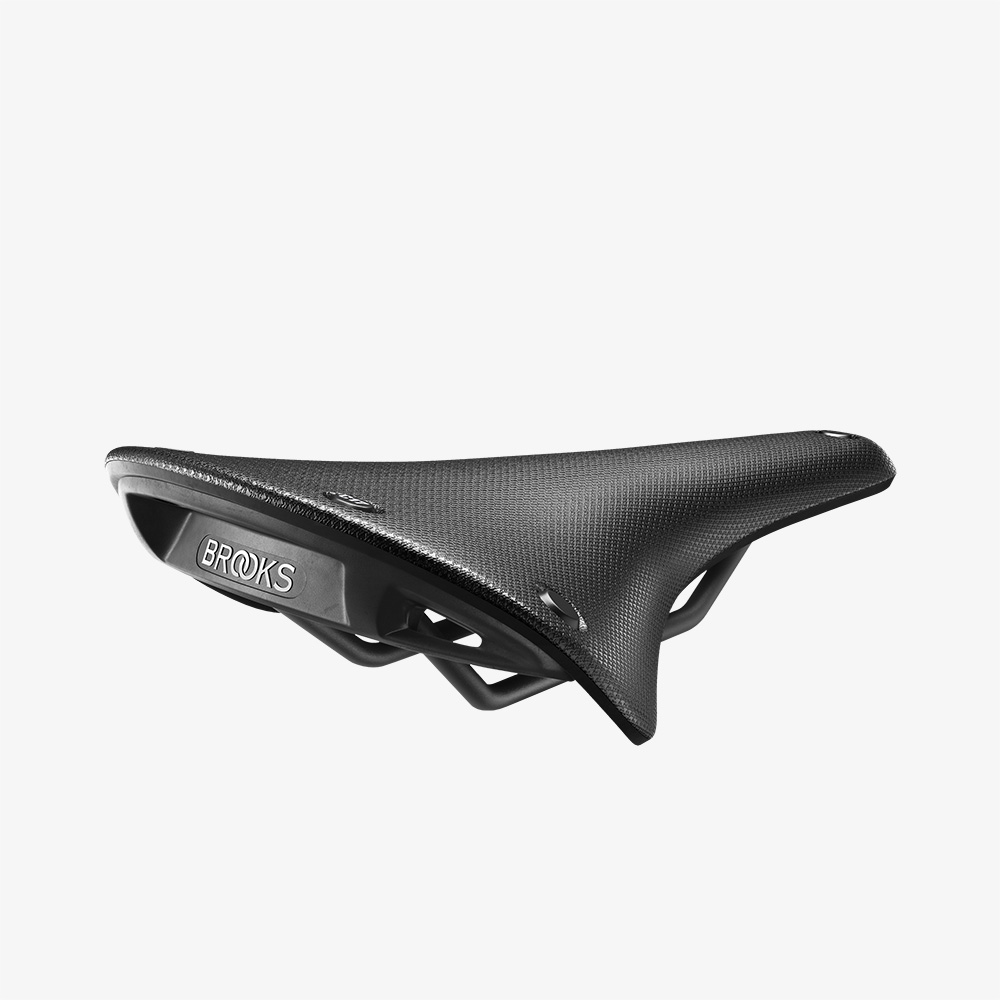 C17
All rides. All roads. All weathers.
DISCOVER MORE
More People Stories
5804
Commuting with Tammy Crawford-Rolt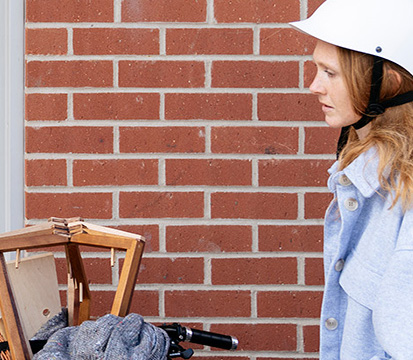 Discover Tammy Crawford-Rolt and her commute as a furniture designer in Bristol.

READ MORE

5561
Creativity, cargo and canines with Adeline Moreau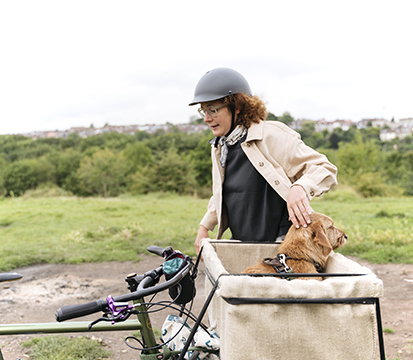 Unlocking creative problems on a Bristol commute with Belgian-born, illustrator, design strategist and cyclocross racer Adeline Moreau and her dog Trousers.

READ MORE

5397
Commuting with Morgan Frost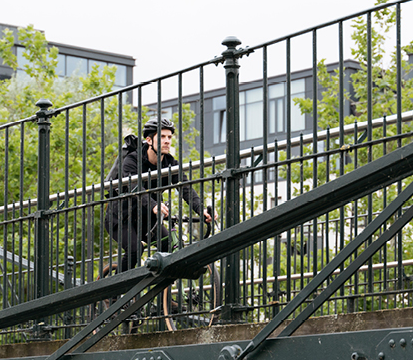 Cycling industry stalwart Morgan Frost has found a new passion in the coffee trade.
READ MORE