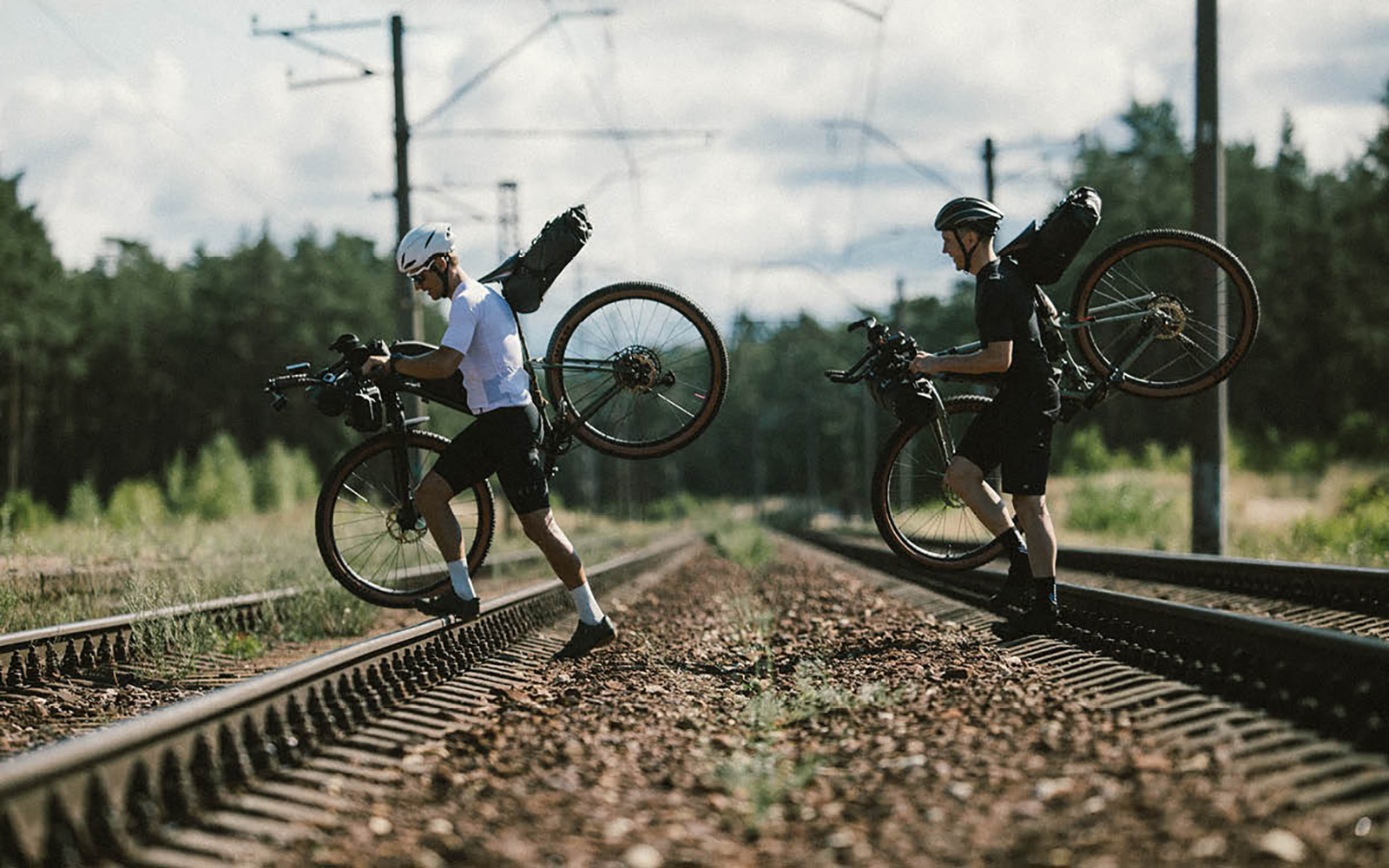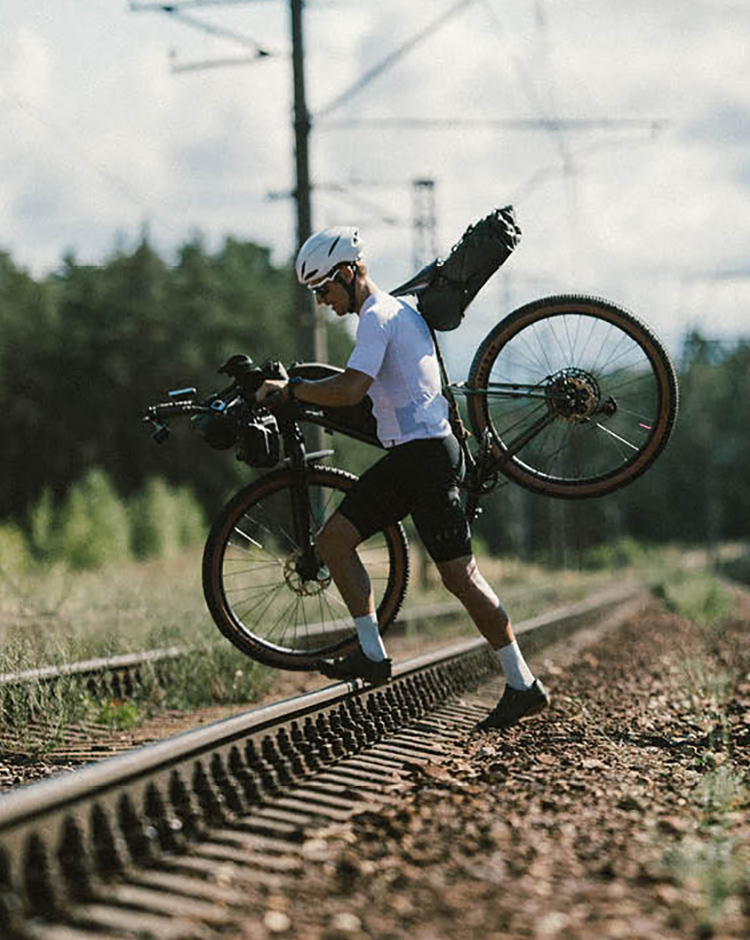 People
Looking ahead to Kyrgyzstan
As he prepares for the Silk Road Mountain Race, Toms Alsbergs explores how far he's come
By Kit Nicholson
Toms Alsbergs likes to keep things simple. A no-nonsense bike and the fastest route out of the city will set him right.
First and foremost a family man, on the bike he considers himself more of a lone wolf, very happy in his own company. That said, Alsbergs will soon be flying out to Kyrgyzstan for the Silk Road Mountain Race, which he'll be riding in a pair. Since hearing confirmation in January, he's been trying to balance his training with home life, work, equipment testing, not to mention recovery from a broken ankle. It's been challenging, but for Alsbergs, it's all part of the game.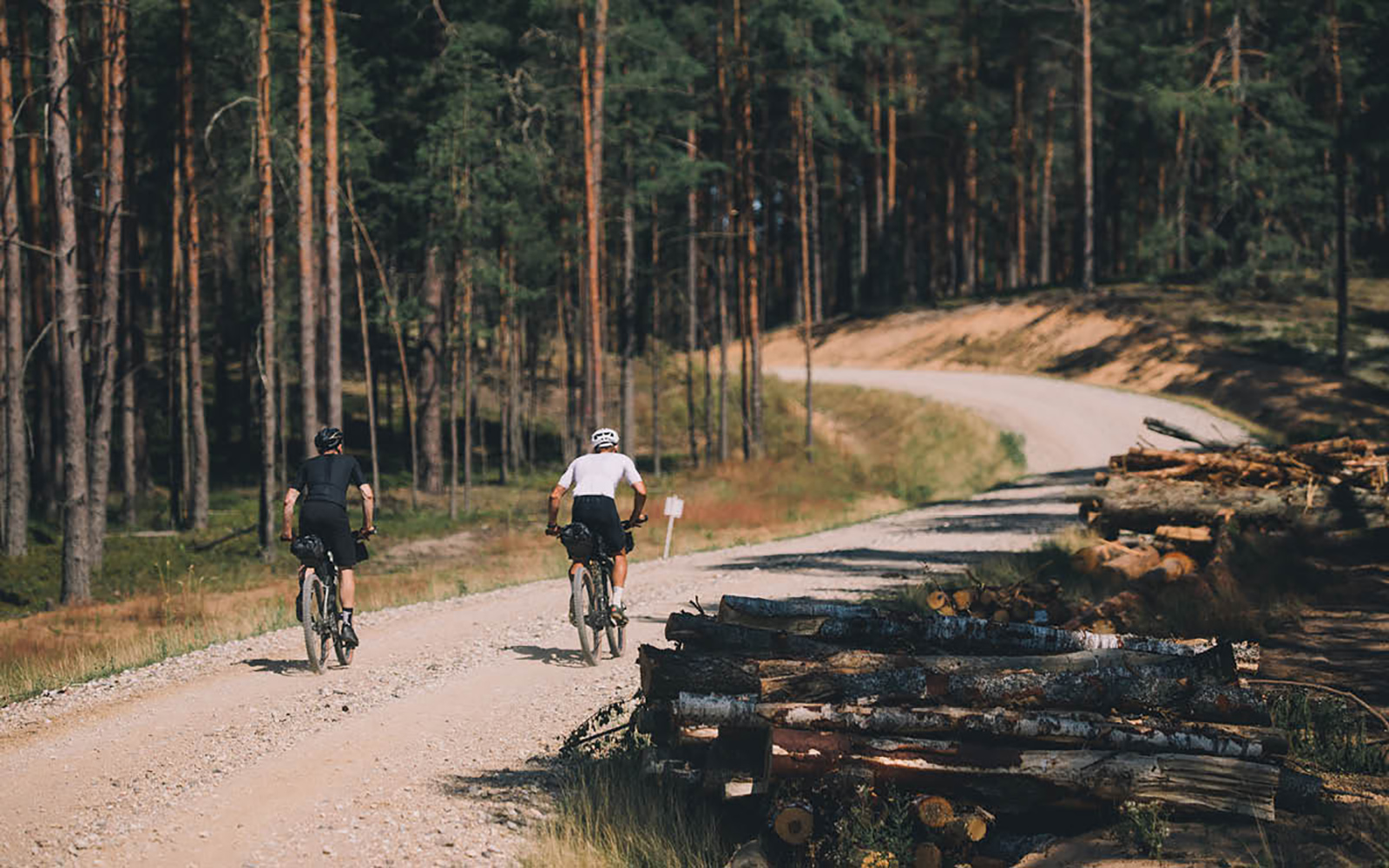 Alsbergs started off in fixed gear races in 2011, dominating the Red Bull Mini Drome, a velodrome whose lap is just around 25 metres long and where races might last just 30 seconds. From there, he moved onto the Red Hook Criterium circuit, riding for a Spanish team for a period, but when the series came to an end, Alsbergs needed something new. He found bikepacking.
"A friend of mine joked that I started my cycling career in the smallest and smoothest bike races, and now I'm into the longest and hardest in the mountains."
Home for Alsbergs is Riga, Latvia's capital city, and his relationship with its terrain has evolved quite dramatically in recent years, just as he's evolved from an urban crit rider into an off-road ultra-distance racer.
"Every day the main issue is to find the fastest route to escape the city, to find all those off-roads and gravel roads. When you've completed your first of this kind of bike race, riding on tarmac is not so interesting anymore. I think step by step I'm leaving all tarmac completely. If it's harder it's better and more interesting, and there are a lot of new experiences and challenges ahead."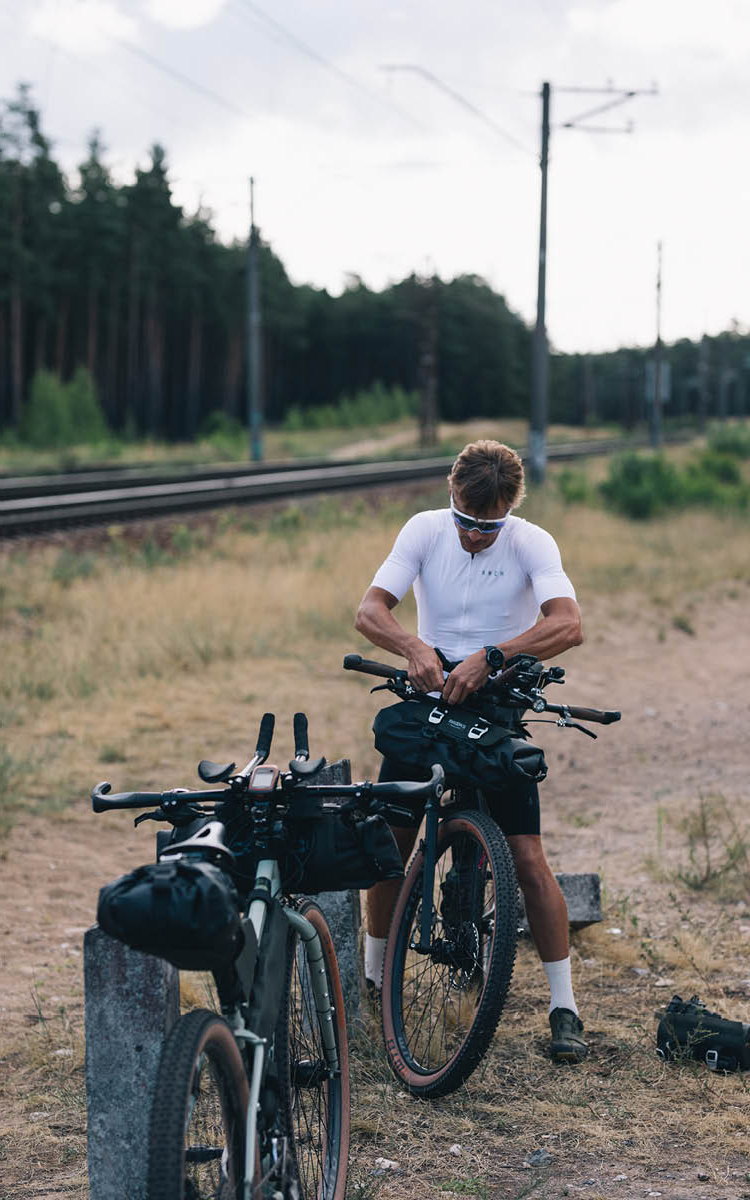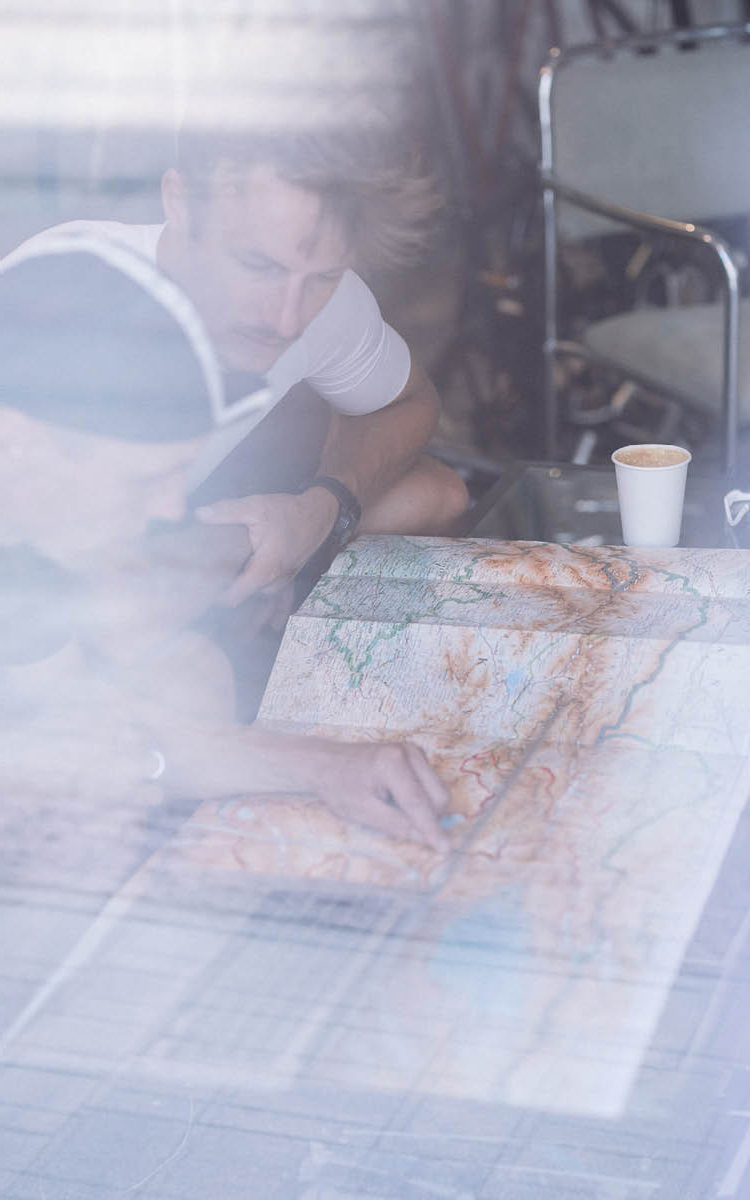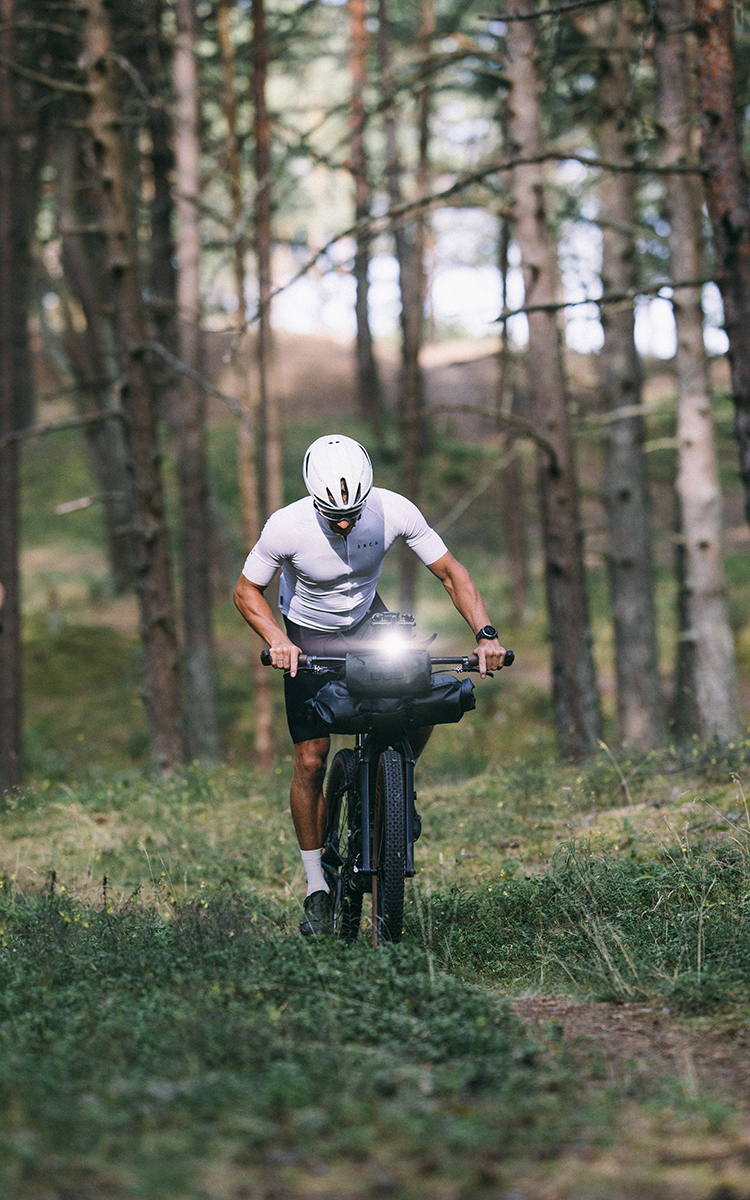 Now Alsbergs is motivated by pushing himself on the hardest terrain at races that can barely even boast gravel roads. His first event was the Atlas Mountain Race in Morocco, which ran a month or two before the pandemic ripped up the calendar in 2020, and his next stop is the Silk Road Mountain Race, run by the same organisers.
"Every year I need a challenge, some new challenge, a trip or bike race that's outside everybody's comfort zone. I'd been dreaming about Silk Road for a couple of years, then finally I realised, why sit home and just dream about it?"
He had no expectations for the Atlas Mountain Race, not knowing how hard it might be or how long it might take. But he raced into the top 15 out of 96 finishers, which for his first ever ultra bike packing race in such good company was a great result.
Also in Morocco was fellow Latvian Jānis Viškers, who had raced the first edition of the Silk Road and had much more experience than Alsbergs. Both had only ever raced as solo riders, but having identified their similarities, their strengths and their compatibility, they started talking about racing as a pair. The rest, as they say, is history.
"It's going to be my first time doing something like this together with somebody else. I think I'm kind of a lone wolf, I enjoy my own company and never get bored riding alone. But this time, I think doing this race in pairs is a good challenge. It'll be fun."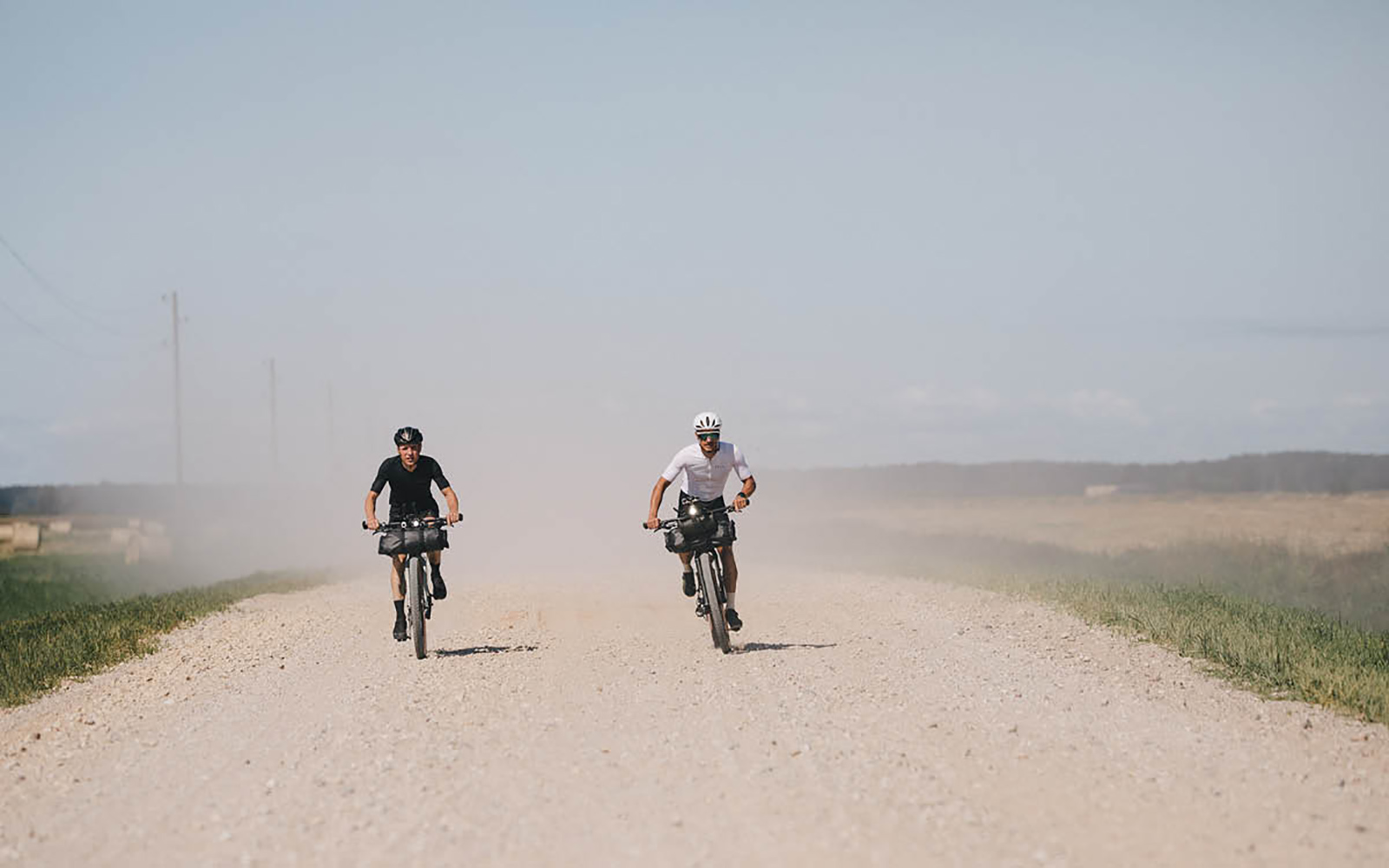 Alsbergs and Viškers now ride together every week, planning routes and shredding roads. It couldn't be a better situation for preparing to race together, but even so, there are other, more important things to consider during their build-up.
"Sometimes it's hard because we're both family guys. I have a wife, Jānis has a wife, we both have two kids, so we need to balance home, work and workouts, and sometimes it's not easy to find the time for both. But until now it's been better than I expected. We've done lots of rides together and I think it's been good for both of us."
With 1,800km and 30,500 metres of climbing in the mountains of Kyrgyzstan, the Silk Road Mountain Race demands some serious training. Only a third of the field were able to finish the race in its inaugural running, the same year Viškers finished sixth after spending 10 days, 10 hours and 29 minutes out on the route.
"We do a lot of long rides to prepare the heart. Living in Latvia, the main issue is that it's mostly flat. The highest hill is 311 metres, so it's not easy to prepare yourself for the big mountains. But I don't see that as an obstacle for us, because we've been in mountains and we have some experience. We need to be in good shape, but we also need to be mentally ready. I think these races are more about mental power than the power in your legs. If you're not 100% sure about your skills or preparation, you need to be confident at least. I can say I'm ready mentally and physically, so I can smile and look forward to my flight to Kyrgyzstan."
Training so hard and for so long can be a real drain on an individual, not to mention the mental pummelling the pair can expect once they push off on 13th August. But Alsbergs is pragmatic. He's learned how to maintain a healthy equilibrium.
"For me, the most important thing is that I know I've done everything I can do to prepare myself, and I couldn't do more and I couldn't do better, because I need to divide my time between my family and work and bike. In the end, I have to make sure my family is still happy and I'm not stealing time away from them. Of course, I want to ride my bike, but I have to find a golden way to balance how I need to prepare and how I want to feel."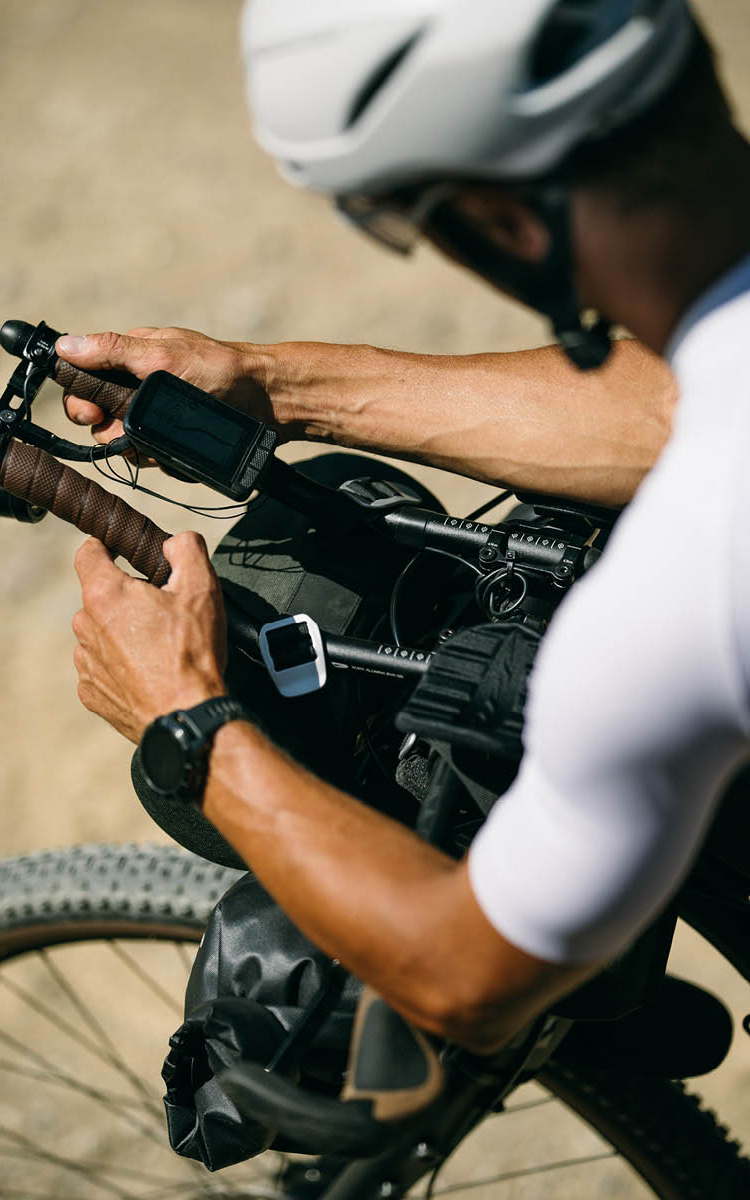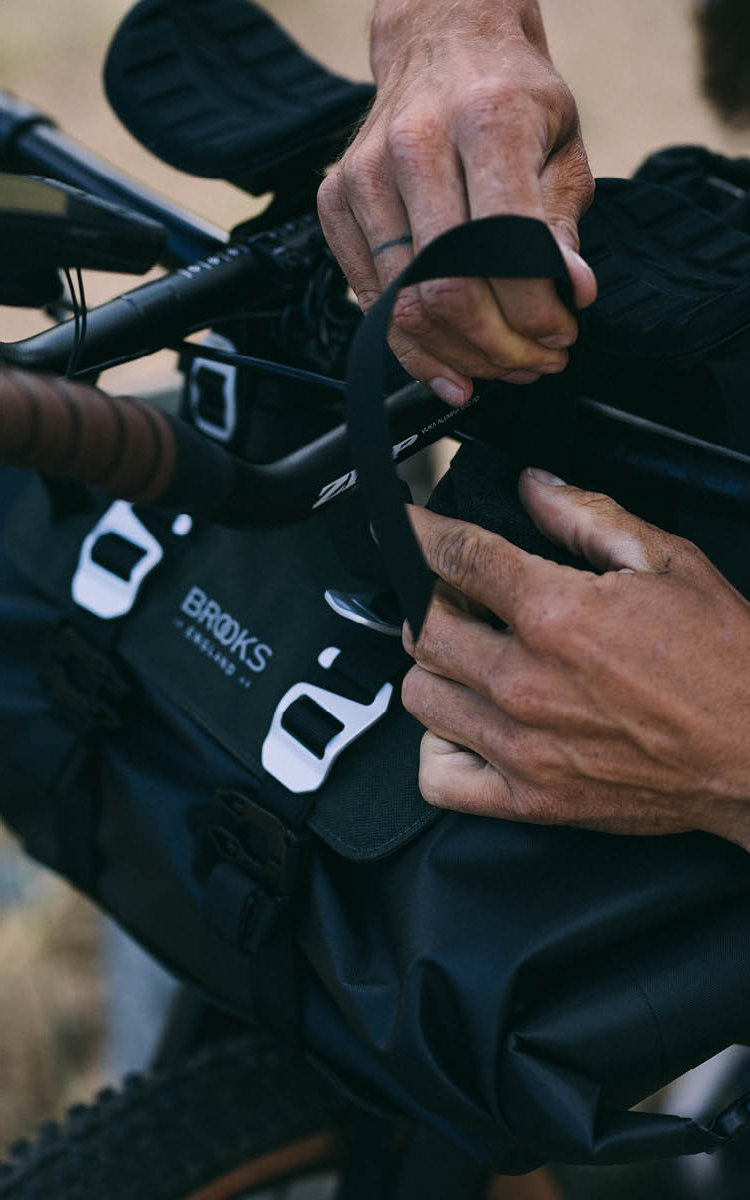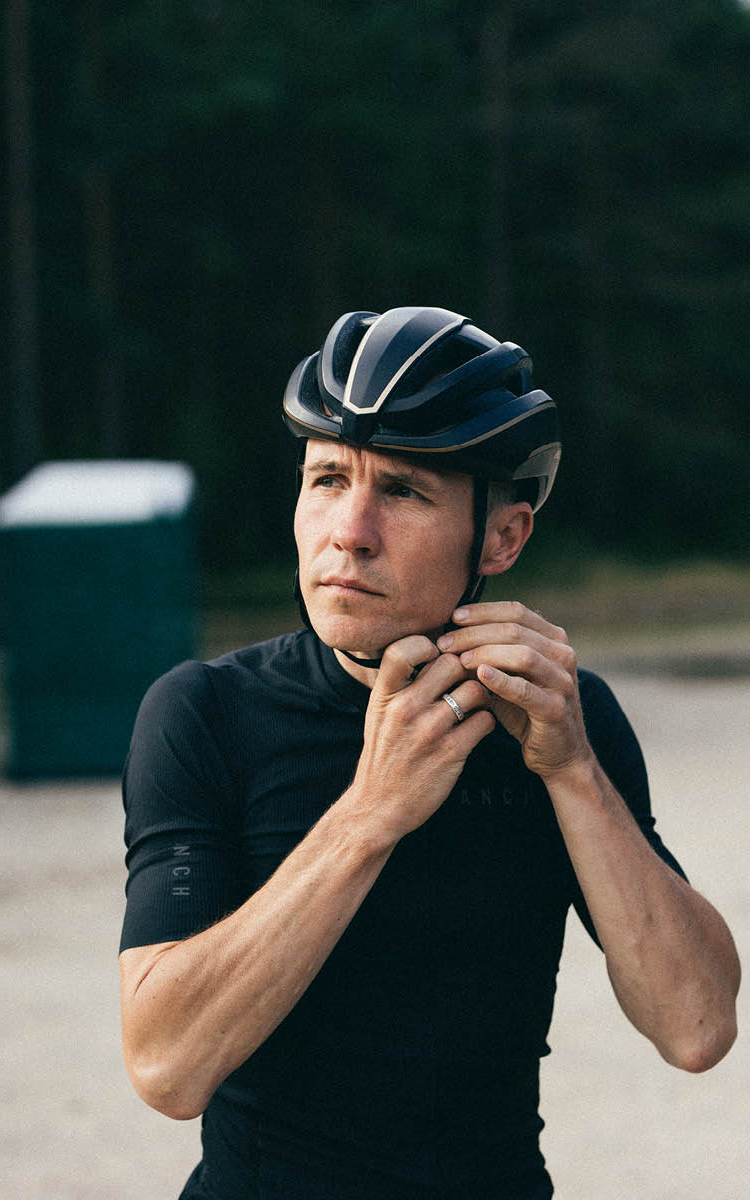 Alsbergs speaks like a man more than ready for the challenge ahead, but it's not all been easy. His preparation for Silk Road is also a comeback story of sorts.
"The day I received the confirmation email from the Silk Road organisers, I broke my ankle. I wasn't taking any risks in any crazy situations, or trying any tricks, I was playing ice hockey with my kids. In that moment when I was lying there on the ice, I was crying. Yeah, it was hurting, but actually the first thing in my head was the race. I ended up in the hospital in surgery, six screws in my ankle, and a couple of months off the bike. I think that was the hardest part of the preparation for me, but at the same time there were good results. I started doing some breathing exercises, yoga and stretching, so I enjoyed my time in a different way, and at this point, I've forgotten about these broken bones. That was just a few months ago and now I'm back on track."
In the past few weeks, the last few before their 8 August flight, the physical training has given over to the technical side and all the equipment headaches that might entail. With the Atlas Mountain Race and extensive testing in his corner, Alsbergs is opting for a familiar and reliable setup.
"I'm going to ride the same bike I was riding at the Atlas Mountain Race in Morocco, the Bombtrack Beyond. It's a steel bike with carbon forks, not some ultra-light carbon bike. There's nothing fancy, I like it how it is. I need to keep it simple without any hydraulics or electronics because I need to be sure that if I need to I can fix anything in the mountains. It gives me confidence – I can be sure of my steel friend.
"This is the fourth year I've been riding the Brooks Cambium and I'm more than happy about it. I haven't had any chamois problems like a lot of people did in Morocco. I remember that by the third day of the Atlas Mountain Race, there were all these riders who were out of chamois cream and they were begging for it from anyone else. Lots of riders have these problems during ultra races, but it's never happened for me so I can say only the best words about the saddle.
"I've been testing the bags for a couple of months and I'm really happy with the quality and technical side. It's easy to remove the inserts and packing the bags takes even less time than with my previous bike setup."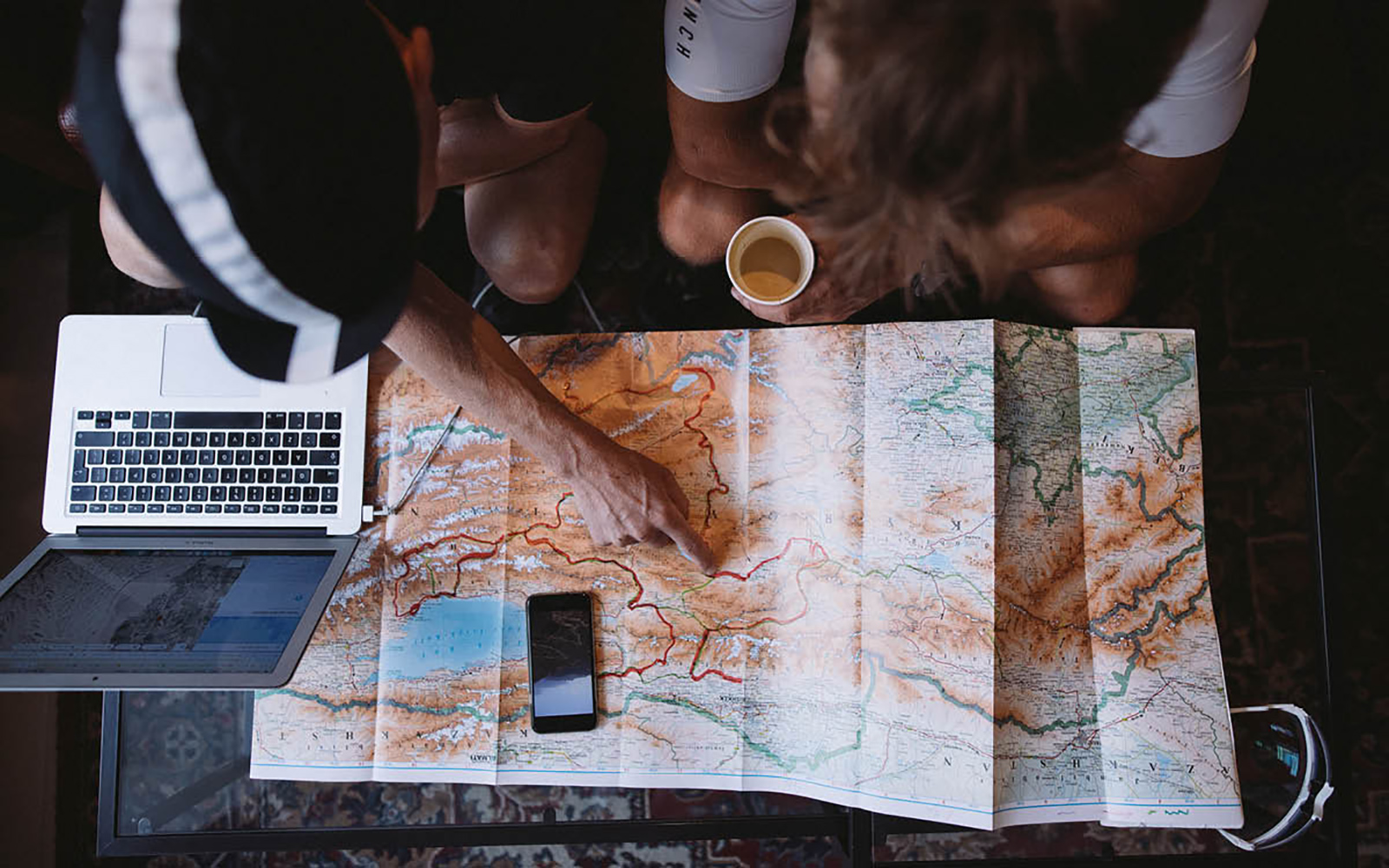 Though Alsbergs's experience is not extensive, his preparation is, and with Viškers as his partner, he feels his potential is multiplied.
"Usually I don't have any expectations. This is going to be only my second of this kind of race, but still, our main goal is the top of the podium. I was talking with Jānis about this – it's way harder to reach the top of the podium in the solo race, but in the pairs category, if you're two very similar and good riders, then I think we have a good chance to be on top. So this time we have a goal, that's the place we're looking for, and we're going to try to get there. Of course, there are lots of things that could happen, there could be rain or snow storms, obstacles that can stop us from this dream, but as I said before, we are ready, we are prepared, and we both feel confident."
Follow Toms and Jānis on their Silk Road Mountain Race adventure on Instagram.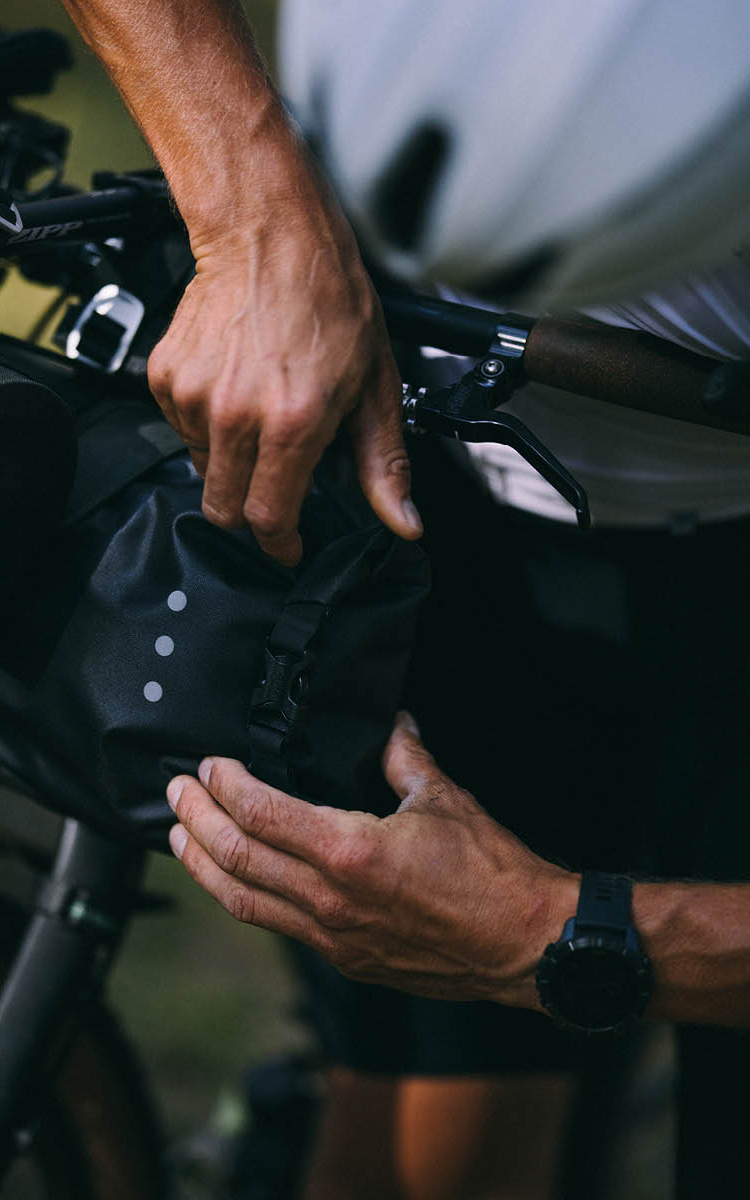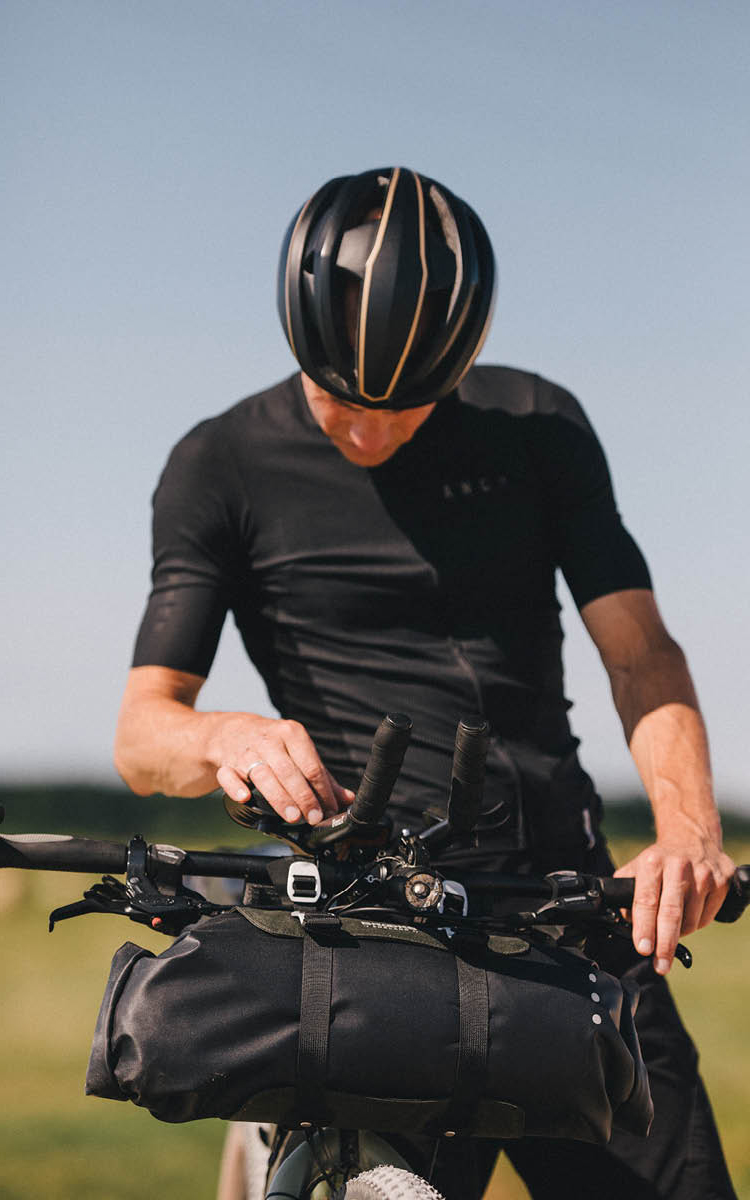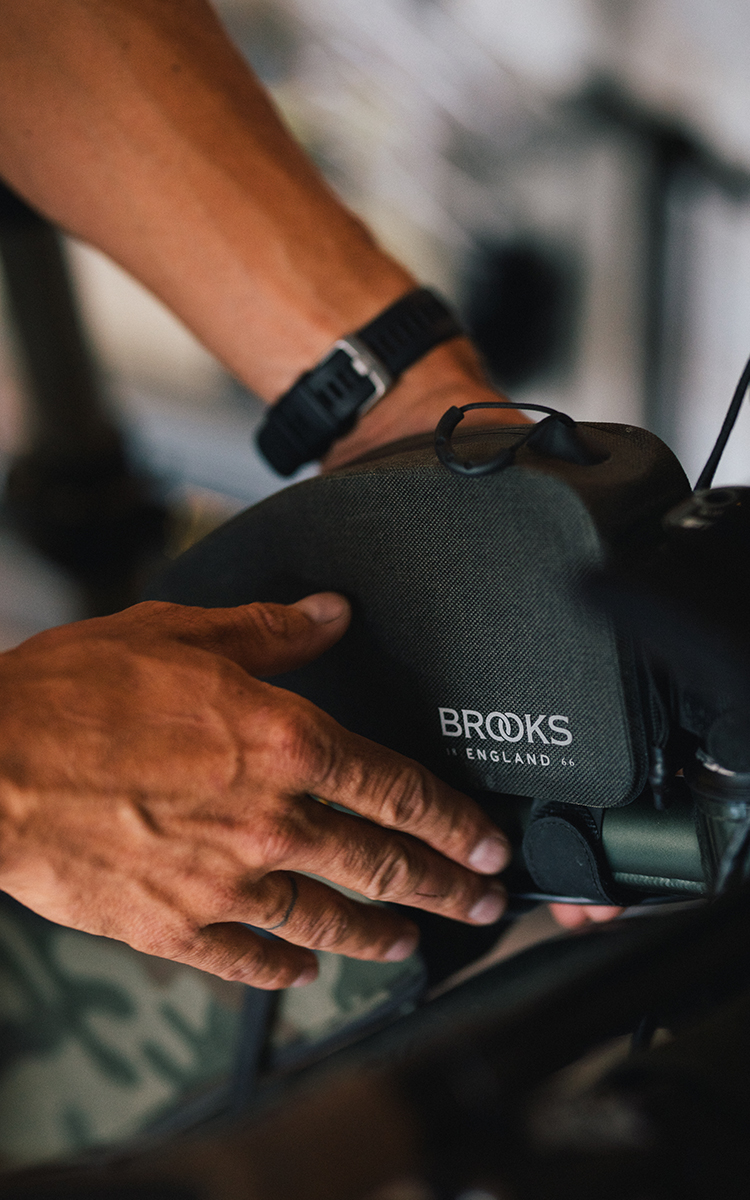 Toms' Silk Road Mountain Race Essentials
More People Stories
7027
Introducing… Anton Krupicka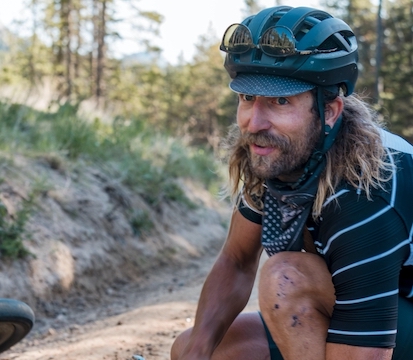 Anton Krupicka is an adventure cyclist, runner, skier. A longtime Brooks rider, we're delighted he's now also a partner athlete.

READ MORE

5804
Commuting with Tammy Crawford-Rolt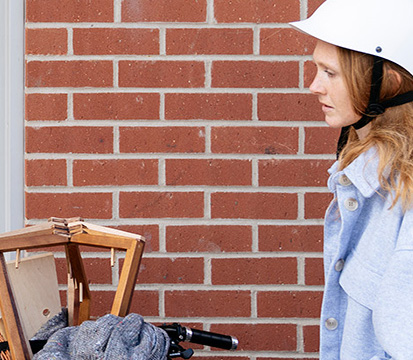 Discover Tammy Crawford-Rolt and her commute as a furniture designer in Bristol.

READ MORE

5561
Creativity, cargo and canines with Adeline Moreau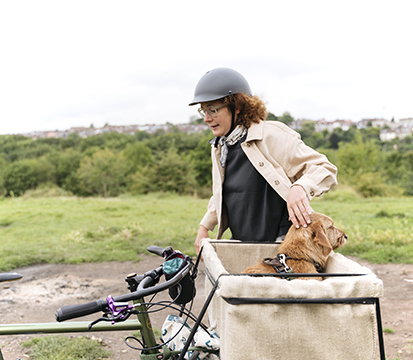 Unlocking creative problems on a Bristol commute with Belgian-born, illustrator, design strategist and cyclocross racer Adeline Moreau and her dog Trousers.
READ MORE