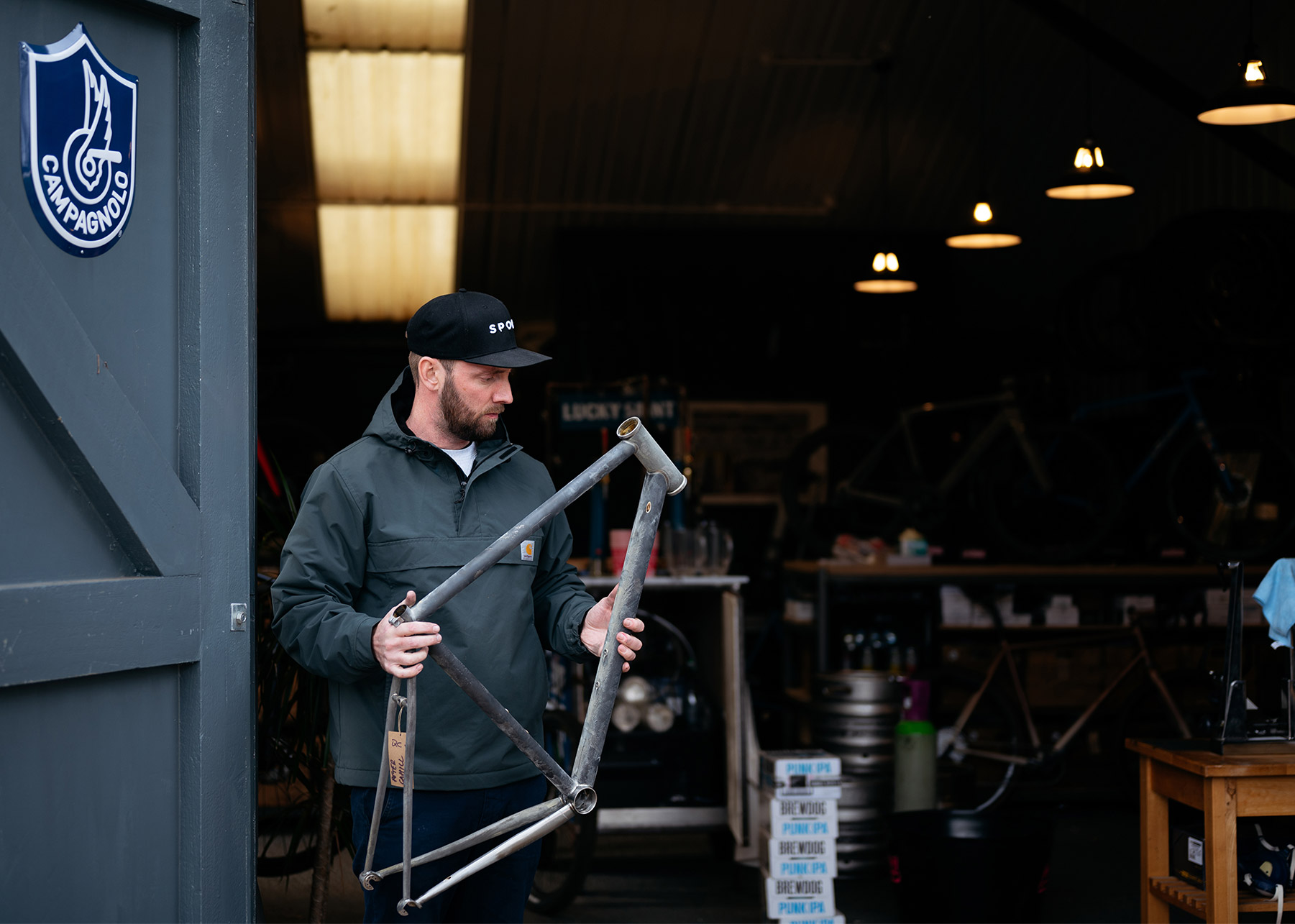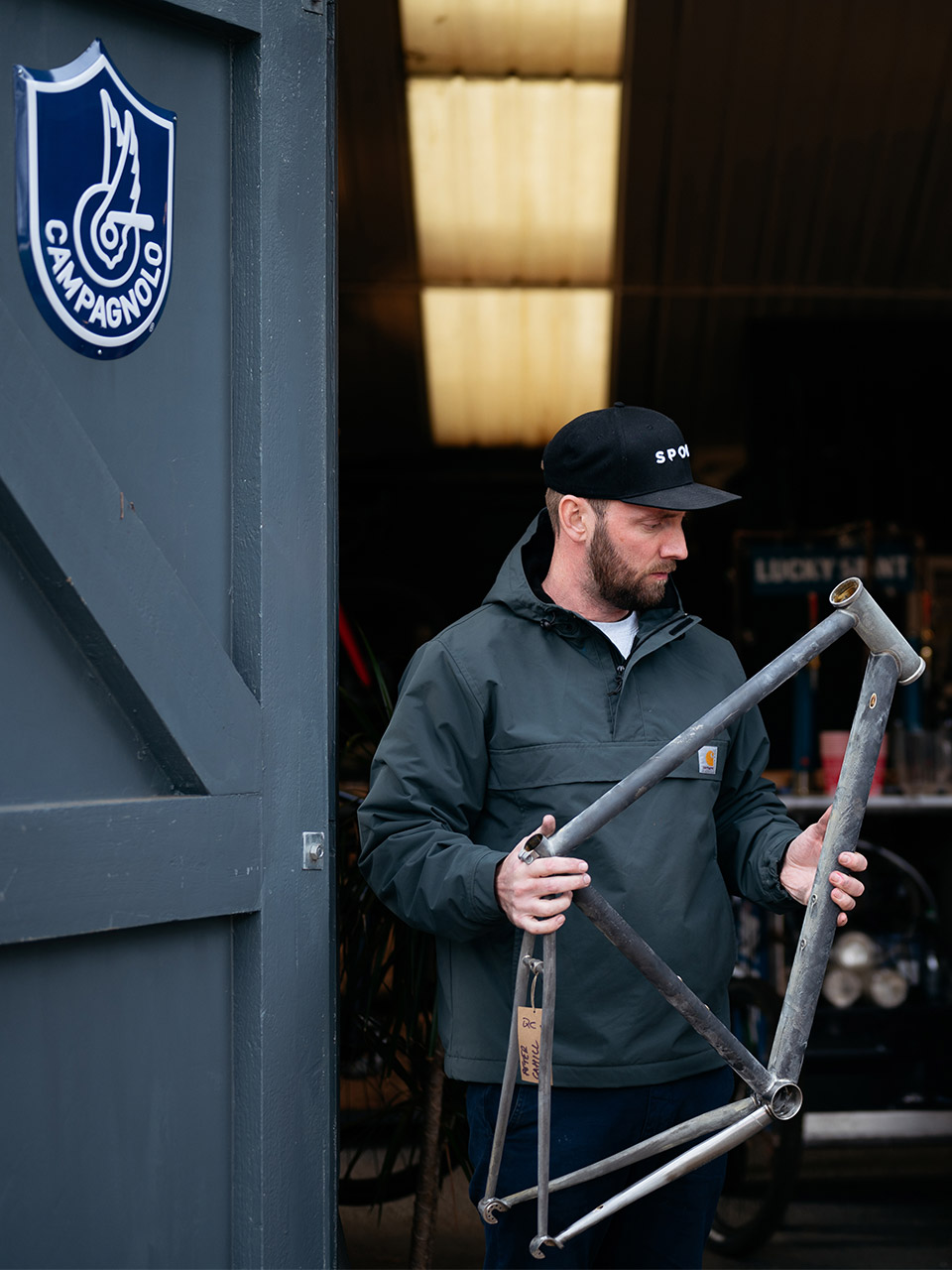 Bikes
Inside Spoon Customs
Building better bikes.
By Rebecca Bland
Brooks England first got to know Andy Carr when his very first Spoon Customs bike was shared over the internet, largely due to the incredible hand painted scheme by artist Sam Dunn. Brooks subsequently borrowed the bike for its catalogue cover in 2016, and has partnered with Carr and his team many times since.
Carr has diligently led his company forward through various guises and it has now moved into a sizeable HQ and grown a substantial team, creating Gun Control Paint in the process and absorbing the race orientated WyndyMilla marque into the mix. Spoon's own offer has grown too, and in early 2022 it launched its first hand made carbon bike.
Each of the brands has its own story, but all have the same overarching theme – to build better bikes. Whether that's through sustainability in the manufacturing and end of life processes, the quality of the ride, or dedication to the right fit. This is a company that seeks to push the limits of what's possible in terms of how bikes are made.
Brooks England got in touch with Carr to find out what exactly building better bikes means, and how he precariously balances running multiple brands, particularly across countries and throughout the delicate times of the coronavirus pandemic.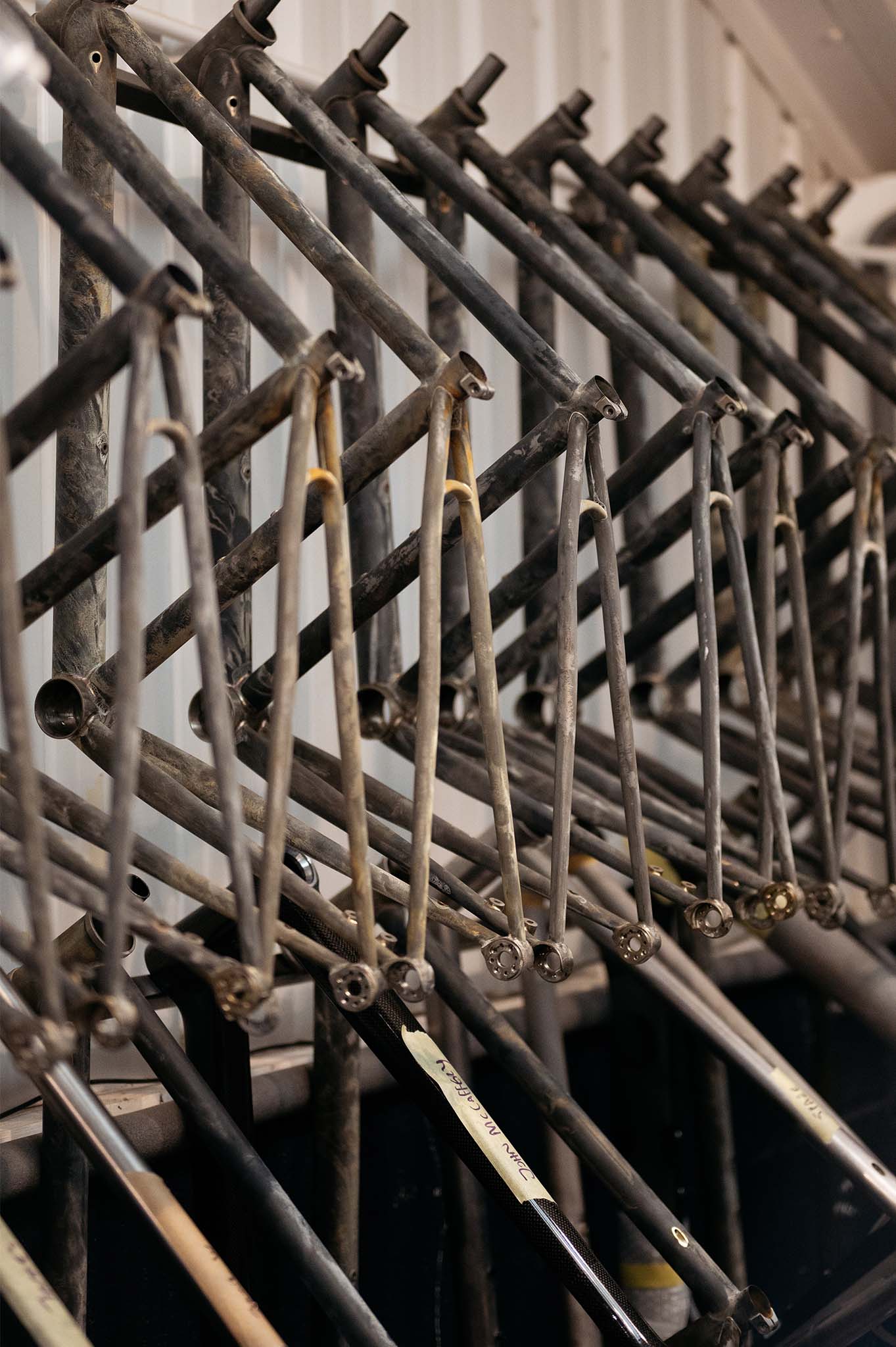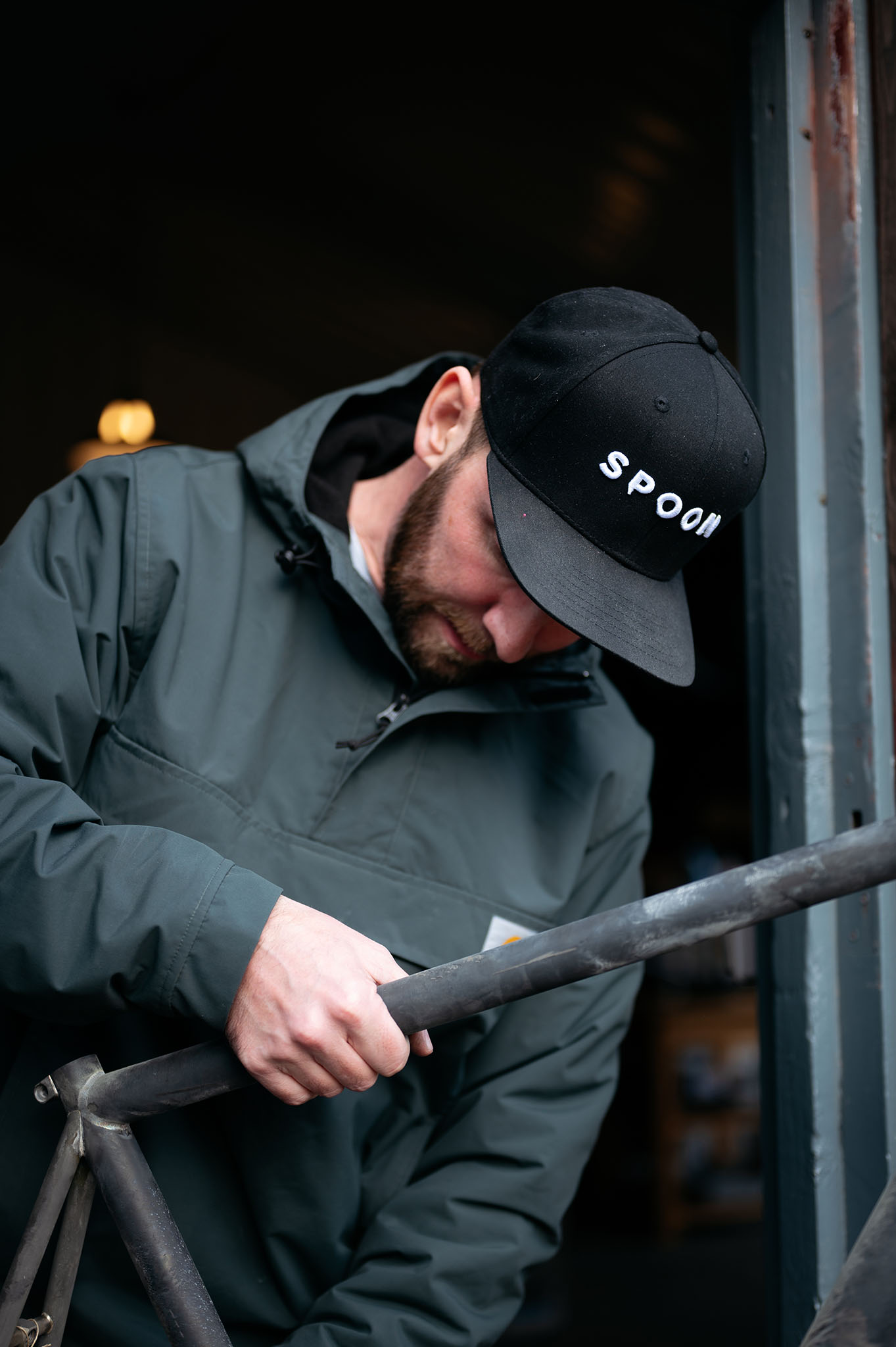 Although Carr now has interests across the three brands, his bicycle building began with Spoon Customs in 2015.
"I ran away to the mountains in 2015. I had the opportunity to go to France and I took it. Principally because it was easy living, in the right spot, I needed the change, and I figured, with a bike (I'd built) under my arm I could probably find a few people in and around the area that might be enthused about what I was going to do and might be able to help me take it to the next step.
"When I got there, I found myself at the top of a Cat 2 climb at the top of the Col de Montgenèvre. Turning left out of my workshop down the hill there was the village of Cesana and then in the other direction, there was Briançon and the foot of Col D'Izoard. I had all this fantastic riding just on my doorstep, and I was also at the start of the E64 which is the road that goes across the top of northern Italy"
Living in this location allowed Carr to hone in on the relationships with "everyone who's everyone in bicycle manufacturing". His suppliers and builders for one, and this has ultimately led to long-term partnerships.
"I had local access to those people for three years and it allowed me to come up with the approach we now have. I've worked with the same builder for six years on the steel side, and we're two years in with our carbon builder, so we're starting to make really meaningful relationships with people who can make really lovely things for us, but it all came from that springboard in the Alps."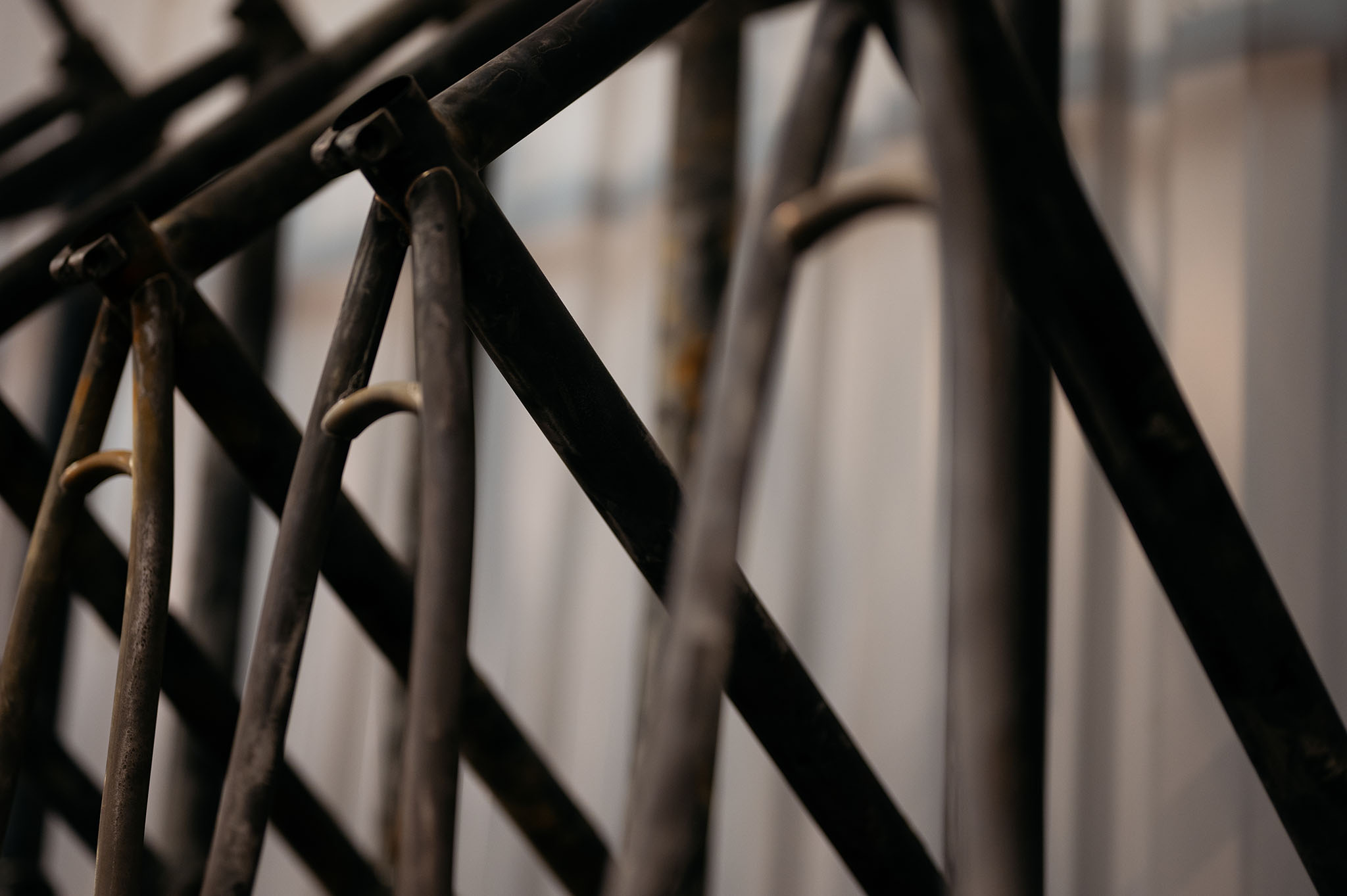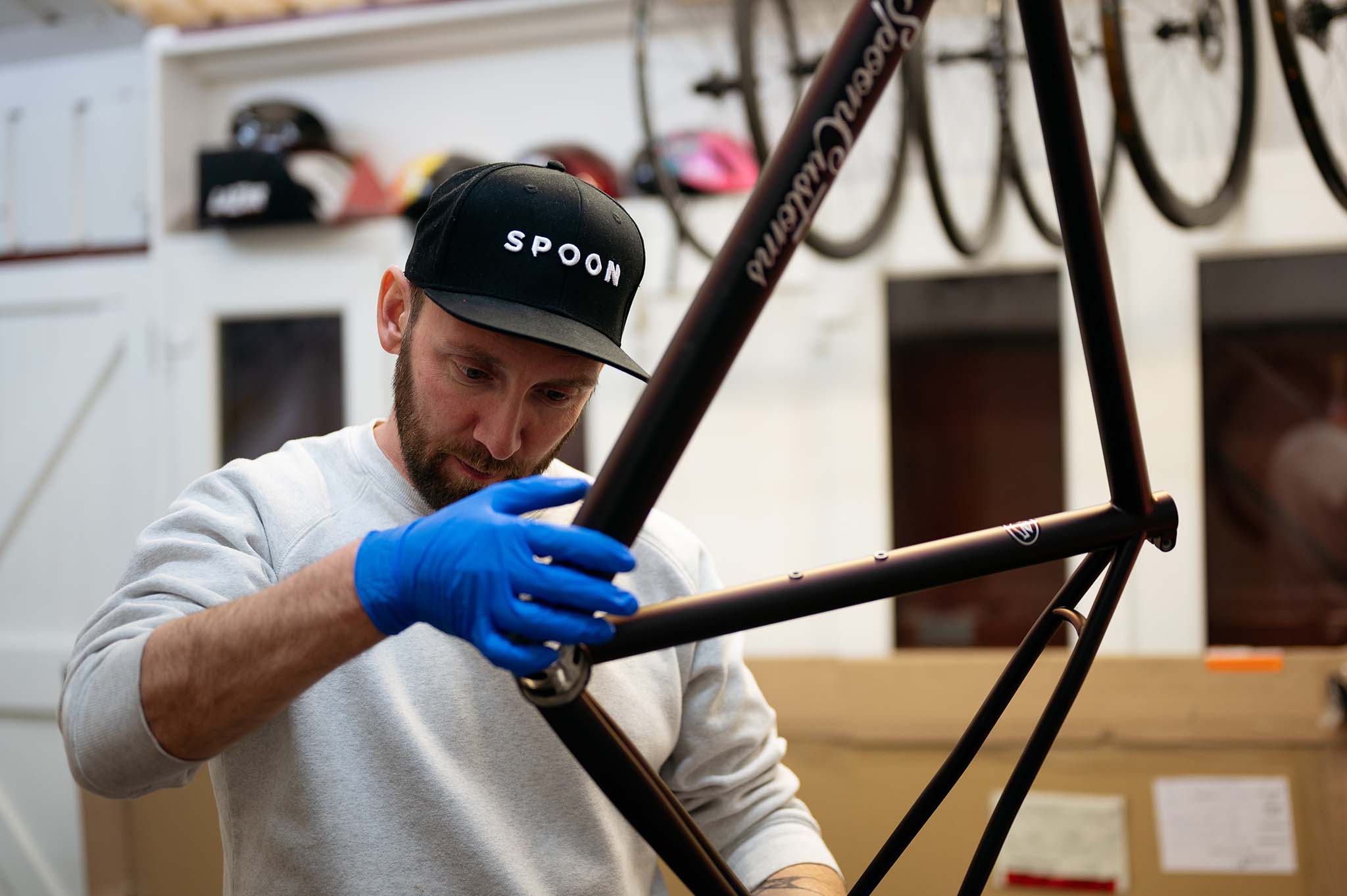 For Carr, even with piqued interest in his new bicycle creations, and clear demand, it wasn't until he returned to the UK that he fully worked out how to make it work as a business.
"In 2017 I came back and I was kindly set up at the Brooks shop in Covent Garden. By then I'd had a load of development frames made and I'd been riding around and guiding for around two years in the Alps. I came back with one finished bike and we basically launched the company at the B1866 store off the back of that first one."
"For the official launch, we had that bike and a couple of frames on display and as much as I felt like I was just trying to wing it and hope for the best, we ended up with about 40 people in the end. The day after, Cyclist magazine called me and asked if they could have the bicycle for test and from that moment on it started to feel like it just might work.
What followed was a period of balancing running a bike workshop in Brighton with the ongoing development of his frame building company. This period saw a massive workload, and even led to Carr sleeping in his workshop to save cash at one stage. By contrast, the business has been doing so well recently that Carr has even been looking at looking into a government scheme to help younger people into employment.
"If you can give people a six-month work experience. You can top that up, of course, we don't pay anyone minimum wage, but the deal is you have to give them a meaningful training course over those six months and try and find them a full-term position. It's a bit of a nice way of us getting some help to bring somebody in, and gives people an opportunity to prove themselves."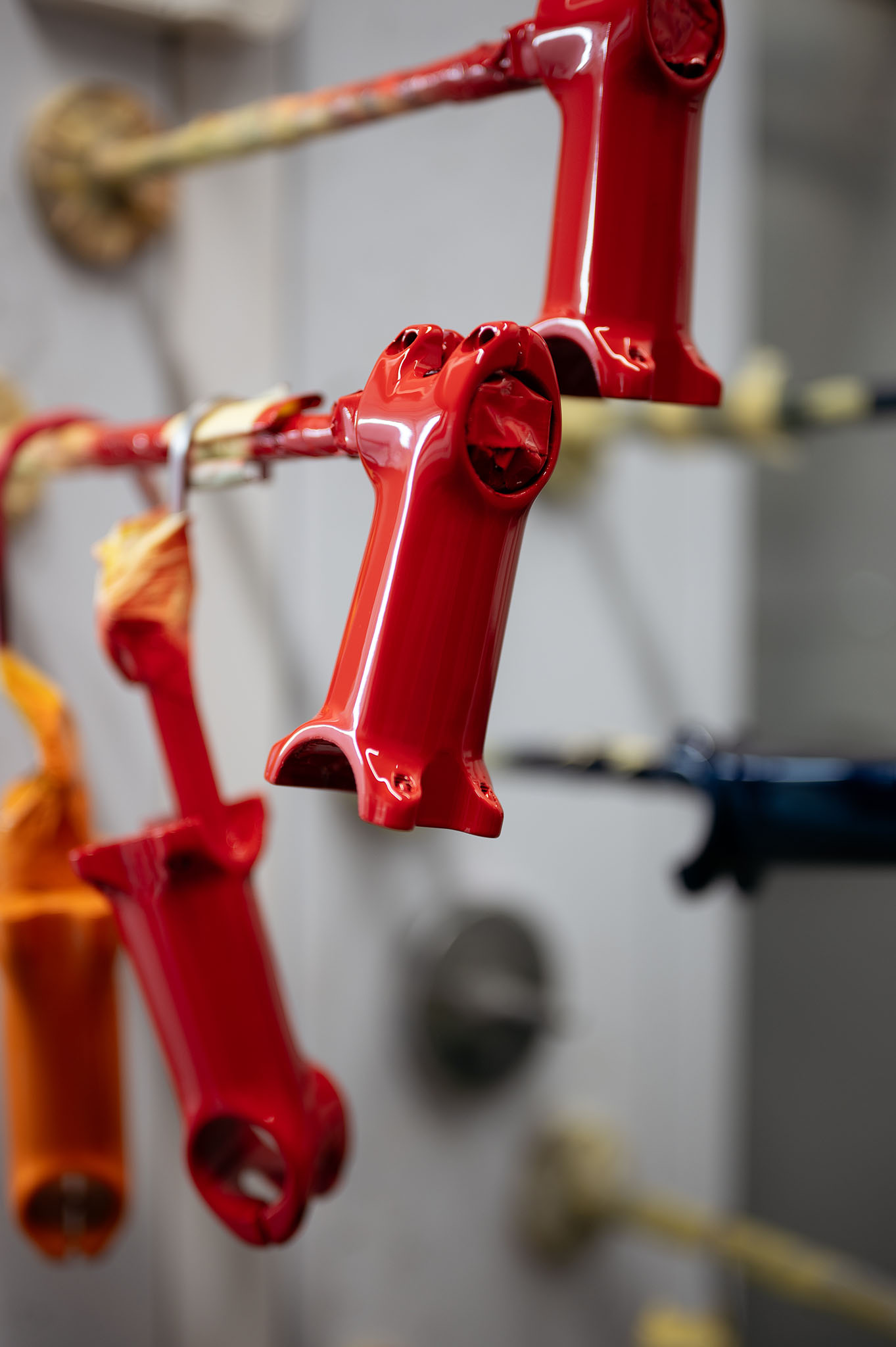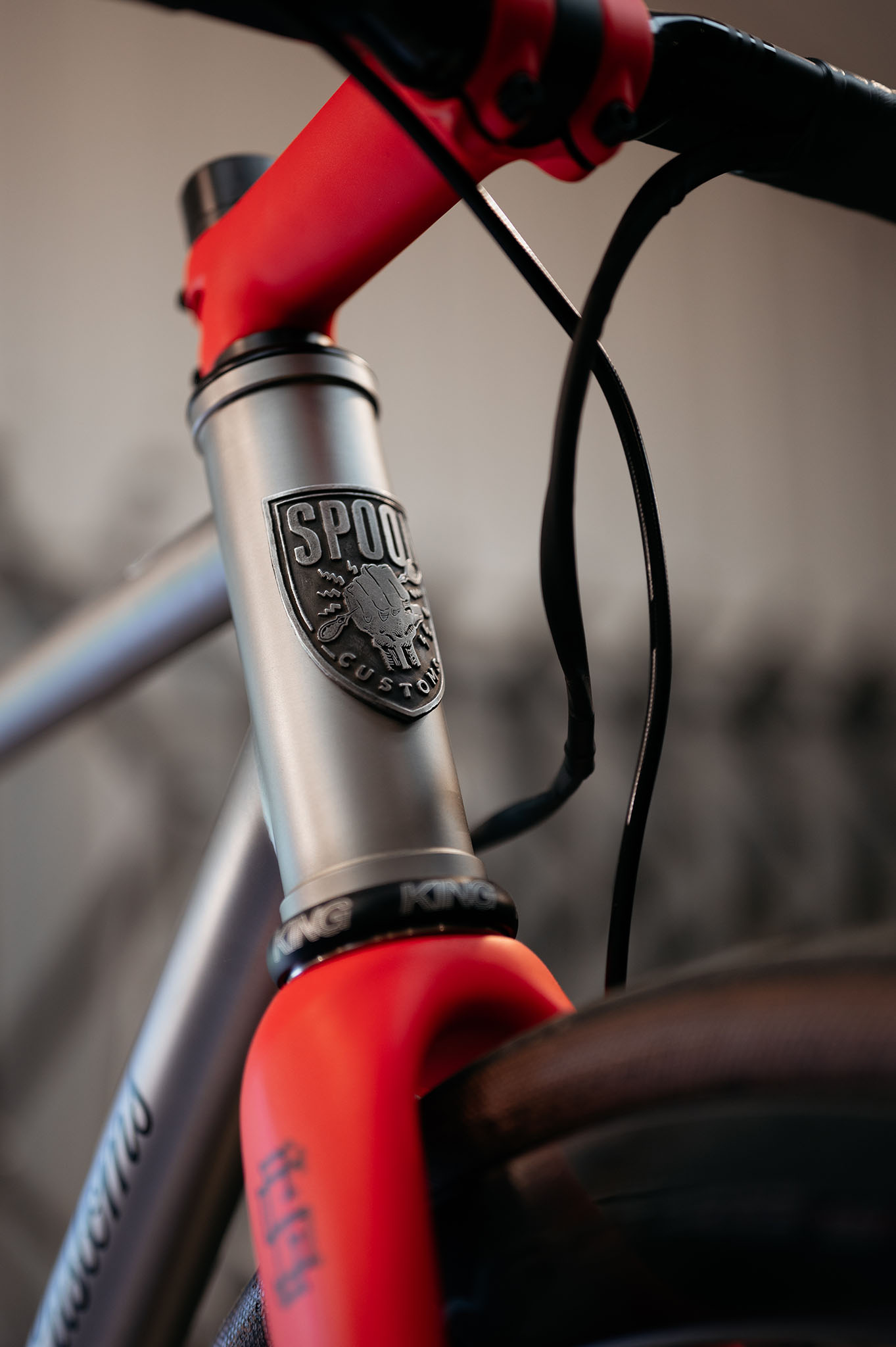 Even though in bike building terms he may be relatively new to the game, that hasn't stopped Carr from taking advantage of the flexibilities and added abilities that come with running a slightly larger business. In his words, he wants to 'build better bikes'.
"This isn't a 'brand statement', but we're trying to build a better bike. That statement is a guiding principle and helps us think about how we make them, who makes them, where we make them, how we pay people, how we deal with them at the end of their life cycle and of all the grown-up things we can do now.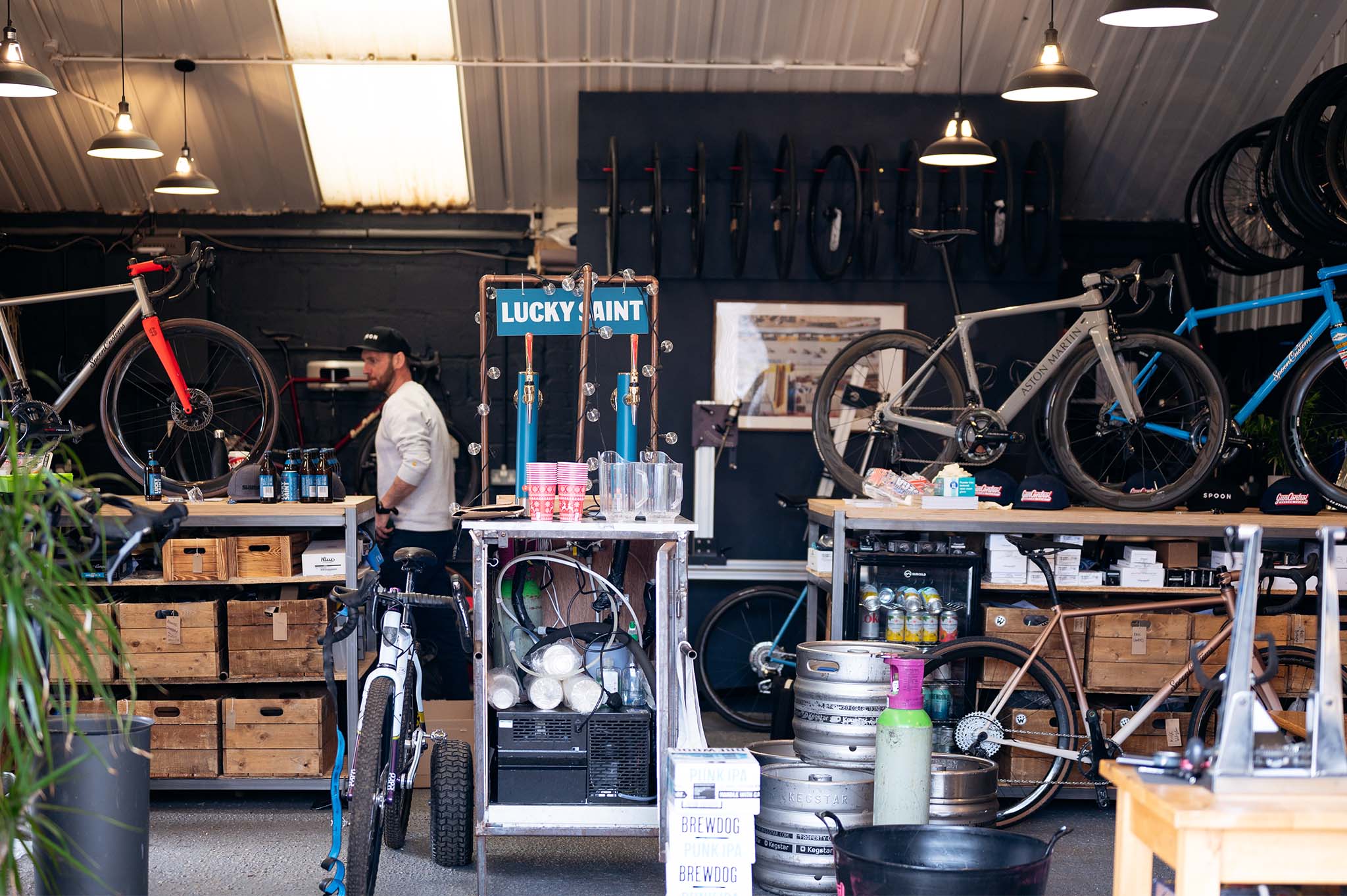 "That guiding principle is the one that I'm most excited about because that's a proper grown-up business thing and raises daily questions, like how do we do this sustainably? How do we do this with the minimum amount of harm and the maximum amount of impact? Or how do we do it in a way that our customers are going to respond to, and how will it fit into their lifestyles and their choices?"
"The truth is, in the wider industry a lot of these issues have gone ignored in the past, because of the end product – a bicycle. As something that is unquestionably better for the planet than a combustion engined vehicle" it's fair to agree with Carr's point that, "the bike business has had a bit of a free pass".
"By nature, we're making something that for a while has been considered a noble, meaningful task but I think people, consumers, and businesses generally are starting to realise that it doesn't matter if the object made is good for the planet if the way that it was made wasn't. "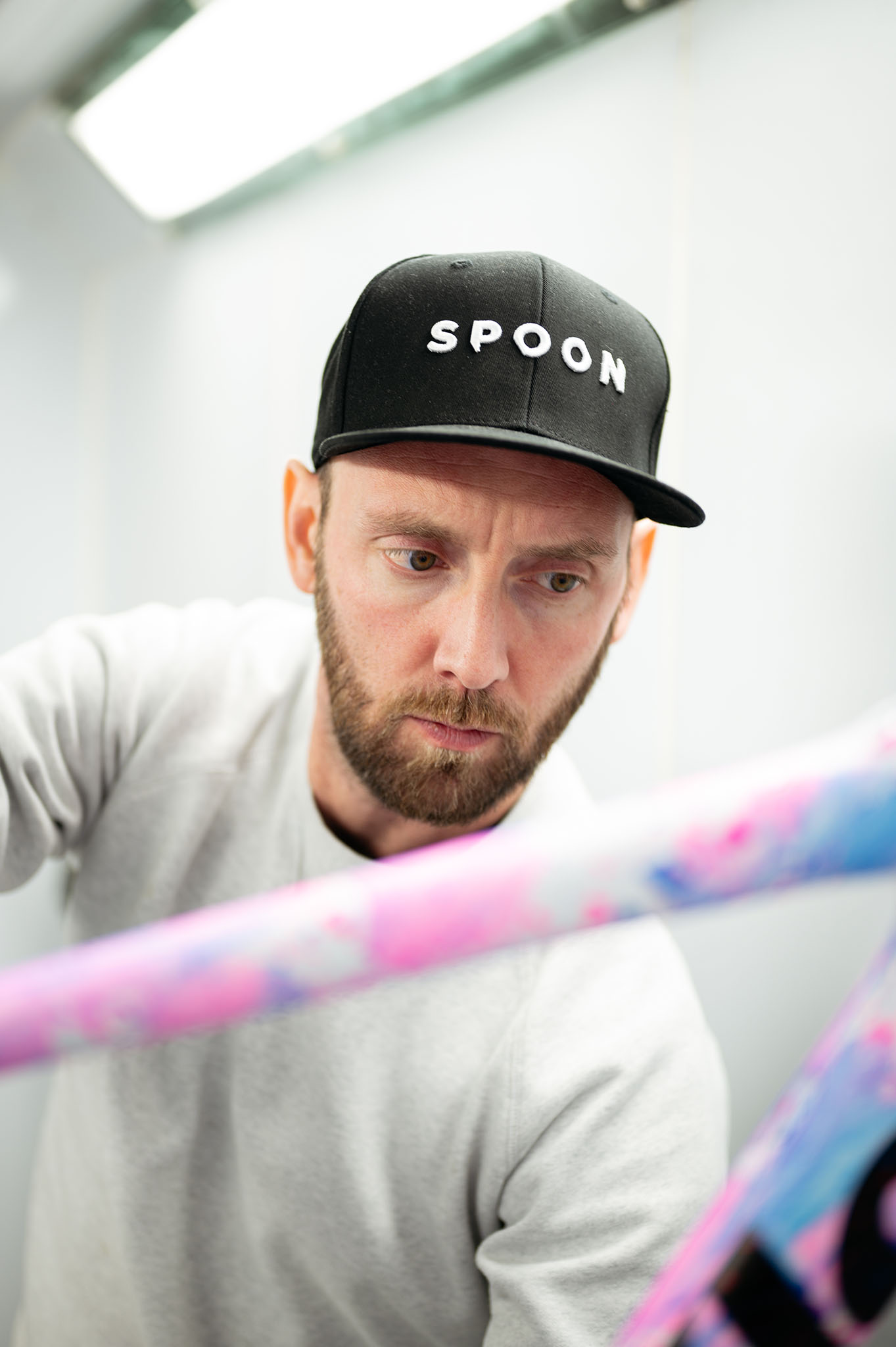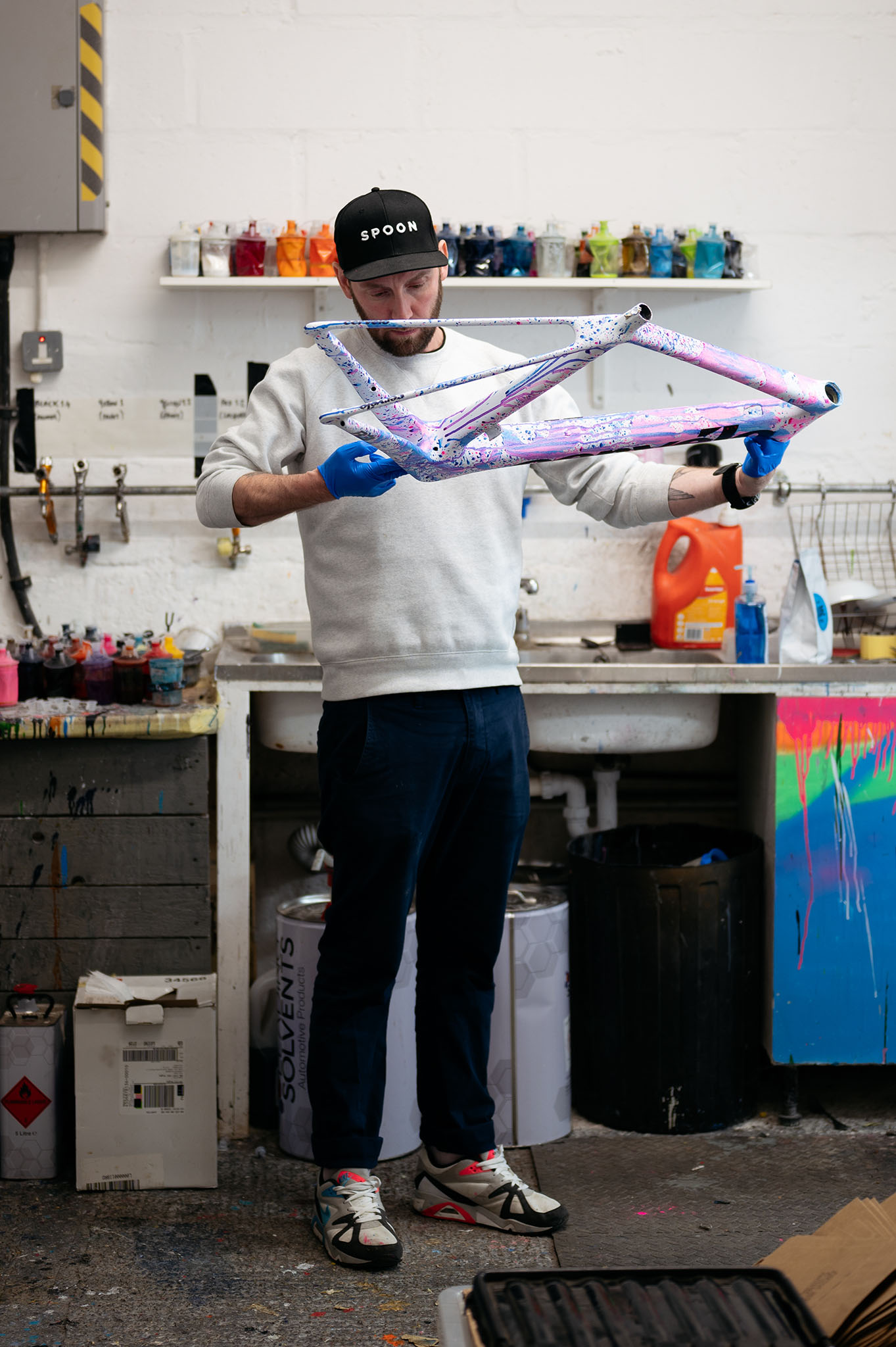 Sustainability within the cycling industry, and particularly within realms of professional cycling is something that's come under scrutiny lately. Although bikes are inherently good for the world, can the manufacturing process be greener, less wasteful, and less damaging to the planet? Carr's company has been experimenting with creating carbon bicycles with recycled materials. Although the technology is somewhat crude at the moment, there are plans for it to be used to make entire frames.
"We are basically trying to clean up how we make a bicycle. That's a social aim too, not just environmental, so the first part of that is making sure people are paid well for the work they're doing, making sure they're doing meaningful work that they love. We think that comes through in the product and obviously, that's the right way to treat people."
Not only is treating employees differently the way to creating better bicycles, or "making sure it fits properly, is fabricated perfectly, and finished beautifully so you actually want to go out on it", Carr is adamant that consumers themselves are interested in making more environmentally conscious decisions, even down to their frame material choice.
"Aside from that it's the actual production and making sure that when these things are finished with they're not going into landfills, and that people can buy them with some sense of where the materials came from and where they're going to end up.
"In trying to solve that problem, we've done a lot of research around what other people are doing, some of the obstacles and some of the barriers. For example, one large problem with moving carbon frames around is the need to squash them into something else. There's just not a lot of material in a bike frame even though it's wasteful to think about throwing it away, carbon fibre is really light and not very dense and there's just not a lot of it in a bike frame. We're working with a processing company in the UK who can take a frame, squash it up get all that air out so it's shippable and turn it into something new. The new material is called cut carbon fibre. These strands aren't as strong as virgin carbon fibre strands but they share some of the properties in the sense that it's strong and light. You can turn these strands into filaments for 3D printing, but to do that you need to find the materials to work with."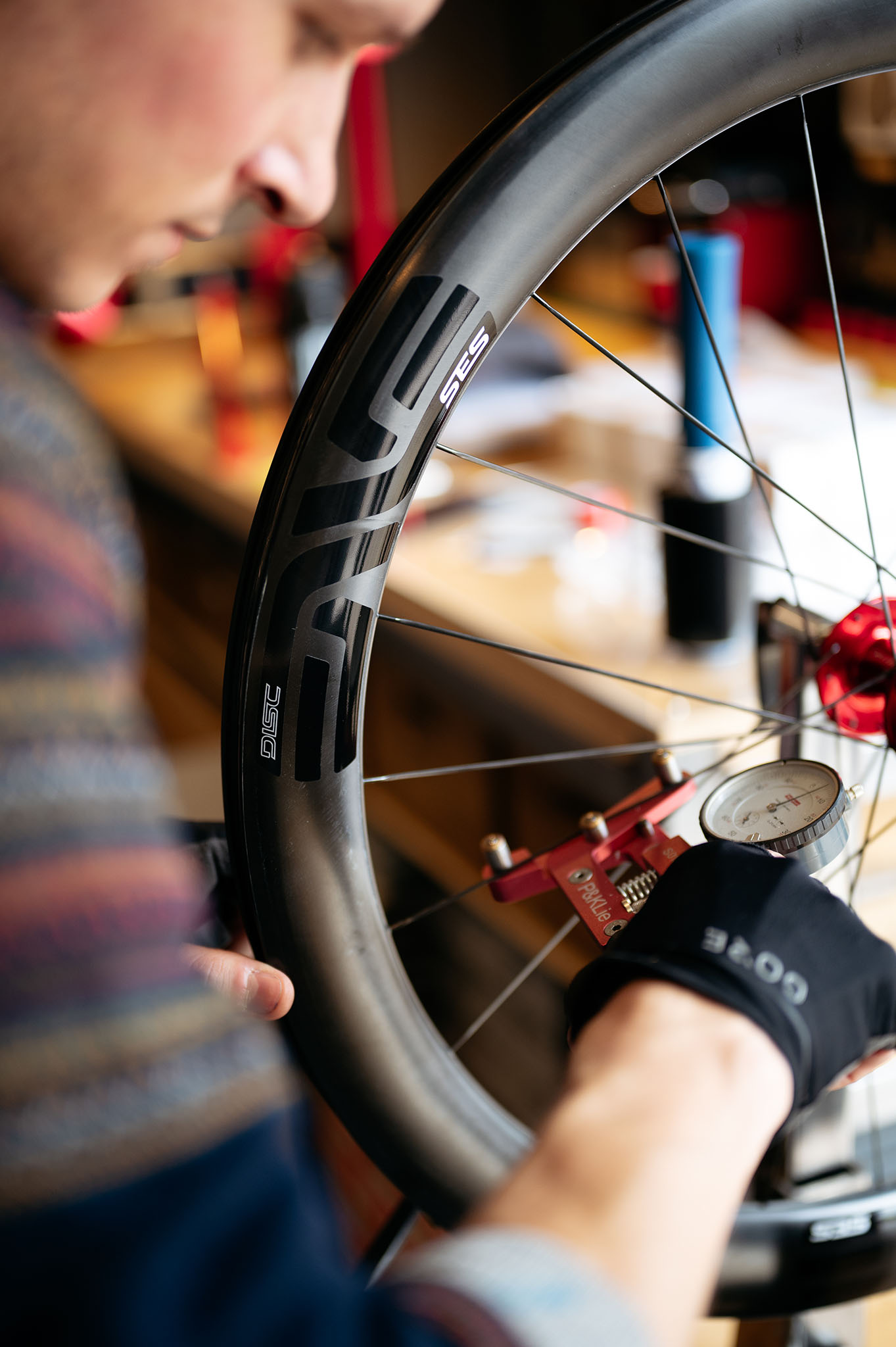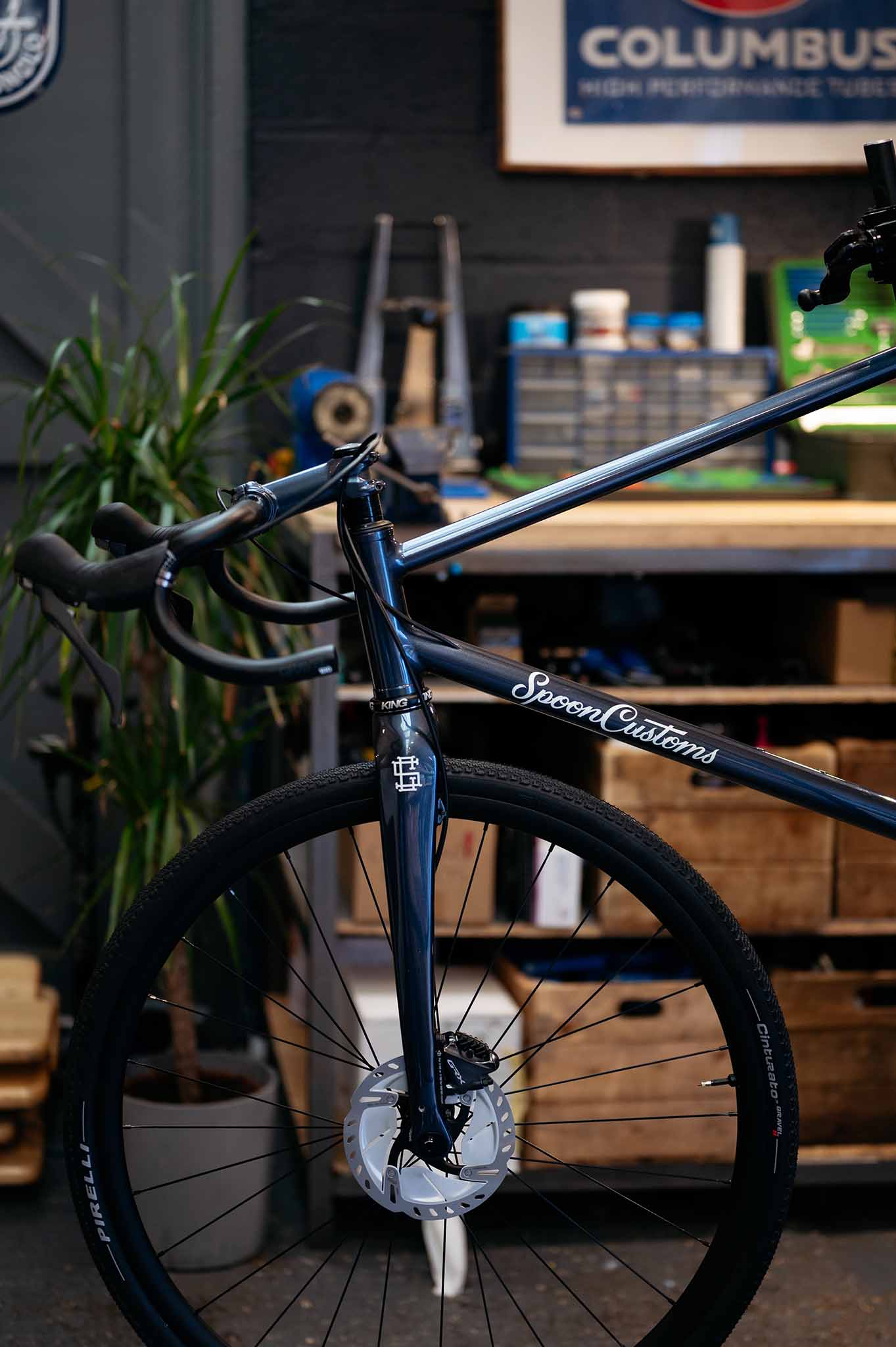 For Carr's customers, this isn't something that might happen in the next five years, this technology is already in use and has helped solve another problem the industry created – fitting integrated cockpits to other bikes.
"We have been able to prototype and print parts on a gravel bike that give us the ability to integrate it with setups from, for example, Vision, Deda, Enve. They all make a version of an integrated front end, and now, we can create a front end of our bicycle to suit any of those systems using this material.
"We're hoping to extend the use of that material into more parts of our bikes so it can then replace some of the carbon fibre parts and to eventually use it to produce an entire bicycle."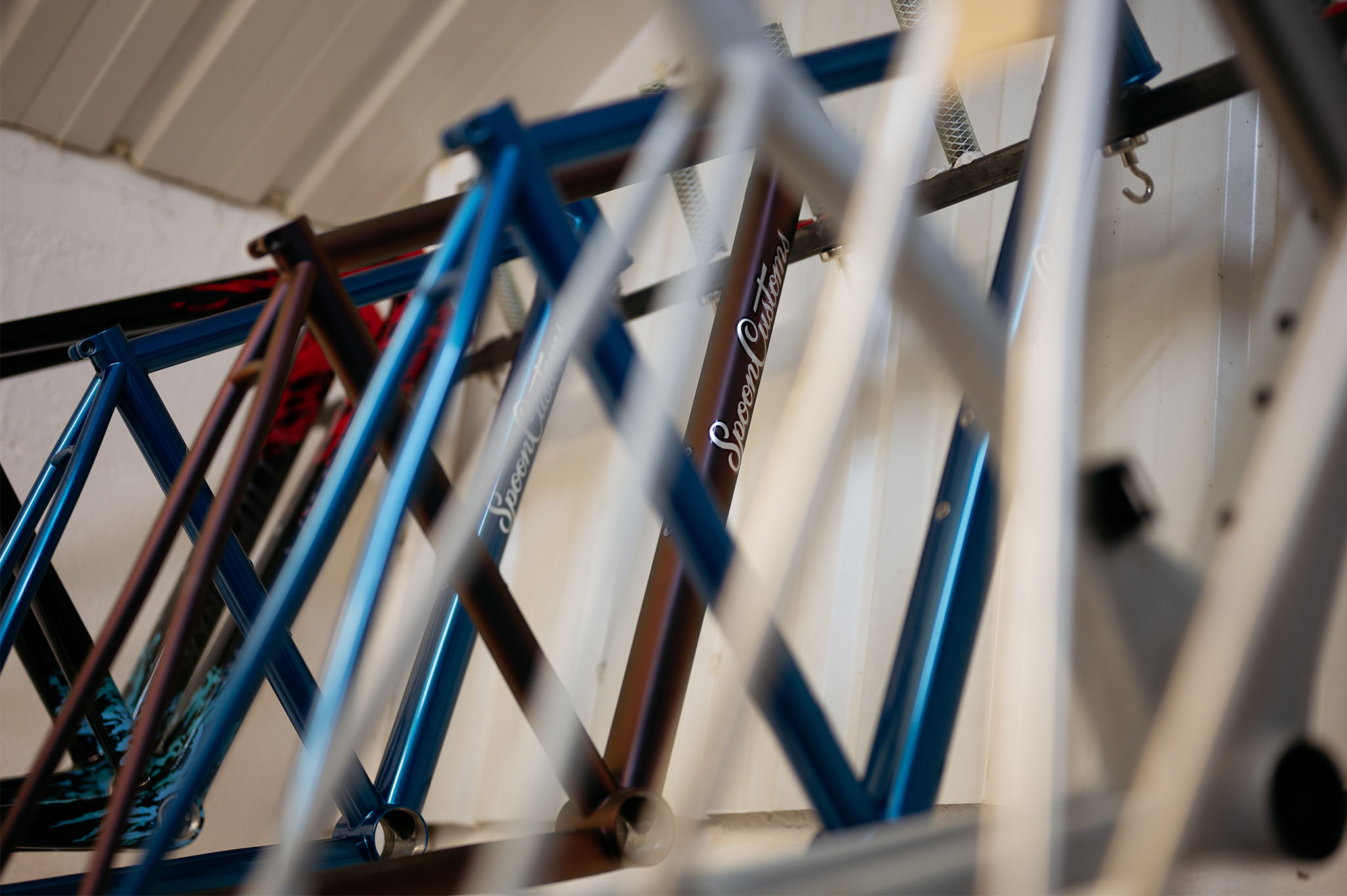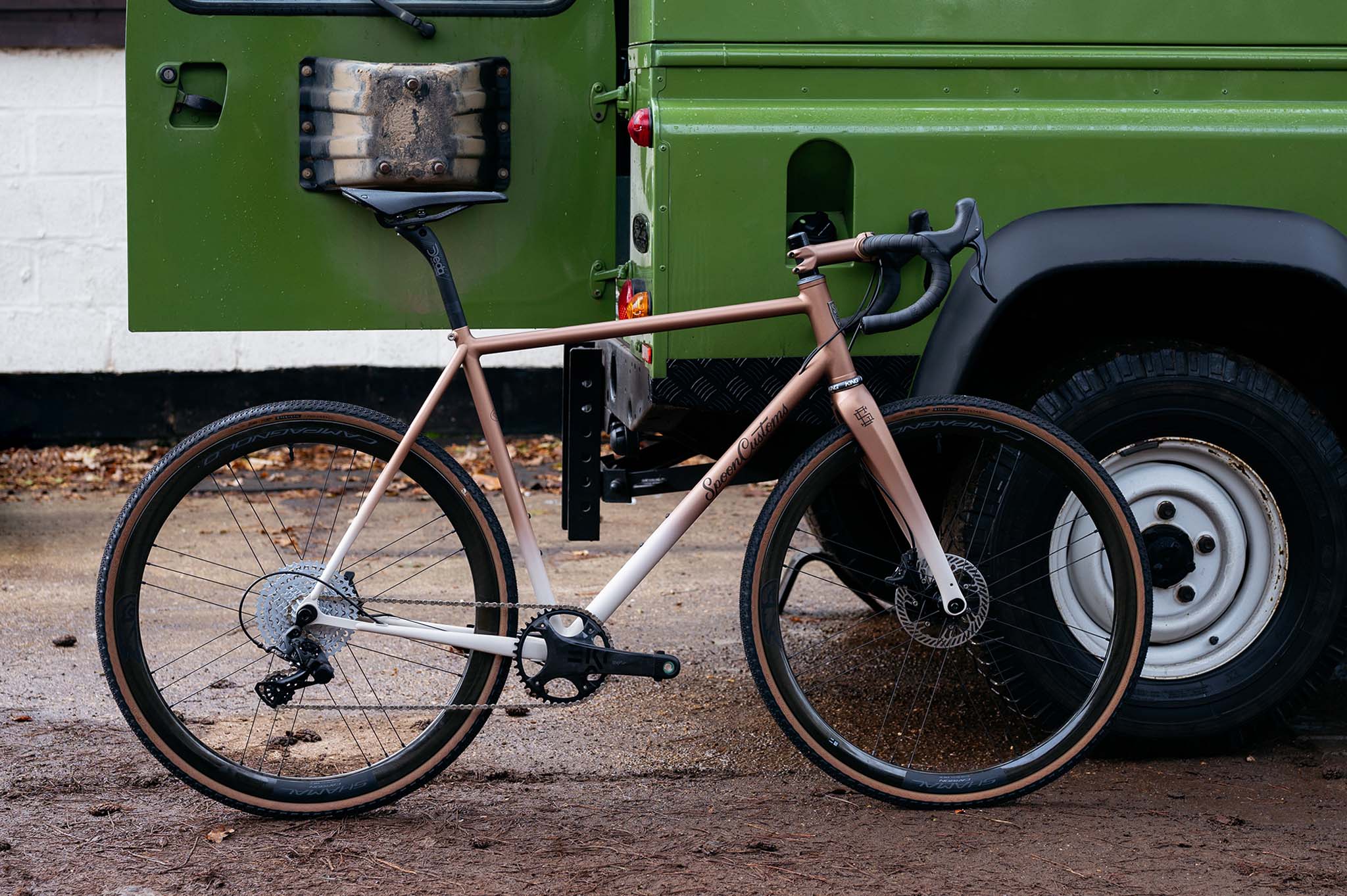 In the end, though, it all comes down to getting more people on bikes, and bikes that they enjoy riding, nonetheless.
"We want people to think about their cycling experience, and how much they value it.We don't mean our bikes are the best in the world, we just consider what the customer wants in all of those different facets of sustainability etc.
"We want to be a part of encouraging people to think about their cycling experience. Whether it's by building a cool bike and having a hand in designing it, or teaching them to fix it, or maintain it. We just want people to get more out of their bikes and their cycling experience."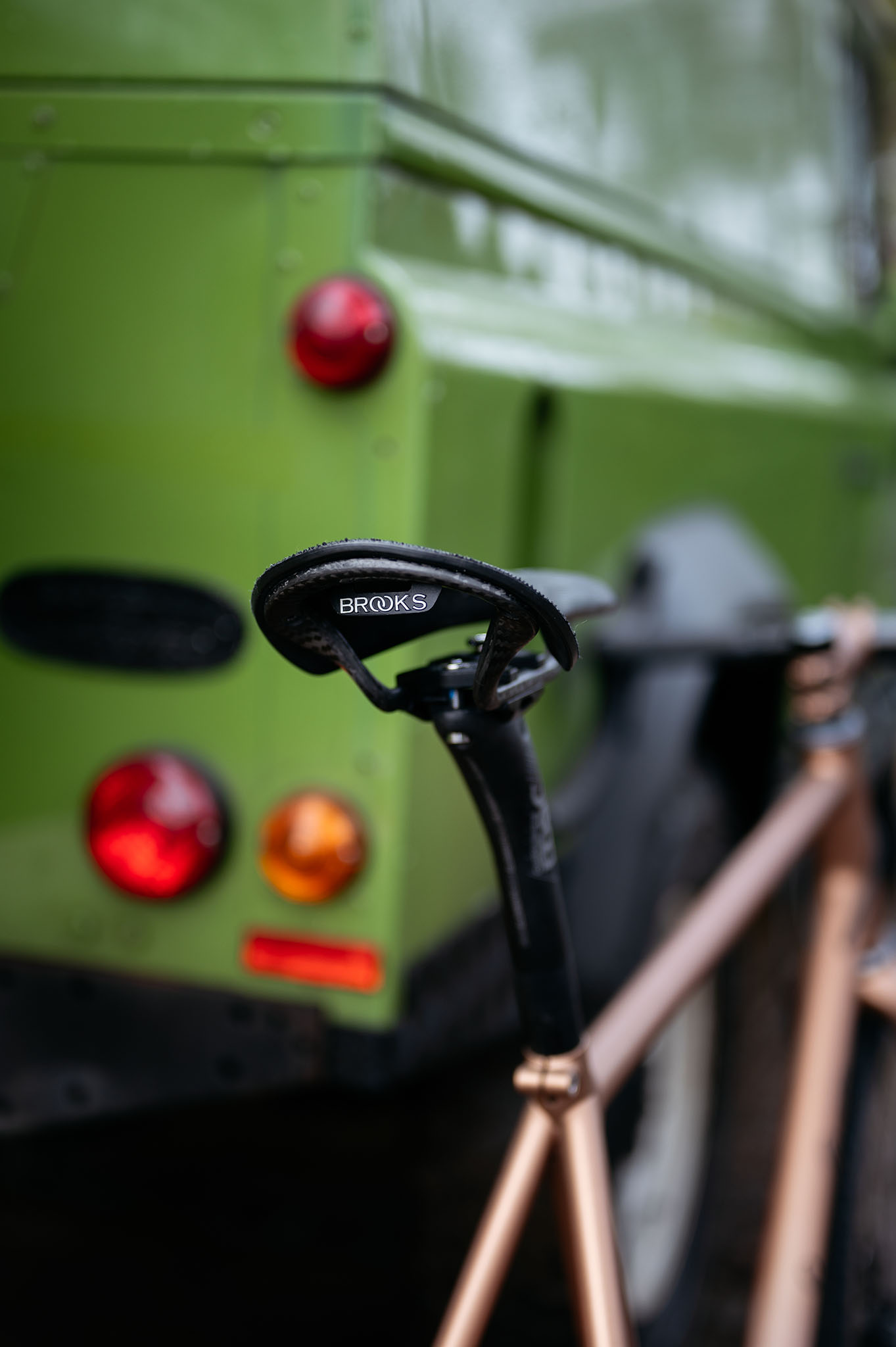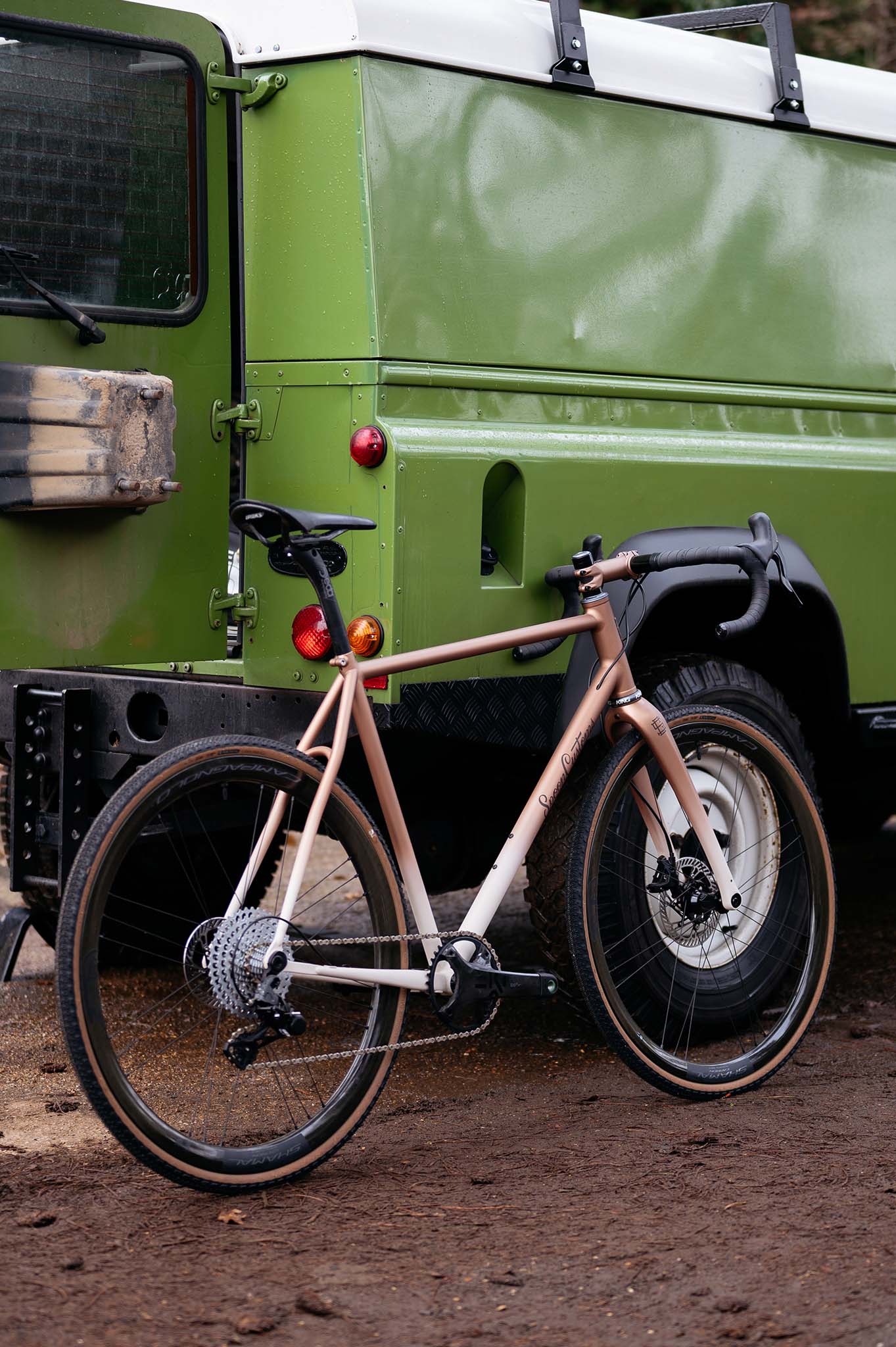 Carr is able to reflect on where he has come from, and he knows his life has changed drastically since the days of sleeping on a shelf in the same room as his maintenance tools.
"It's all been uphill but it's been quite fun. Running a bike shop full time and living in it is a really good laugh for about ten minutes until someone's knocking on your door at 6 am with a flat tyre. There's been a lot of uphills and a lot of sacrifices but I commute to and from work these days and live in a normal flat now, so it's starting to feel a bit more like we're winning."
More People Stories
5804
Commuting with Tammy Crawford-Rolt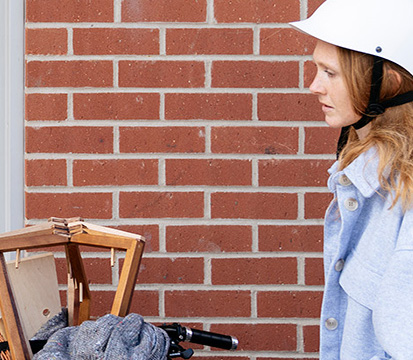 Discover Tammy Crawford-Rolt and her commute as a furniture designer in Bristol.

READ MORE

5561
Creativity, cargo and canines with Adeline Moreau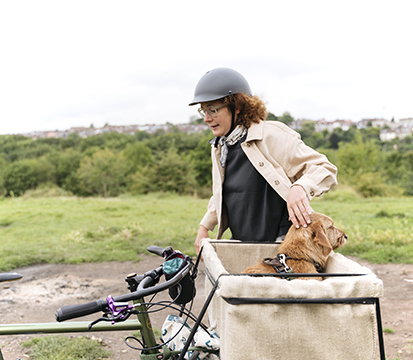 Unlocking creative problems on a Bristol commute with Belgian-born, illustrator, design strategist and cyclocross racer Adeline Moreau and her dog Trousers.

READ MORE

5397
Commuting with Morgan Frost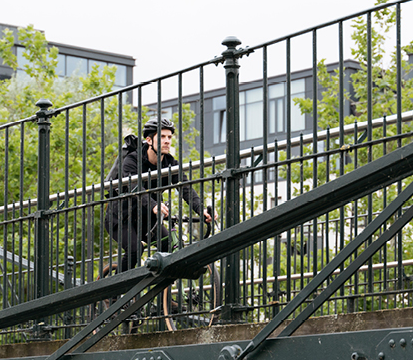 Cycling industry stalwart Morgan Frost has found a new passion in the coffee trade.
READ MORE