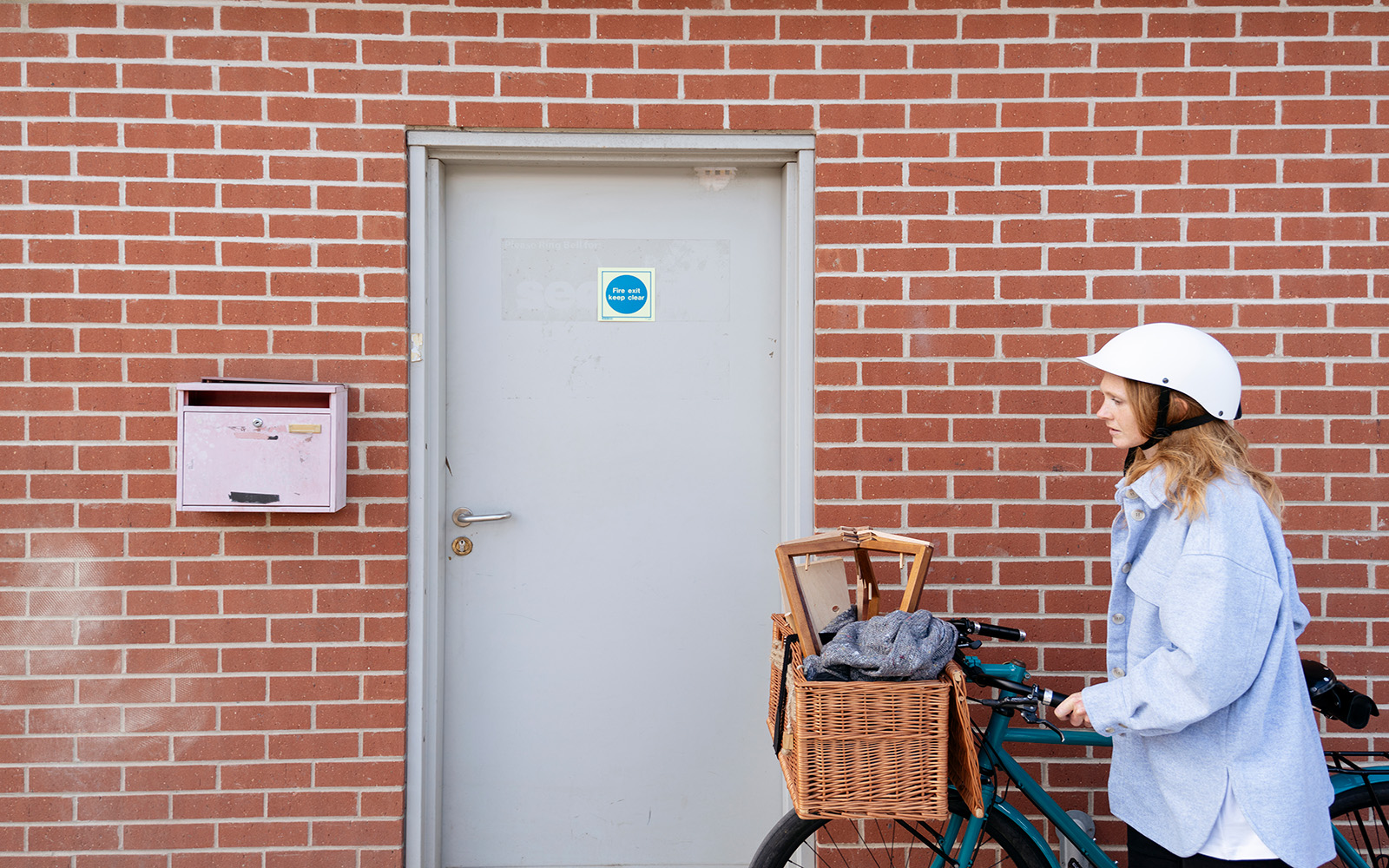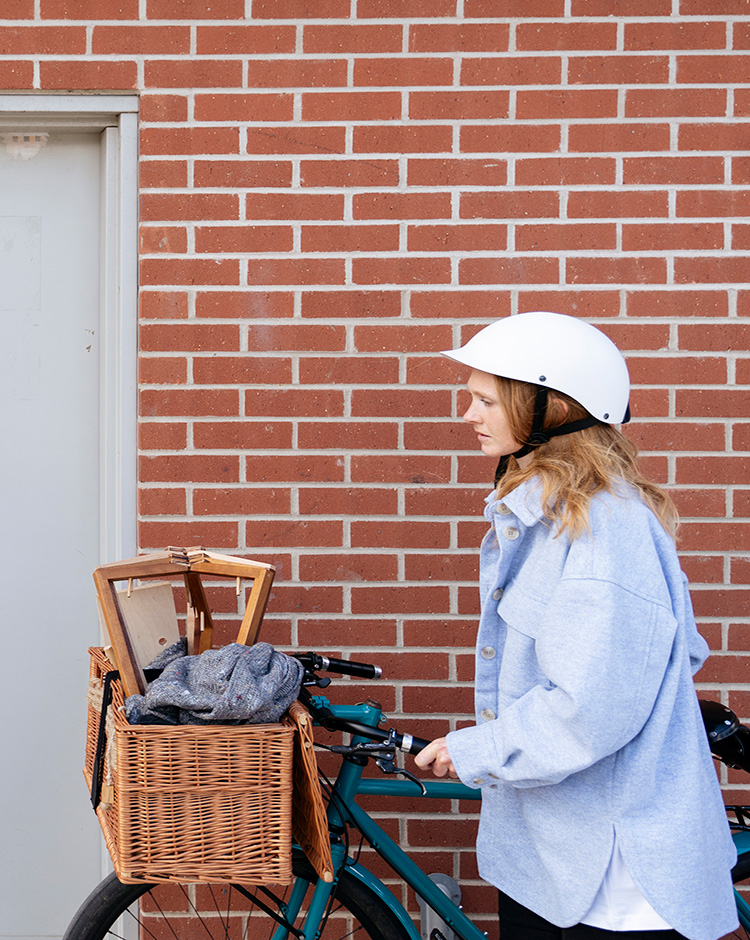 People
Commuting with Tammy Crawford-Rolt
Designing and making a more sustainable future
By Kit Nicholson
Tammy Crawford-Rolt is a Bristol-based furniture maker who is doing things differently.
Geometry, nature, organic materials and sustainability are the pillars that define Crawford-Rolt's work, from the unique wooden pieces she sells, to private furniture commissions, all the way to bike industry trade show installations.
While most of her 'designer/maker' peers might rely on a branded motor vehicle, Crawford-Rolt gets around on a custom Clandestine utility bike, her self-sufficient and sustainable mentality extending into all aspects of her working life.
Brooks England spoke to Crawford-Rolt about being part of the urban 'maker' community, choosing the bike over a van, and challenging perceptions of serious enterprise.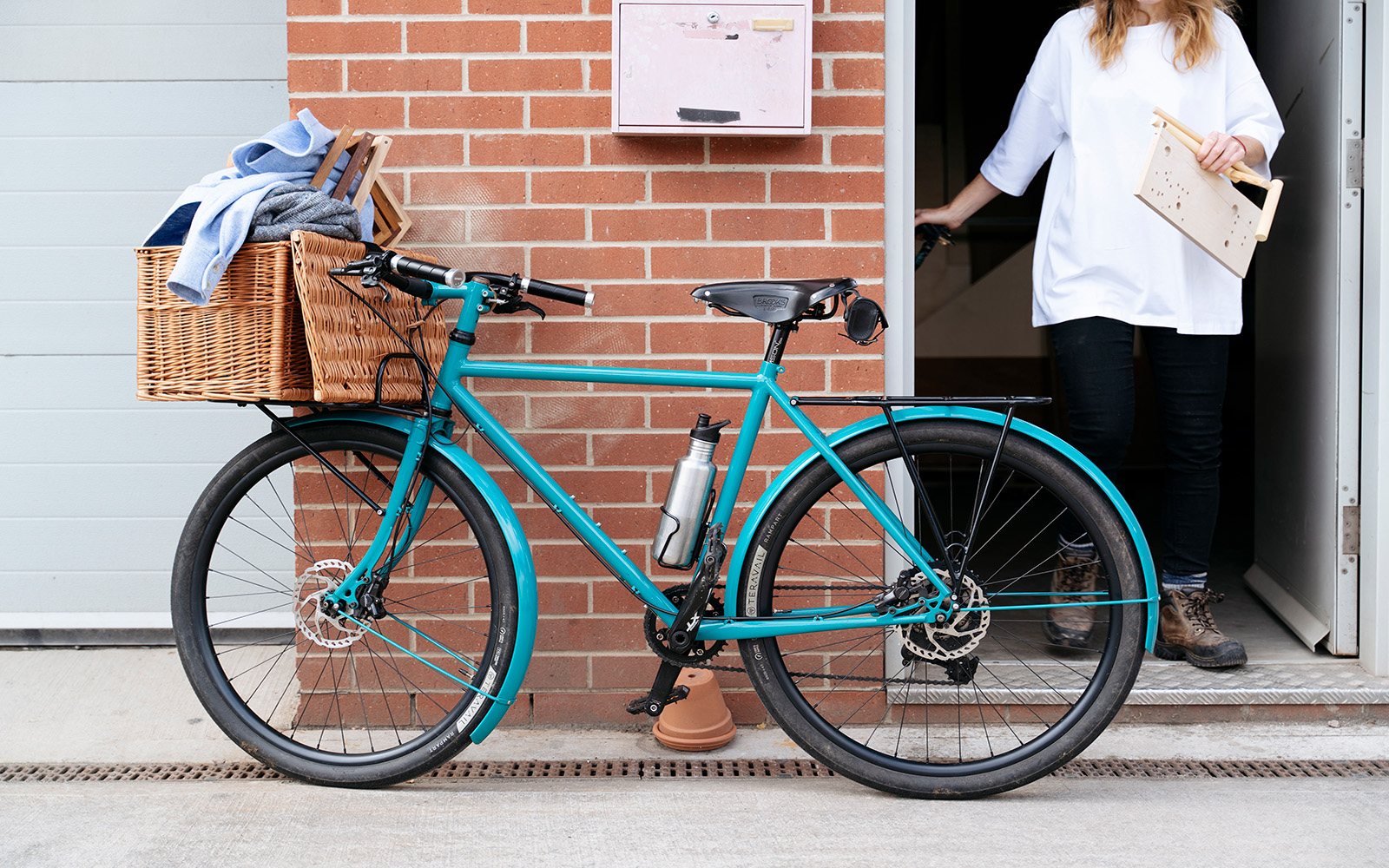 Tell us a bit about your work and how the bike fits in
"I call myself a designer/maker, but I'm essentially a furniture maker. I take furniture from designing to making, and sometimes I make for other people, other makers, helping them out with fabrication. I've been doing it for about five years, but full time for two.
"I don't have a car, partly for environmental reasons but also I don't necessarily see the point of having one in the city, so I cycle to my workshop every day. I'm fortunate enough to have a Clandestine bike through my partner Pi, so I have a front rack which enables me to carry as much as possible to and from my workshop. I'm also able to go out and do deliveries of my smaller scale items to people or to shops that stock my stuff.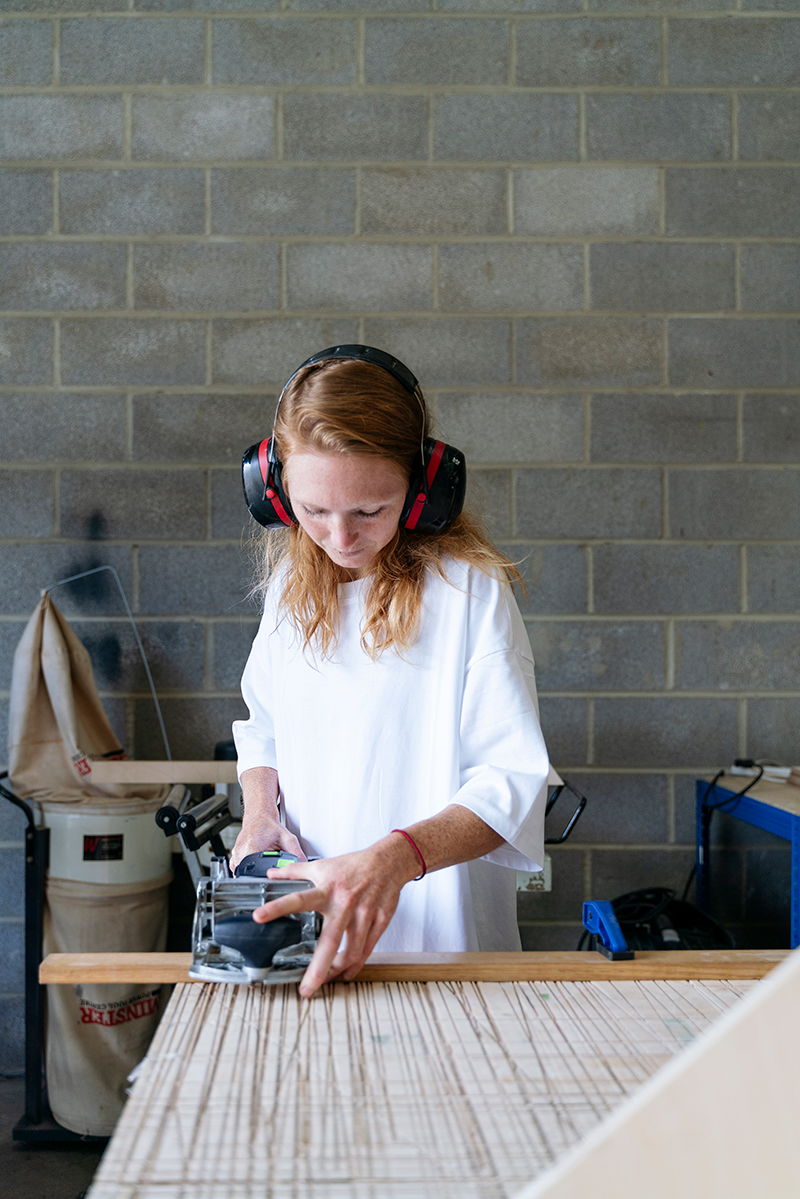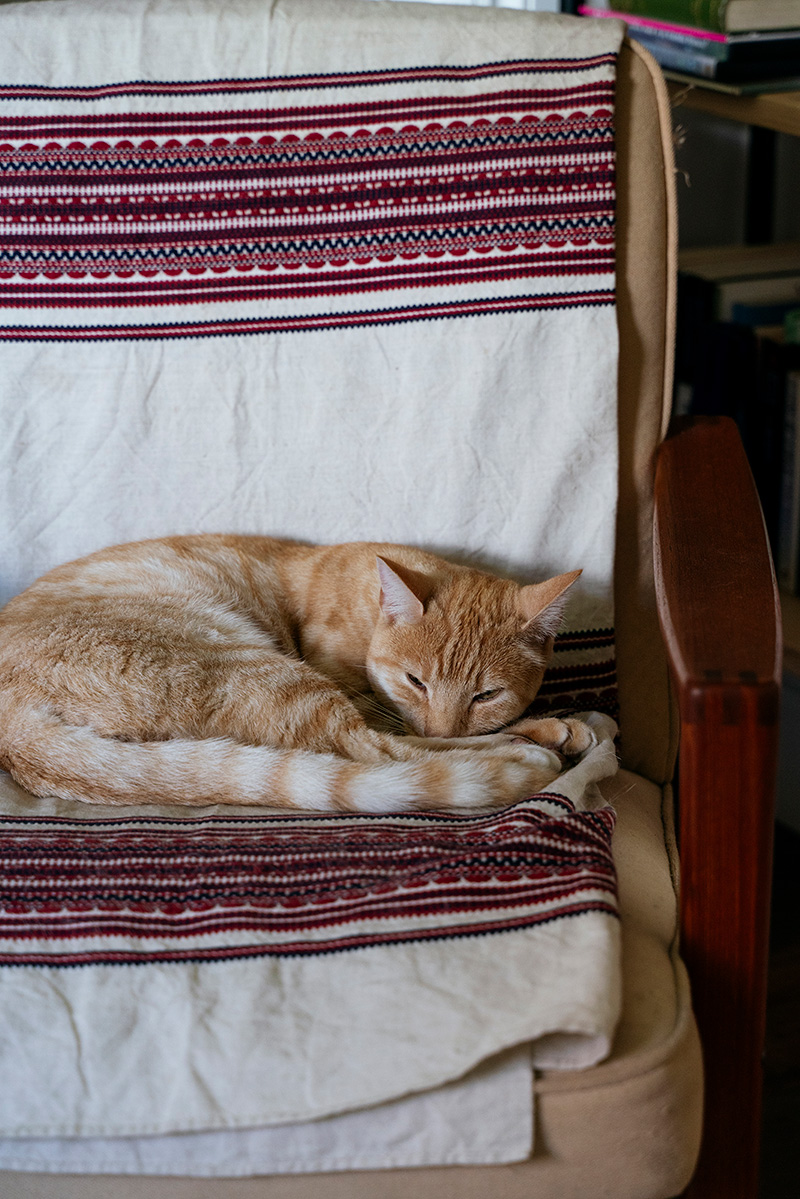 What can you carry on your bike rack?
"I've carried a four-foot Christmas tree horizontally across the front rack. I've also carried bags of cement, but that was a bit precarious because of the weight. But work and tool wise, I've carried toolboxes or tools in a Eurobox or Festool box which fit quite nicely on the front rack. Then if I'm carrying some of my hanging plant platforms in a basket or a box, I'll strap that to the front as well. So that can make it all quite tall and wide – not necessarily very heavy, but volume-wise, it's sometimes as wide as the handlebars and the same for width and depth.
"I think I might have put my dust extractor on my front rack as well, bigger than a Henry Hoover. And then there's recycling or waste, I take that home as well.
"I'll often carry around ply wood if I need to take it somewhere like around to Pi to char the timber with his oxyacetylene torch in the Clandestine workshop. The timber can sometimes be almost a metre long, maybe more than that, and wider than my handlebars."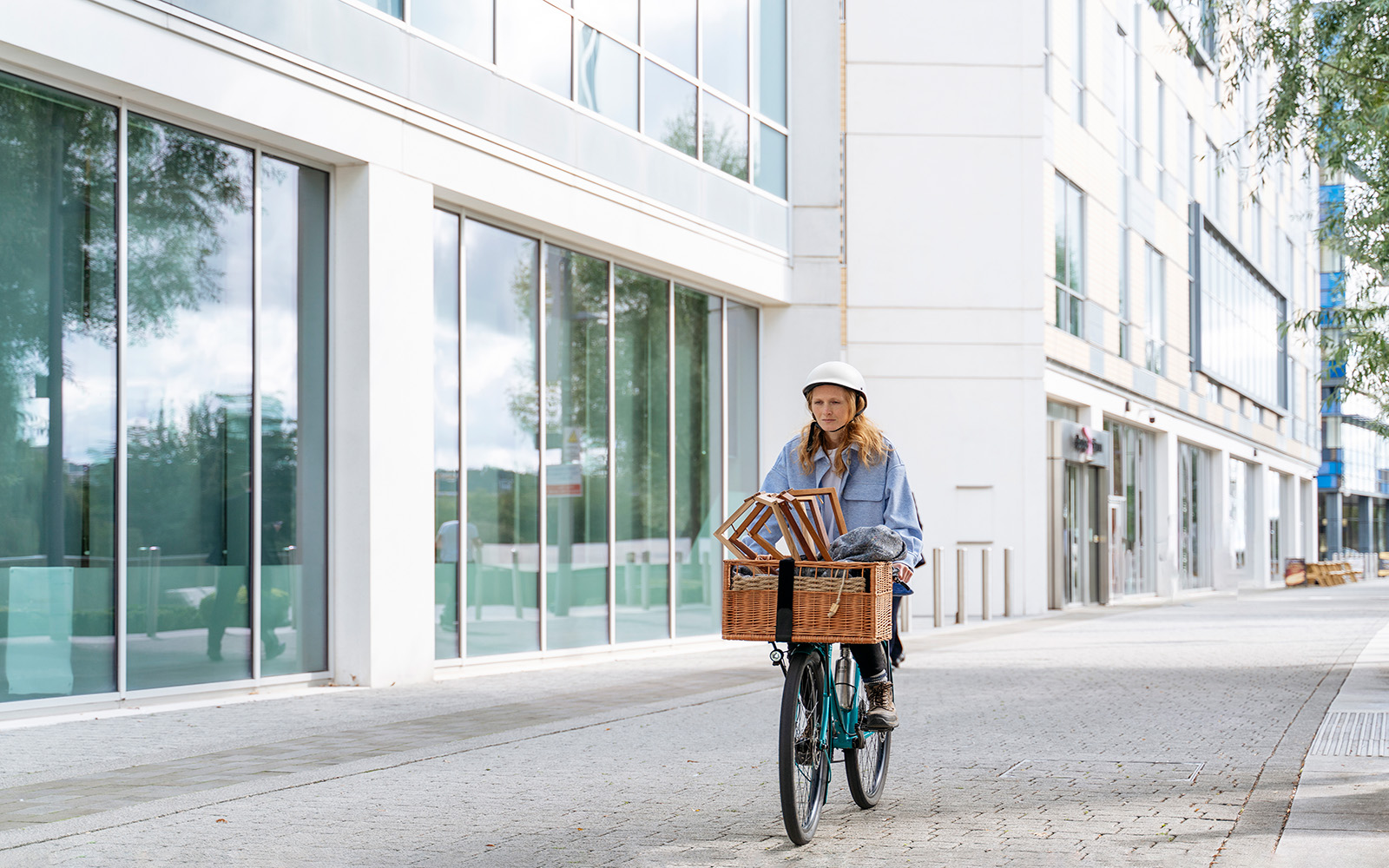 It sounds like Pi has built you a real utility vehicle, a bike that's perfectly suited for the job?
"Pi built the whole bike for me four, almost five years ago, and the front rack was a really important element. I was already doing woodwork before I got the bike, but not really full time. He was developing as a brand and in his own work so my bike was, not a prototype, but his first 'Clandestine' in a way. His big belief is having racks, especially front racks, enabling me to carry more without putting anything on my back, which is perfect for me. You don't want to put a heavy bag on your back at the end of a day of physical work. I do use panniers, but for work, it's predominantly all just on the front rack, sometimes the back.
"And then for touring, the whole thing is totally loaded up."
Tell us about your commute
"I moved workshops last March and my new commute is really quite different. The old one was through allotments and quite a nice area of Bristol, but my new one is a lot more urban. The workshop is only about 10-12 minutes from home, and the route is on a cycle route which is nice, because I find riding on the roads stressful, especially if it's rush hour and especially if my rack's loaded up.
"The commute itself is along a cycle path and then through a quiet industrial area alongside the canal that is a bit derelict, which is fine. Sometimes at night it feels a bit vulnerable, there aren't many people around. But it's quite chilled as far as there's only really one major road that's a bit hectic, with lorries going up and down it, but it's less busy than the old commute which was quite populated with walkers and cyclists."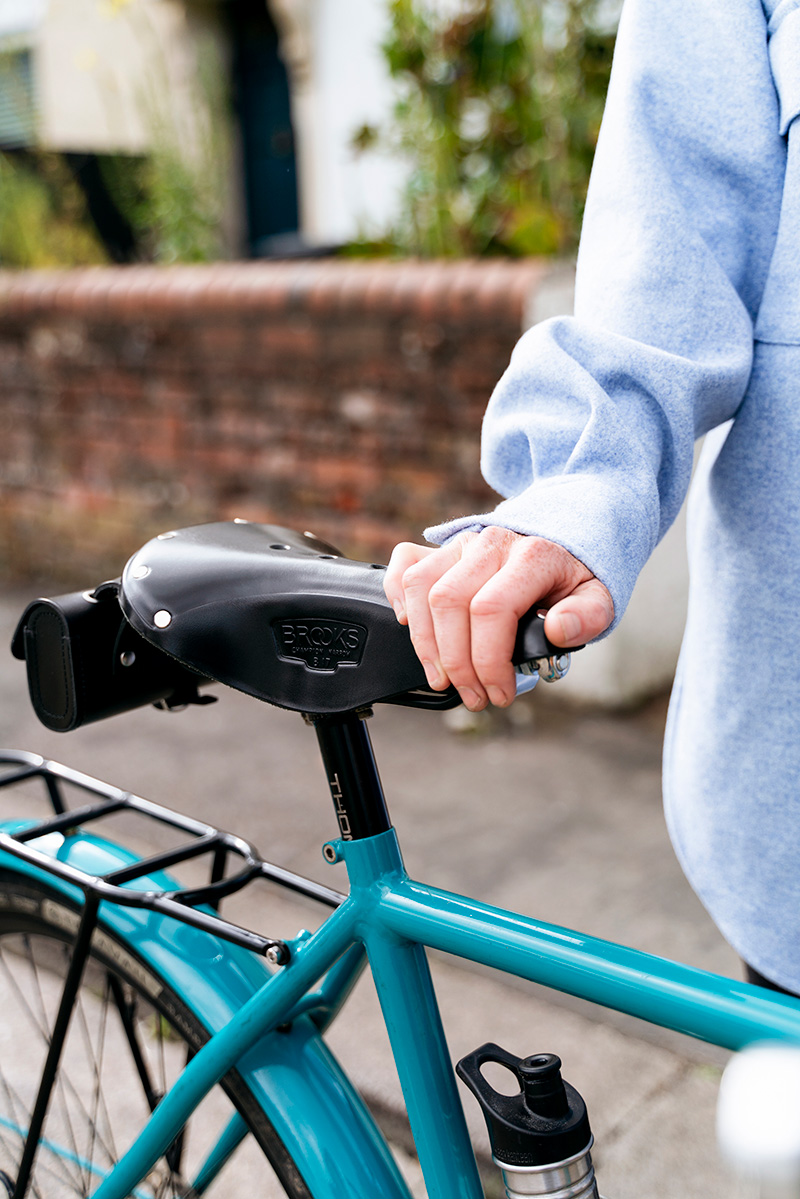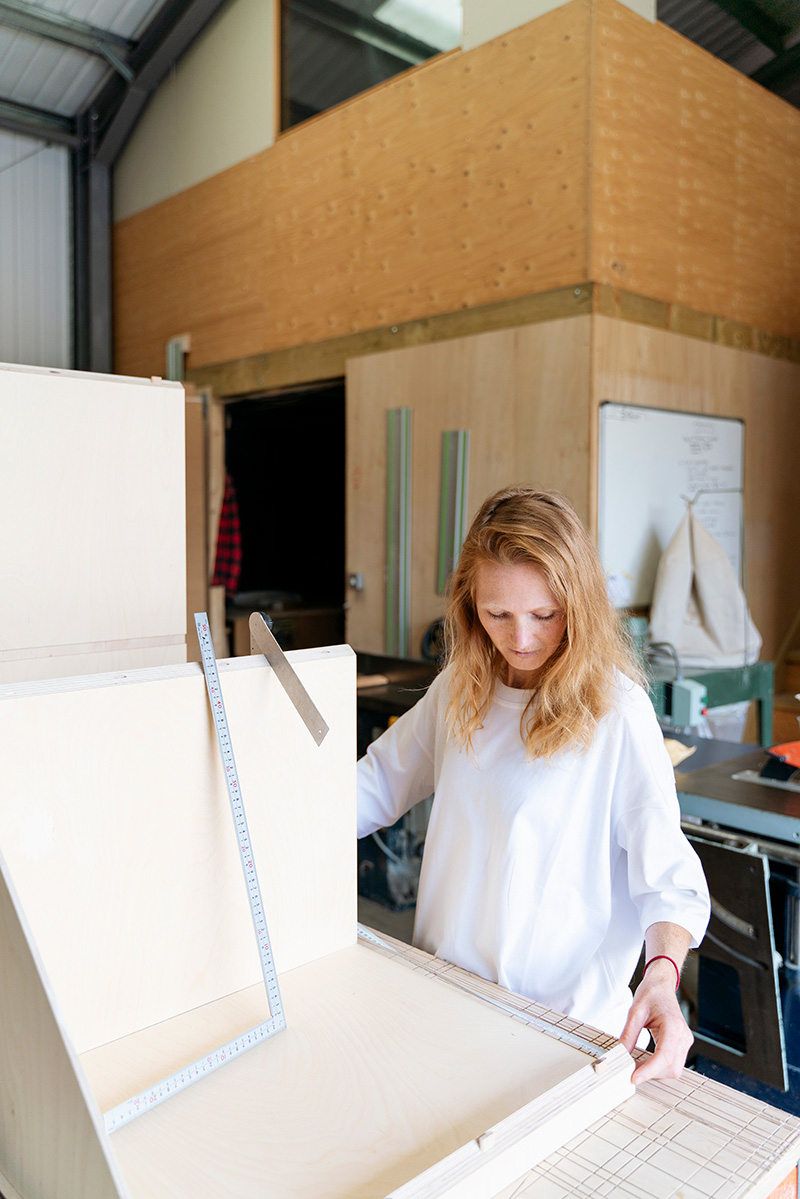 What motivates you to get out there on the days that you really don't want to, when it's horrible outside?
"What does motivate me! I guess I always think that it's not that far and I can take a change of clothes if it's really wet. Then it's just about telling myself, 'the work's not going to get done by itself', so I have to get making.
"If it's pouring with rain when I leave work, I know it's warm at home and I can just get changed or have a bath. But it's harder going to work, especially when it's dark in the mornings, but I just plan the day, plan what I'm going to do first when I get in to motivate myself to go and get on with it.
"Mudguards help. There was a long period of time during lockdown when I didn't have mudguards after they got damaged when I was hit by a van, and I really didn't want to go out, but it wasn't for too long."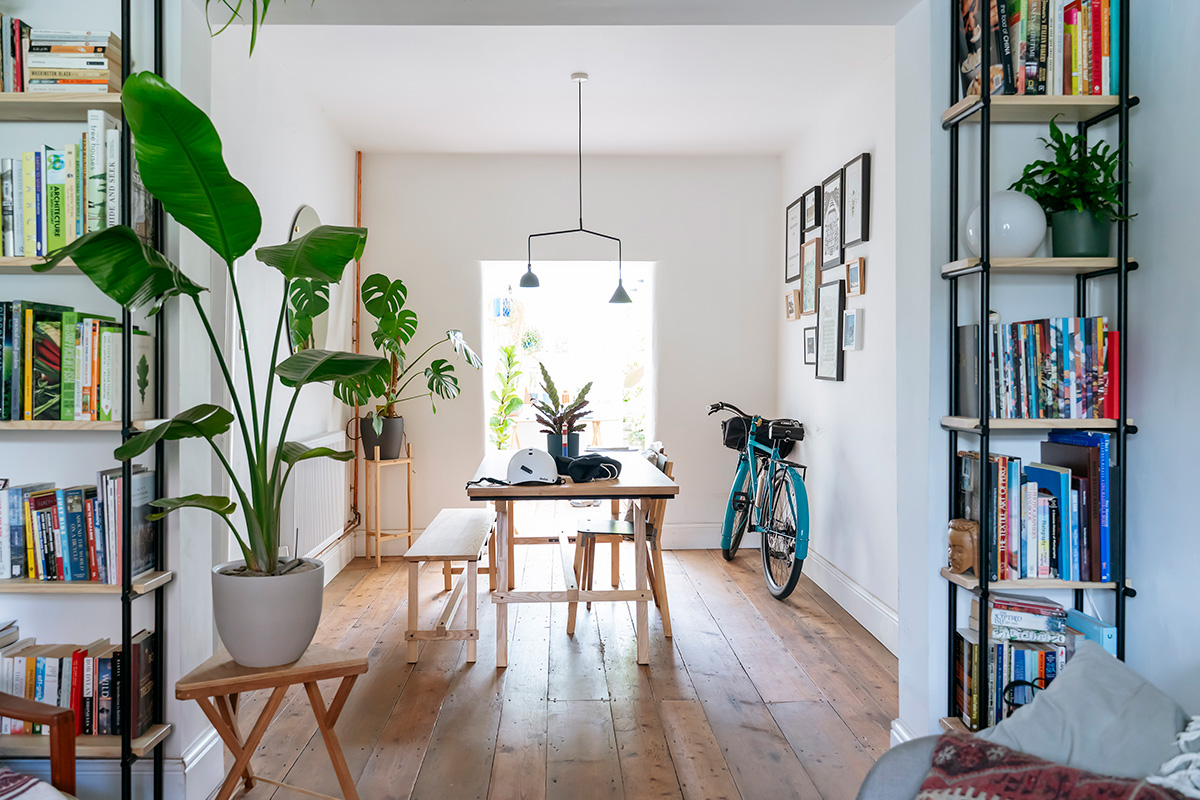 It seems like your urban lifestyle is representative of how we should be living as we move towards a more healthy and sustainable future.
"I think there is definitely a shift towards people trying to be more sustainable and self-sufficient through things like cycling. It's quite hard in Bristol because the cycling infrastructure is really poor and people are scared to cycle on the roads, but I know a lot of makers through doing markets around town and everyone has a similar attitude.
"We're all trying to be a bit more supportive of independent businesses and this smaller scale urban lifestyle.
"It means trying to live a bit more sustainable, more self-sufficient, growing food and produce in your garden or getting involved in a community garden project, and as a maker supporting other makers and small businesses and cafés.
"It almost feels like we have these little pockets within urban pockets, niche little networks in different parts of the city who know each other, and help and support one another, so even though you can feel quite disconnected within the community, there is still that community that you can reach out to."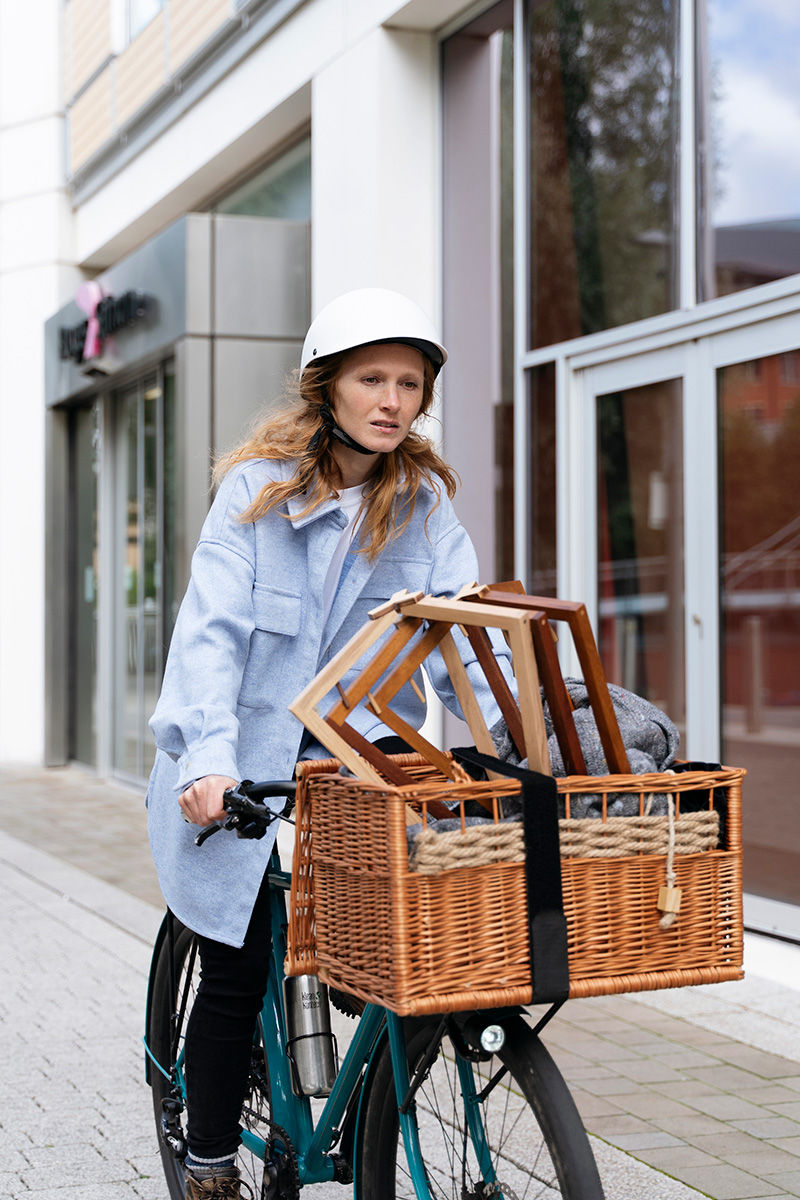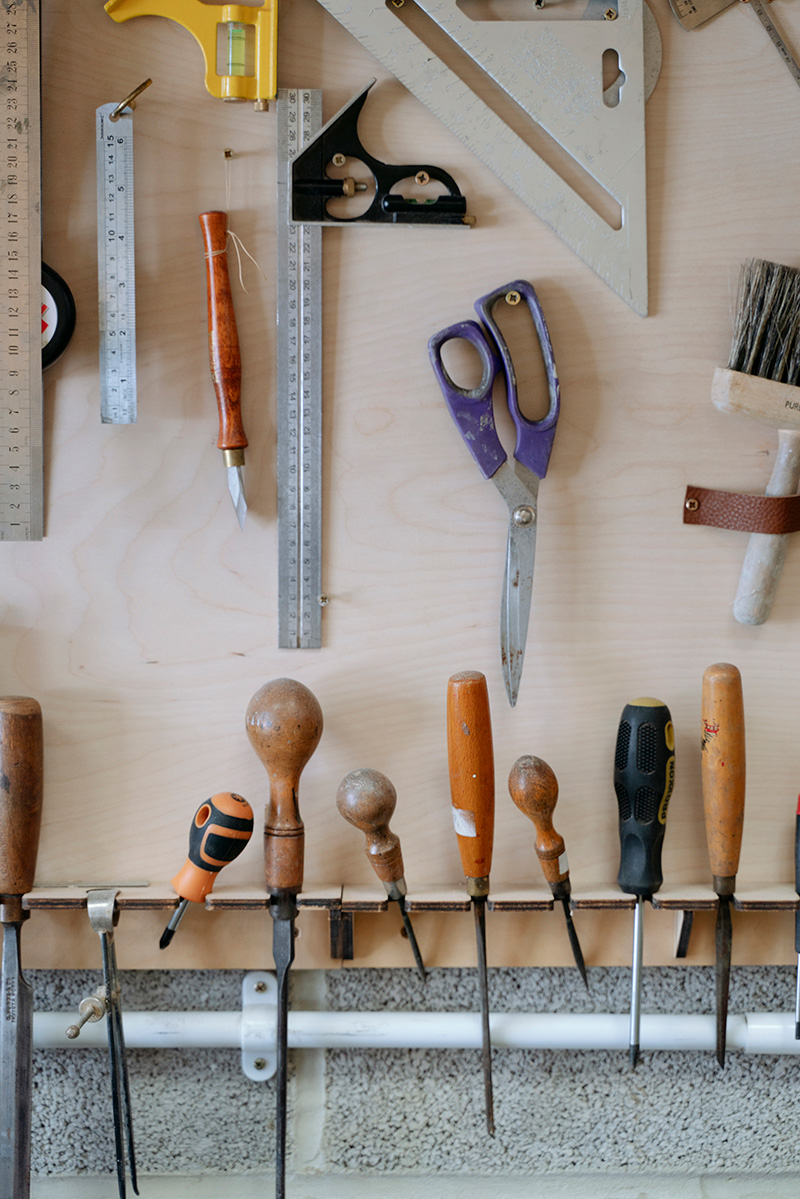 A bit like a village community feel?
"In a city I think the people are there if you want to reach out for them, but you can also choose to keep yourself more elusive, and you can't really do that in a village. I'm not one to utilise the city as much as I would have done when I was a bit younger – and one day I'd like to move out to the countryside – but the city thing is still there, the community of people living a similar lifestyle to me, and there are still plenty of opportunities for people who'd like to be part of that."
Have you gained any work as 'the designer-maker' who's always on a bike? Has that identity attracted curiosity when you're out and about?
"I don't do markets very often anymore, but when I've done markets in Bristol, Pi and I would turn up on our bikes with all the stuff that we need, and people are often quite impressed. We're challenging people's perception of running a business, being resourceful and not just relying on a vehicle. It opens up a whole lot more that you can do.
"I've got a few t-shirts and jumpers with my name and branding on them that I wear in the summer, and while people don't necessarily seek me out having seen me on the bike, if I turn up on my bike, I think people are pleasantly surprised. There's this idea that you need to have a branded vehicle to look like a real business, and I think we should move away from that. Especially now that the diesel ban is coming into place in Bristol and they're trying to reduce the level of traffic through the city centre.
Seeing you on your bike might not be the reason someone's hired you, but when you turn up, they might be happy with their decision.
"Yes, I think a lot of my customers are wanting to be a bit more ethical and sustainable with their choice of custom furniture or the smaller product they're buying from me or commissioning me to make, so I think that's something that they hopefully believe strongly in, being sustainable or thinking about the choices around what we make."
More People Stories
5561
Creativity, cargo and canines with Adeline Moreau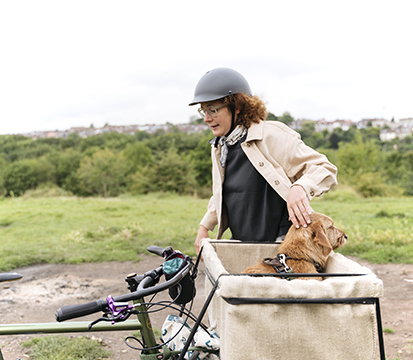 Unlocking creative problems on a Bristol commute with Belgian-born, illustrator, design strategist and cyclocross racer Adeline Moreau and her dog Trousers.

READ MORE

5397