People
Morgan Frost
Cycling & Coffee
By Rebecca Bland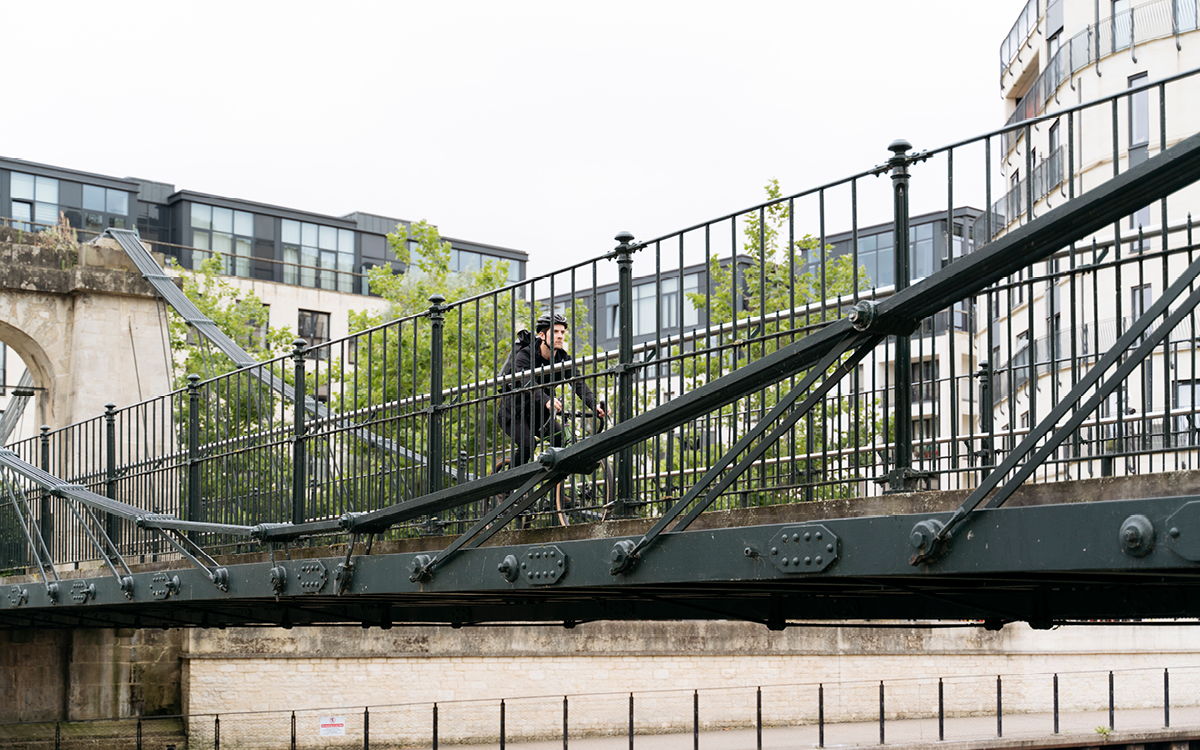 Since the days of the legendary Faema professional cycling team in the 1960s, with their poster boy Eddy Merckx, the worlds of coffee and cycling have been intertwined like a portafilter and its grouphead.
For many, caffeine is a must for their rigorous training schedules, propping them up on their bikes as they endlessly turn the cranks. For others, the taste and the quality of coffee are what matters most, a more social affair, with clubs riding to coffee shops and sprawling themselves out across the establishment.
So perhaps it is not a surprise that the first of our Commute features spotlights a figure who works in a coffee roastery. Morgan Frost is a roaster for Colonna Coffee in Bath, Somerset and has commuted by bike for much of his working life. Previously employed by big-name brands in the cycling industry, he found himself in the coffee game a little over a year ago.
Brooks England talked with Frost to discover his journey from cycling hobbyist to a coffee connoisseur, and why cycling to work is 'both brilliant and terrible'.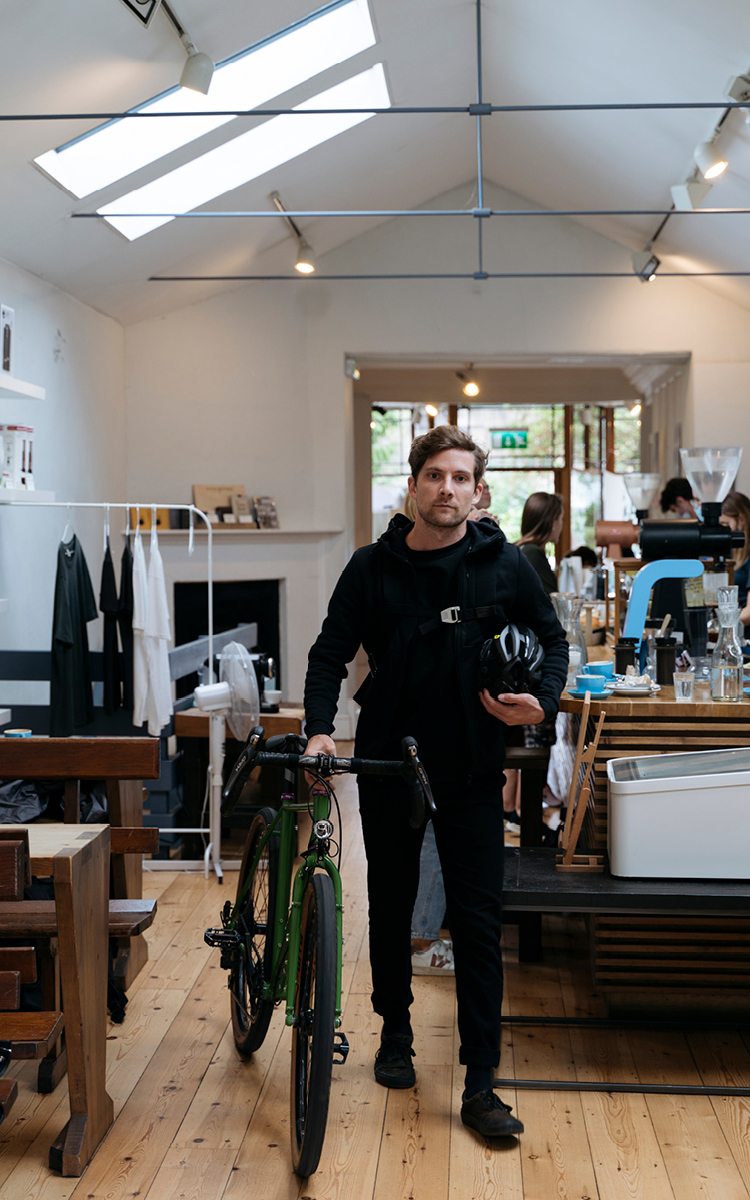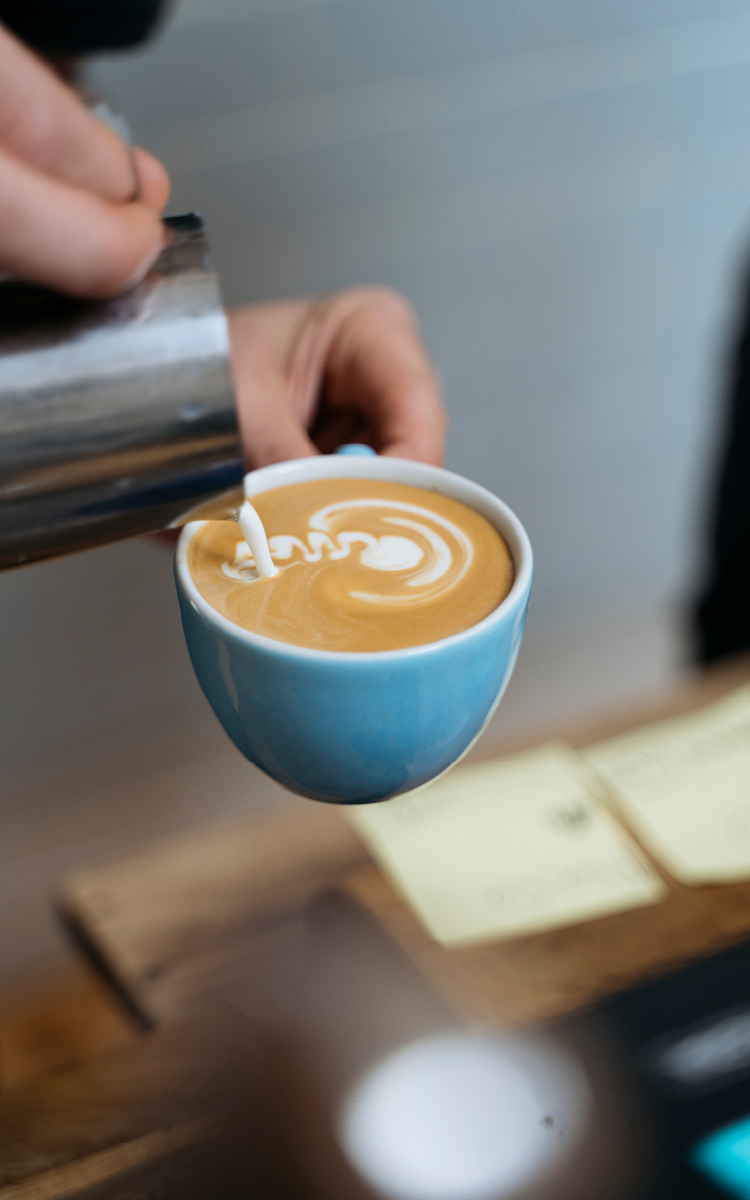 Tell us about your journey into cycling
"I've been cycling at a relatively 'hobbyist-plus' level for 10 or 15 years now. I got into it initially when I had cancer and I was recovering. I needed something that was going to keep me healthy and active. And about that time was when track bikes were all the rage, so I picked up on that zeitgeist and enjoyed riding track bikes around a lot, enjoyed working on them and learning how all the bits and pieces fitted together and so on.
"I've tried my hand at pretty much every aspect and element of riding bikes. I've raced on the road, I've bikepacked mountain bikes, I've done multi-day tours. Whatever I try, it always comes down to the same thing, which is just riding bikes as fast as I can, given the conditions available. It's the thing that I spend the majority of my time thinking about. A lot of my jobs have been in the cycling industry, and as much as I curse it on a daily level, it is my passion."
What makes you curse it?
"Oh my god, have you ever tried it? It's f*****g crap! It's coming up on Festive 500 season, it's cold, it's wet, even worse than that, riding around here, even in the lovely countryside, in the winter, everything is so slow. You have to spend a good hour just slopping your bike after every ride. It never comes back looking clean. You never feel like you're going fast right now, it's all just a grim trudge. Having said that, I was out in Gran Canaria two or three weeks ago and that was just, the opposite end of the spectrum. It's 20 degrees every day even in November, it's gorgeous, it's uphill, everywhere is selling coffee and pastries, it was absolutely ideal. So, they're the two ends of the spectrum I guess."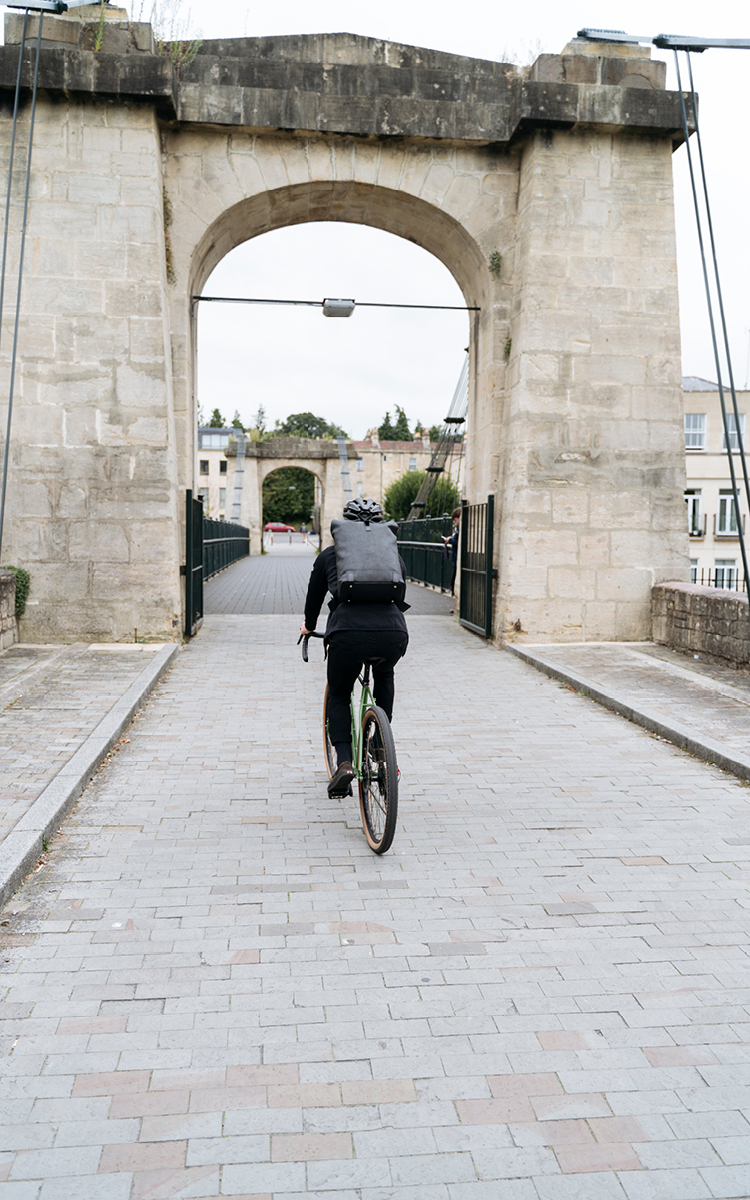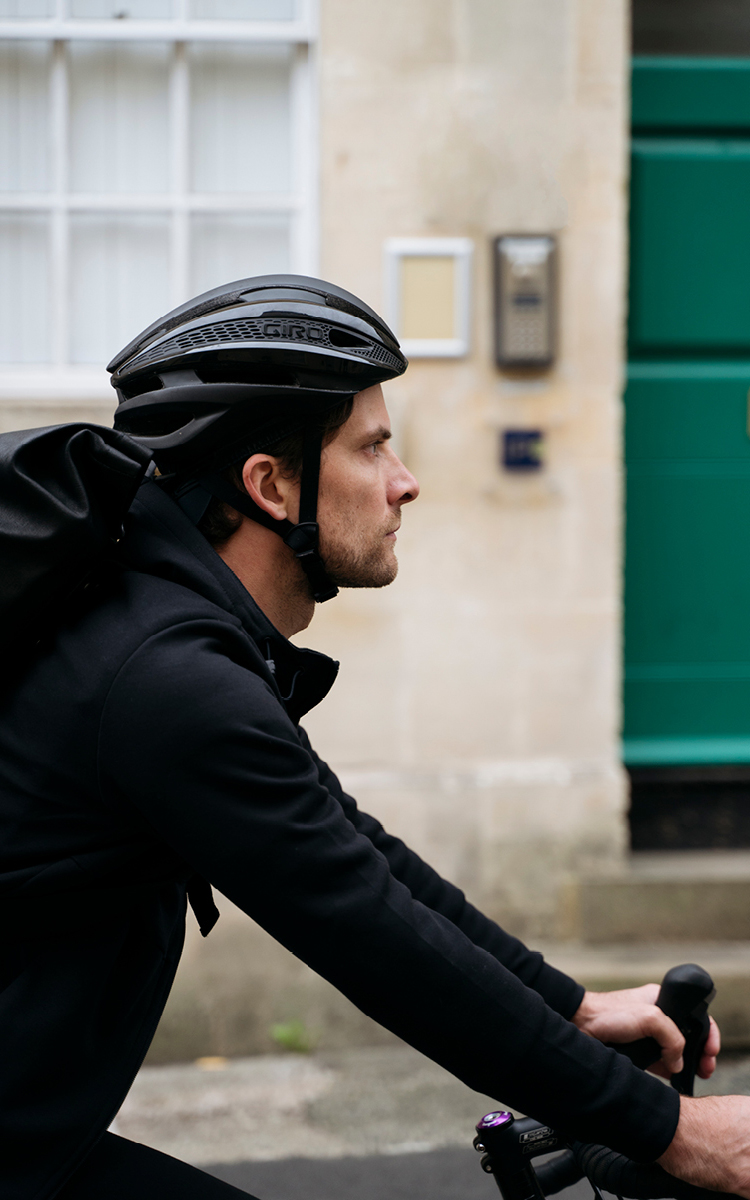 It sounds like cycling is the part of your life that is dominant and your working life fits into that.
"That does fit quite a lot with my experience. My first job out of university was doing web design and so on, lots of office-related things for a brand called Tokyo Fixed, which went through a couple of iterations and now no longer exists. And the skills I developed there led me to other bits and pieces. I ended up working for Rapha for a very long time which I loved, and I really bought into the ethos of the company, the project and the ideology behind what they were trying to do and why they were trying to do it.
"But now, I'm working in coffee. Now the bond between coffee and cycling doesn't need to be overstated, but I came to drinking speciality coffee by going to nice coffee shops on a bike ride. So, cycling has led me there, albeit in a fairly roundabout path. And they do tie in perfectly together. They are quite separate parts of my life, I guess. I love riding to work, it's significantly better for me in every sense than driving or anything, but they are two passions that are fellow travellers – aligned, but not connected."
Tell us about Colonna.
"In fact, it's all down to one person called Maxwell Colonna-Dashwood who is a fascinating guy in and of himself. He started Colonna Coffe (Colonna & Small's is the café) after spending a load of time in Australia where the speciality coffee scene kind of originated or found its kind of contemporary outlet.
"And he really wanted to bring that back to the UK, and he's a very enthusiastic and enquiring mind, and what he wanted to do is not just bring back what he'd learned in Australia about the way that coffee was brewed there, but also how do you best present a new way of enjoying an already understood product, if you will.
"Everybody knows what coffee is, but how do you say, 'OK right, you've been drinking Kenco for your whole life, how do you now enjoy or access a flat white that has loads of strawberry notes in it?'. This is a completely new way of enjoying something that many people think they have got a grip on already.
"And it's gone from strength to strength – due in no small part to his, I wouldn't say leadership, but his kind of frantic ability, his laser focus. I've been at Colonna for a little over a year now, as the business kind of had to rejig itself through the pandemic, but it's been amazing. It's the first speciality coffee company that I've worked for, despite doing bits and pieces with some roasters in the past and knowing quite a few people in the wider industry. It's a kind of industry that I enjoy so much and want to stick around in, I've found my feet in it."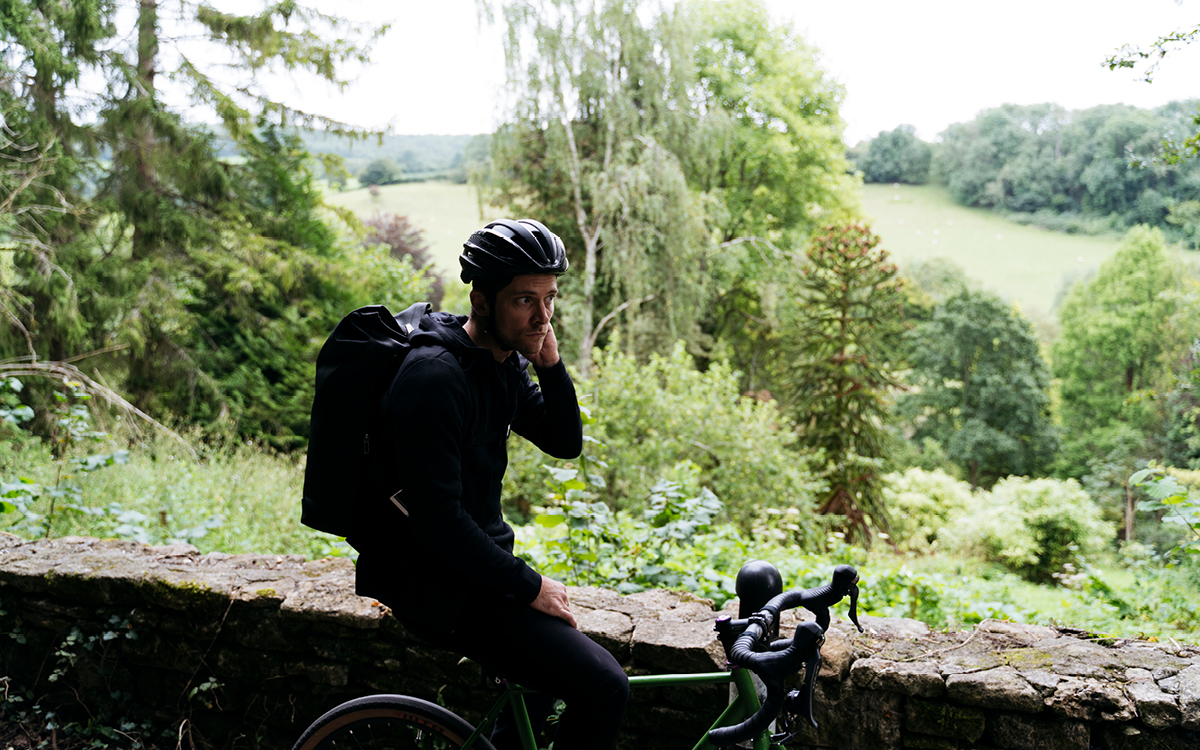 What is roasting coffee like as a job?
"It's a very interesting job in that it can vary a huge amount. And obviously, different companies do things very differently. For example, all the roasters – the machines, not the people – are designated by their weight capacity. So, we've got 12kg, 35kg and 70kg at the Colonna roastery. There are roasters I know that have 140kg roasters and they work in shifts. And they have people just weighing out coffee for each roast and then someone will just be managing the gas and airflow and there will be people just cooling it and bagging it and stuff like that.
"It's all very collaborative, everyone's always popping in and seeing what's going on, and checking and helping out where possible. So, the way it's done at Colonna is very social, there's a lot of 'hey, hold on, what are you doing? Come and taste this' or, 'come and cut some of these for us' or, 'do you know what process this coffee is that's just come in?', it's a really big, shared experience.
"I've worked in quite a lot of startups and small businesses, and there's that requirement to wear many hats I guess is the stupid childish startup terminology for it, but there is also in any small team a huge amount of crossover between what everyone's doing. And it's nice to be a part of that. It is a very collaborative process, making sure that all the flavours are aligned with various people's tastes, the copy reflects what the coffee tastes like, and getting everything nailed down does require a staff of 10 people. It's rarely just one person putting beans in a hopper, heating them up."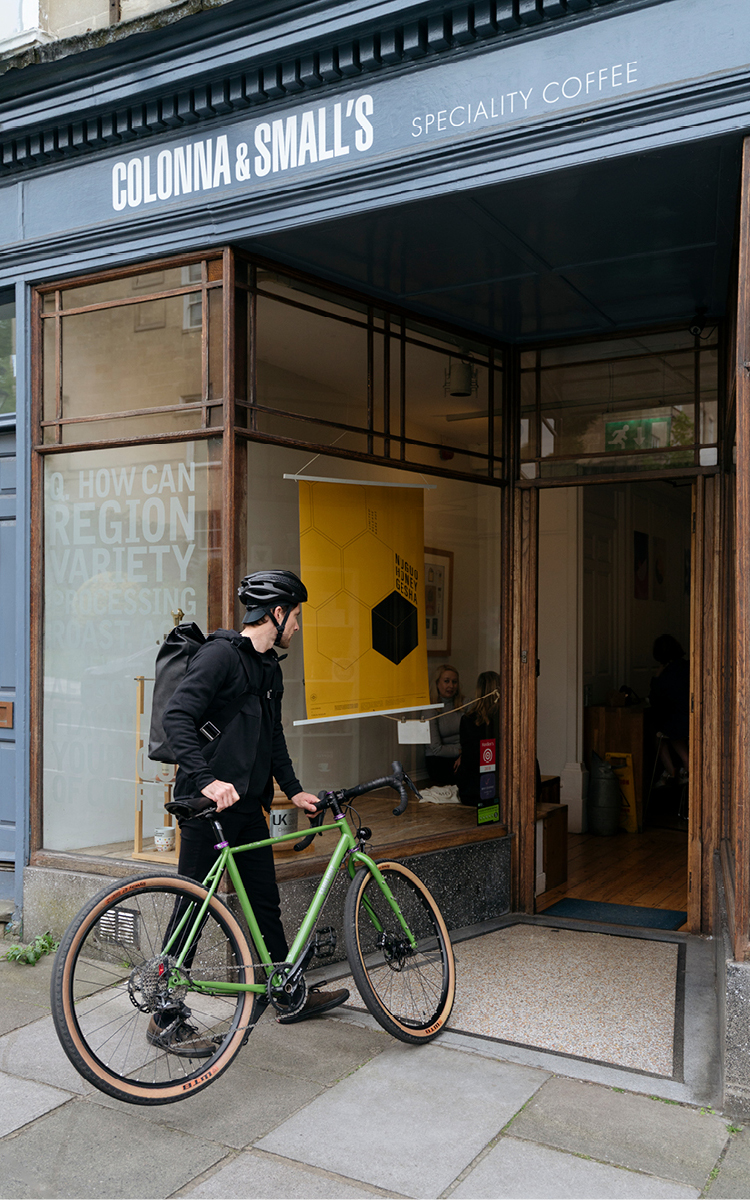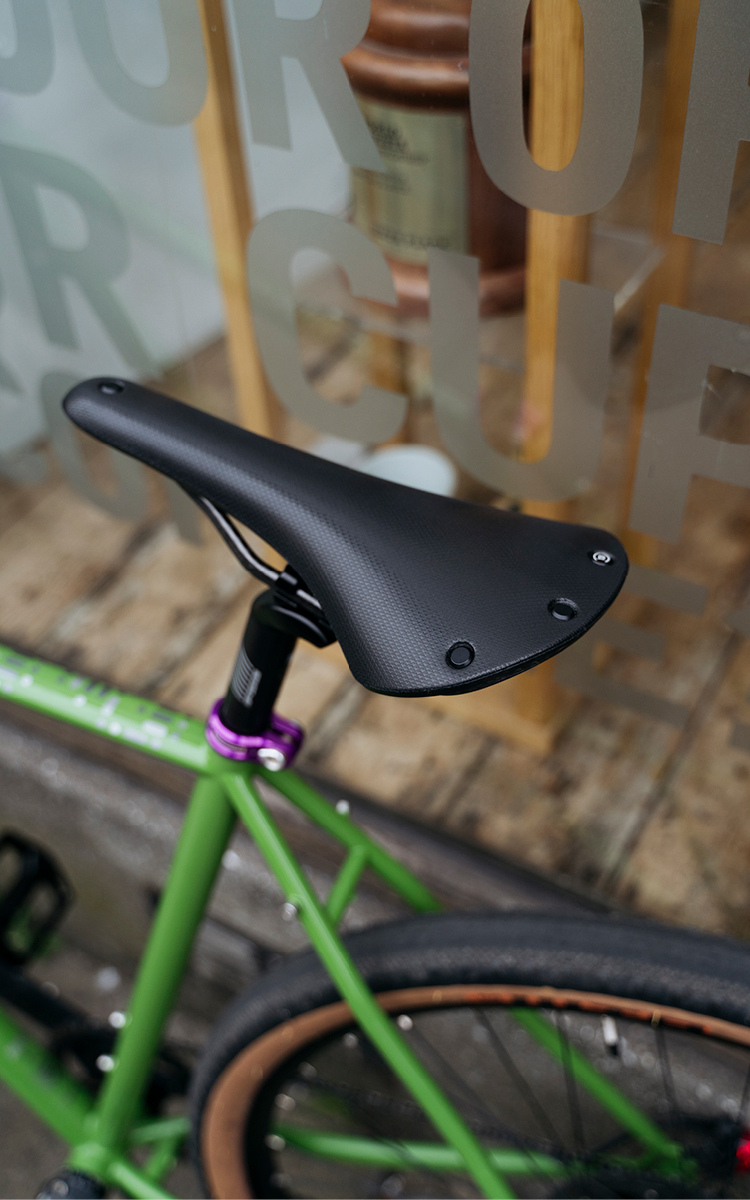 Do a lot of people you work with ride to the roastery, or are you unusual in that sense?
"So, when I started, there was a guy called Jack who is an ultra-cyclist. He's now left the company sadly but it's me and my colleague, Andy. We both ride to work, we are both many year veterans of doing stupid bicycle stuff, and my house and his house aren't too far away so we tend to ride in together. Which is very nice.
"The roastery is used to us turning up in lycra and getting changed in the toilet and doing all of that kind of stuff. So, whilst we are kind of rare enough within the company, nobody bats an eye anymore."
How does your current commute stack up against others you've had in your life?
"It's a gorgeous commute, it's really nice, almost entirely through country lanes. The only kicker which is very frustrating is from my house to Andy's house. I get out of my door, I ride 2km, and there is a 1.5km 10% hill. It is not only incredibly unpleasant, but it's also so poorly surfaced it has water running down it in basically every season. It's just the most miserable thing to slog your way up pre-7 a.m. – it sucks. But, you know, as much as I complain, I get up it every morning, it's there, I know it's there, you get there in the end."
What's the worst commute you've ever had?
"I can tell you for absolute certain it was when I was working for a bike shop in London. They moved their offices from Portobello market area, it was very nice, very chi-chi. It was in a railway arch it was all very cute, I liked it a lot. In an ill-advised attempt to make the business more professional, they moved the offices to the eighth story of a 12-storey tower block in Acton. And I was living in Bethnal Green and to ride my brakeless track bike, as was the fashion of the time, from Bethnal Green all the way to Acton, along Oxford Circus, every morning, and it took me about an hour and 45 minutes. I think I lasted three weeks before I handed my notice in.
"Commuting by bike is pretty nice. Compared to sitting on a bus or driving, or sitting on a train that's always delayed, like it's a pretty nice way to get around, right? But the riding this long way, sucking in a load of exhaust fumes, almost getting hit off your bike every single day, and then ending up, the worst part, in Acton, was just unacceptable. I quit within a month."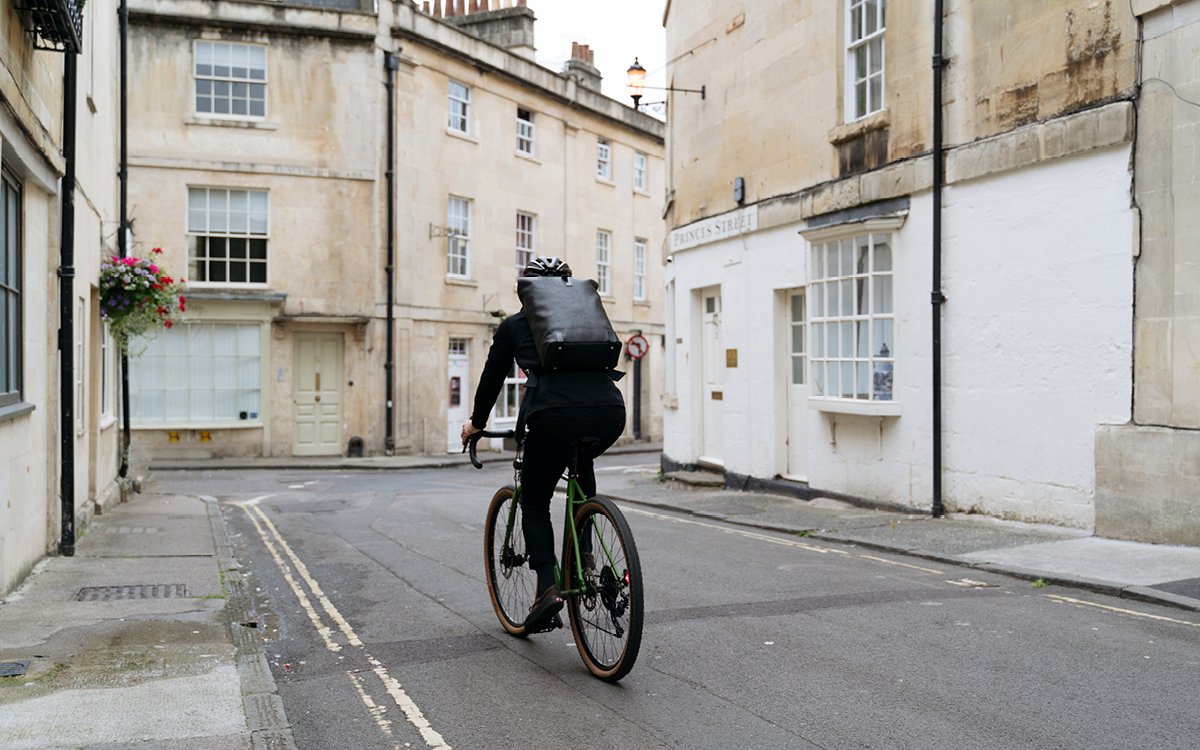 Have you ever been through periods of your life where you couldn't ride your bike every day? How did it affect your outlook?
"Commuting by bike will always be my preference. There are few jobs where I didn't have to or chose not to, but for me, the worst part is from bed to door. You wake up in the morning and you're like 'oh I could just stay in bed for another 20 minutes' or something like that, and as long as I can overcome that, I always will ride if I can. Because even when you feel a bit like s**t, your legs are toasted and your right knee hurts a little bit and you don't know why you turn up at work in such a better mood. Even if I've been rained on and splashed with mud and I almost hit a cow, I turn up with a big dumb smile on my face, rather than if I just drive to work.
"The situations that have kept me off a bike, either commuting or otherwise, I had Covid for a bit and I broke my wrist for a bit. I find that my mental health, I wouldn't say that it goes through the floor if I don't cycle, but the relationship between physical exercise and mental health for me is absolutely core – it's so key. And if I can't do anything, like the 10 days or whatever it was I was stuck inside my personal Covid prison, I think your body just sinks and sags under its own weight and you don't feel like there's a sense of accomplishment. I think it's like seeing a horse in a stable not out running in a field, it's not working properly, it's not doing the thing that, it's not that it's supposed to do, but that it can do."
You can visit Collona & Small's at 6 Chapel Row, Bath.
Photography by Jim Holland. Follow him on Instagram at @j.h.o.l.l.a.n.d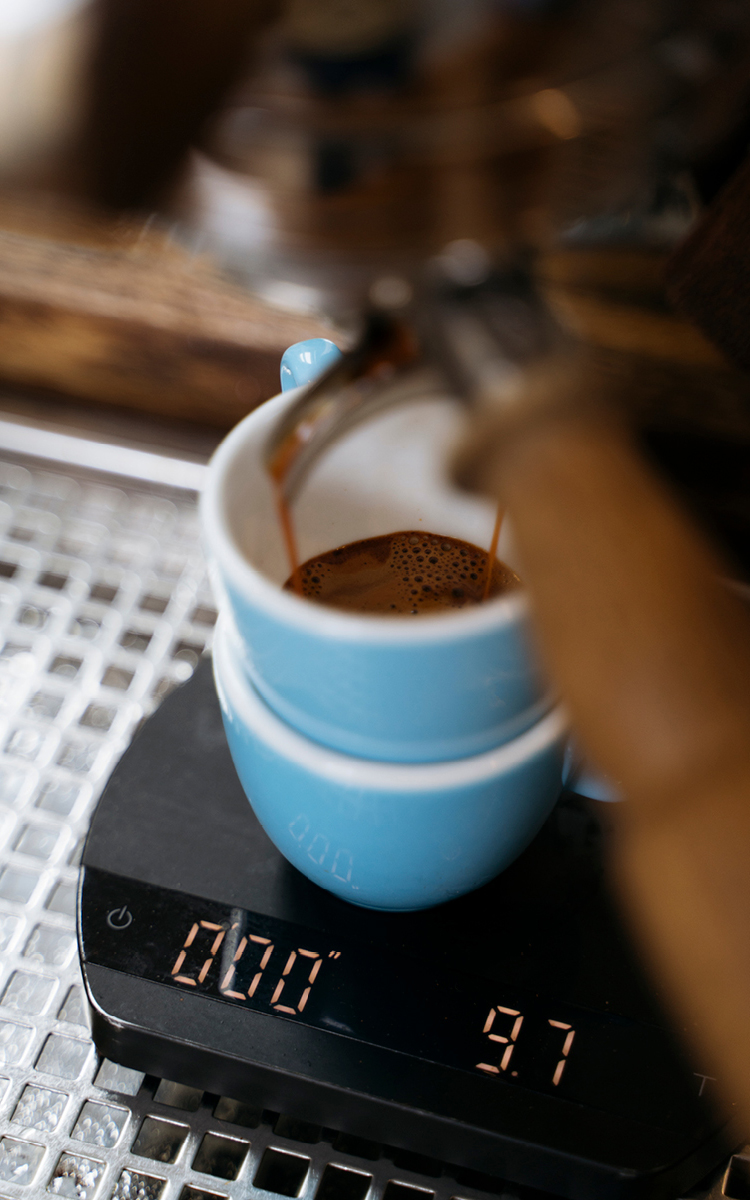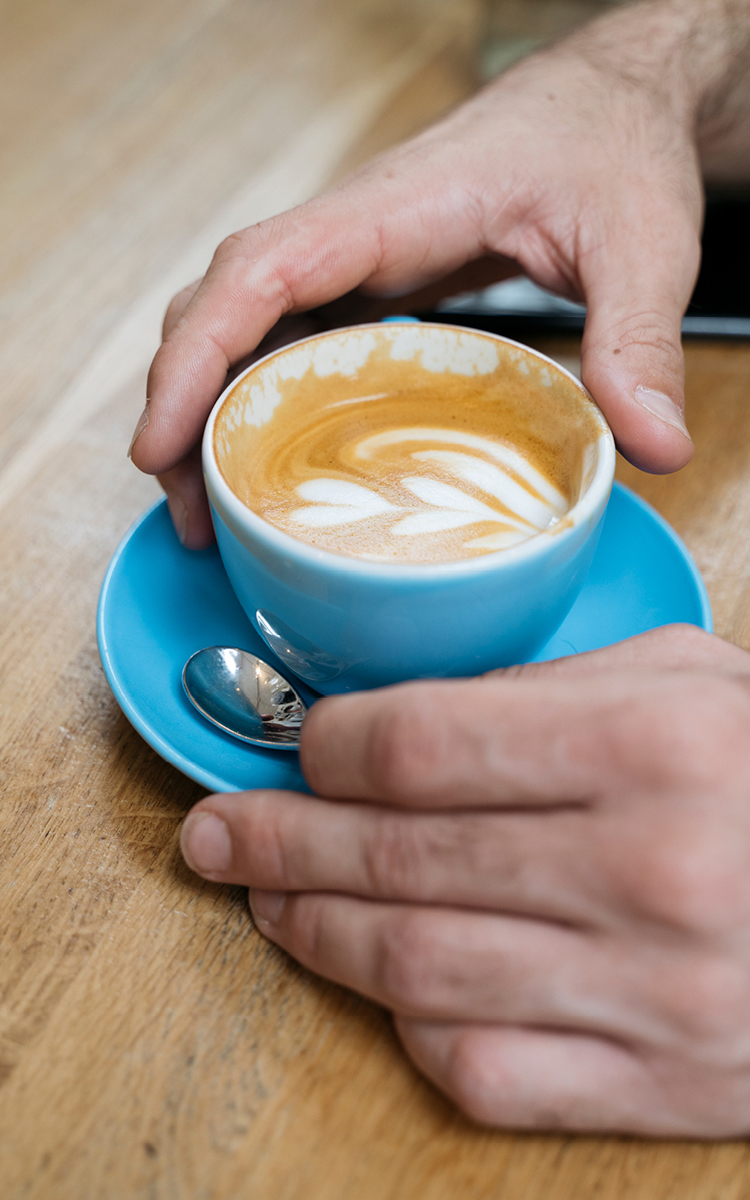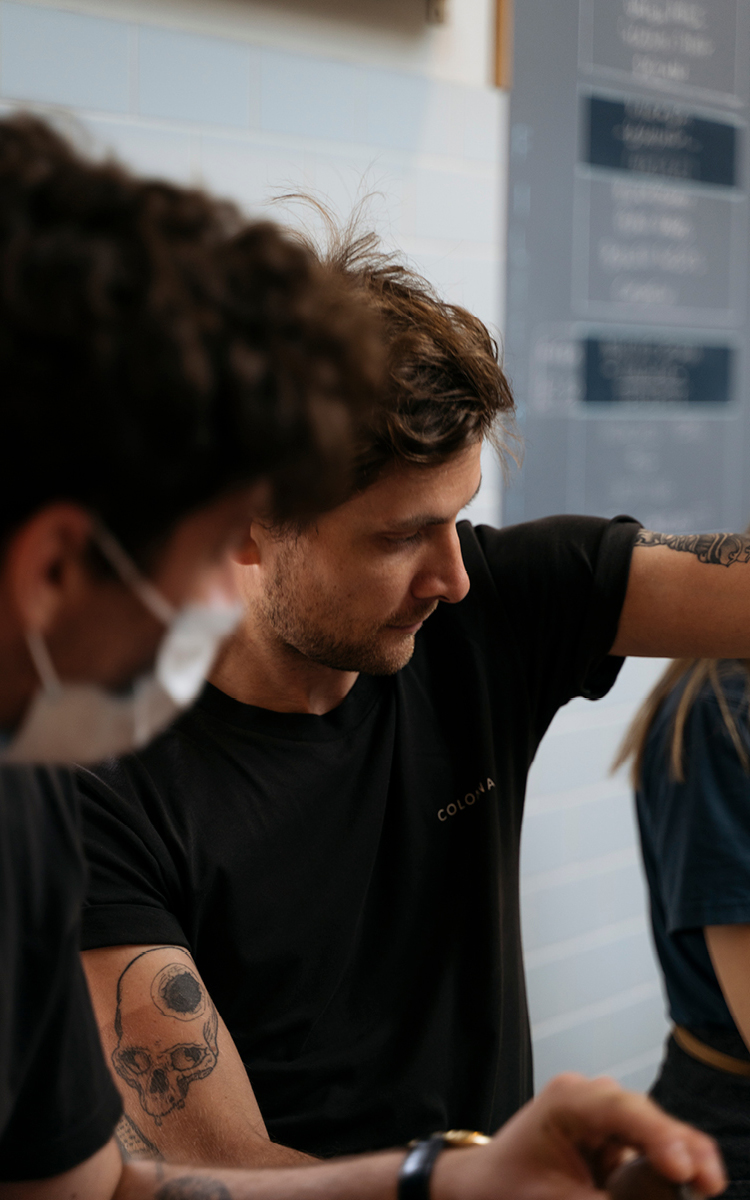 Morgan Frost's Commuting Kit
More People Stories
7027
Introducing… Anton Krupicka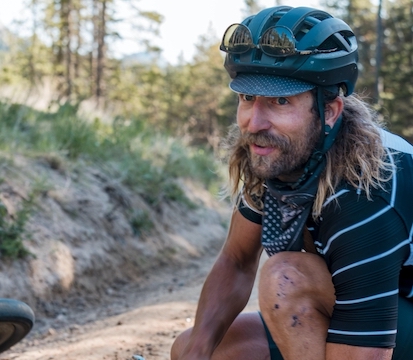 Anton Krupicka is an adventure cyclist, runner, skier. A longtime Brooks rider, we're delighted he's now also a partner athlete.

READ MORE

5804
Commuting with Tammy Crawford-Rolt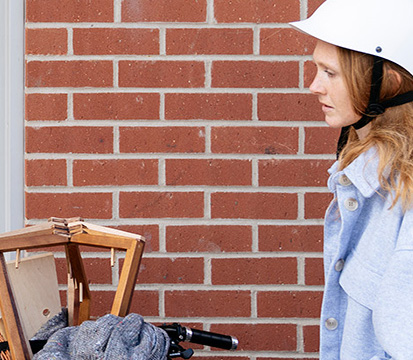 Discover Tammy Crawford-Rolt and her commute as a furniture designer in Bristol.

READ MORE

5561
Creativity, cargo and canines with Adeline Moreau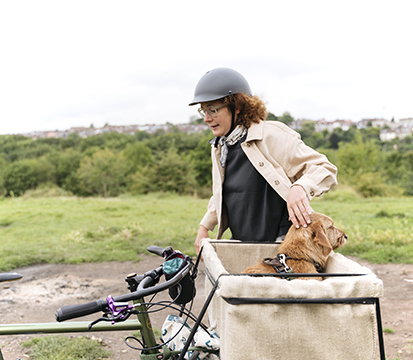 Unlocking creative problems on a Bristol commute with Belgian-born, illustrator, design strategist and cyclocross racer Adeline Moreau and her dog Trousers.
READ MORE